'Bachelorette' Wedding Special: The 10 Weirdest Moments of Ashley Hebert's 'I Dos'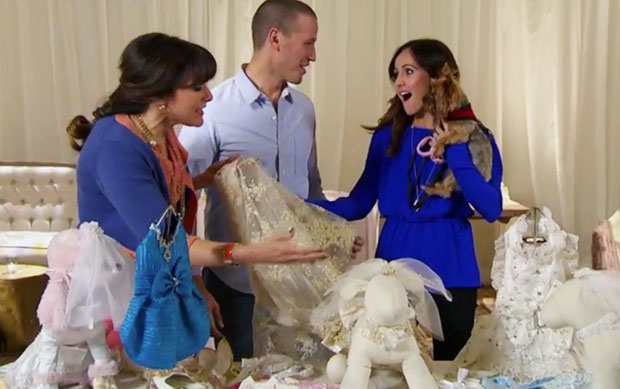 Another one bites the dust. Bachelor and Bachelorette fans are so used to that phrase when it comes to the relationships that form on the show. But on Sunday night, Ashley Hebert and J.P. Rosenbaum became the third couple out of 24 to tie the knot. During a two-hour special, The Bachelorette: Ashley and J.P.'s Wedding, the cameras followed Ashley and J.P. as they planned their wedding with celebrity wedding planner Mindy Weiss, tasted cake, tried on dresses, and finally said "I do" in front of all their guests. But while their wedding basically seemed to come right out of the pages of Brides magazine, there were also some moments, that well, to be quite honest, just seemed down-right awkward and out of place for a wedding special.
These are the 10 weirdest moments from Ashley and J.P.'s wedding special:
1. A Dog Fitting. While we got to follow Ashley for the final fitting of her gown at Randi Rahm's design studio, the cameras also captured another fitting. Ashley and J.P. decided that they wanted their teacup Yorkie, Boo, to take part in their wedding, so Boo had to get dressed for the occasion. Their wedding planner put together a special dog-dress fitting for Boo. And one dress even cost $7,500. That's more expensive than most brides' gowns!
2. Stage Sweepers. Plenty of content is needed to fill the minutes of a two-hour wedding special, but did ABC really have to capture the people sweeping the stage over and over again? Whenever a cut of host Christ Harrison appeared where he was introducing the next scene, set up for the wedding was going on in the background — and you could clearly see the people sweeping the stage where Ashley and J.P. would later say their vows. Why!?
3. The Announcement. Okay, it's well known that the bride's parents are usually the ones who front the bill for the wedding, but Ashley's parents lucked out as ABC paid for the whole shindig. But while they didn't have to worry about writing a huge check, it's still odd that Ashley and J.P. selected a date for the wedding without even consulting their parents first. They instead held a cocktail party in New York City to inform their families of when the wedding would take place after the decision was already made. Even their families were thrown off by this, thinking that maybe the couple would announce that they were pregnant or something else. It was just odd.
4. Bachelor Host Hosts the Wedding. Chris Harrison is famous for hosting 24 seasons of The Bachelorette and The Bachelor and two seasons of Bachelor Pad, but who knew this guy had a second job? During the special, it was surprising to learn that Harrison is licensed to officiate weddings. And he did just that for Ashley and J.P., making them husband and wife. But of course he had to deliver a long, personal speech about himself before it even got to talking about the couple. Selfish, if you ask me.
5. Bridal Breakfast. Bridal breakfasts and/or brunches usually happen the day before a wedding or even the week before. But, Ashley had hers the day of her ceremony.
Next Up: Silly Kisses, Guest Seating Charts, and Awkward Encounters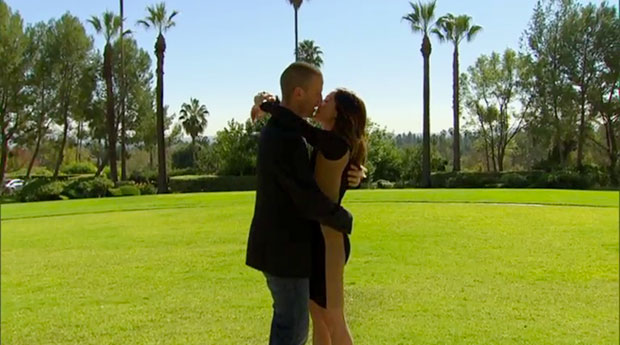 6. Kiss Rehearsal. While we didn't get to see Ashley and J.P.'s wedding rehearsal, the cameras did spend a long five minutes capturing Ashley and J.P. practicing the type of kiss they wanted to do on the altar. Ashley wanted one long kiss, and J.P. wanted two smaller ones. So, they insisted on experimenting to figure out which would be best. Get a room, guys!
7. Wacky Wedding Guests. Do Ashley and J.P. have any other friends besides the people who have participated in The Bachelor shows before? During the ceremony, the cameras only focused on catching the Bachelor people — including Trista Sutter and Ryan Sutter, Ali Fedotowsky, Roberto Martinez, Sean Lowe, Molly Malaney, Emily Maynard, Jason Mesnick, and more — in the audience, and forgot about the rest of the couple's guests.
8. Ex Encounters. Rumors are circulating that former Bachelorette star Ali Fedotowsky and her ex-fiance Roberto Martinez got it on during Ashley and J.P.'s big day. And during the TV special, it was quite interesting to see the two exes sitting next to each other and basically flirting up a storm. Could their romance be sparking up again?
9. The Next Bachelor's Prime Seating. During a recent conference call, Ashley told reporters, "I've never met Sean Lowe [the new Bachelor]." This conference call took place after her wedding had already taken place. And guess what? Sean attended Ashley's wedding, even scoring prime seating in one of the first few rows. It's quite possible that Ashley never spoke to him on her big day — but it's still very awkward that he was sitting with the other guests acting like he was a close, personal friend of the couple.
10. Out of Place "I Dos." Chris always tries to be different, but did he really have to have Ashley and J.P. say "I do" before reading their vows? That was just a very out of place lineup. Usually the vows are read first, then the "I dos" are said before the rings are placed on the bride and groom's fingers. Not so this time.
Follow Lindsey on Twitter @LDiMat.
[Photo Credit: ABC]
More:
They Do: Ashley Hebert's 'Bachelorette' Special And The Appeal Of Reality TV Weddings
'Bachelorette' Newlyweds Ashley Hebert and J.P. Rosenbaum Reveal Baby Plans
Move Over, Trista and Ryan: 'Bachelorette' Ashley Hebert Headed For a TV Wedding

'The Hobbit' Cast: A Who's Who New Character Guide (Moviefone)

'Les Miserables' Unscripted: Hugh Jackman, Anne Hathaway On Singing And Being Modest