Bad Music To Our Ears: 2012's 14 Most Embarrassing Singing Performances on TV — VIDEO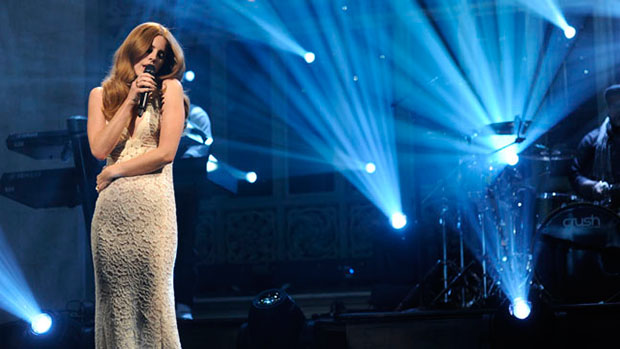 It's hard to believe it's been nearly a year since our senses shut down as a defense mechanism following Lana Del Rey's January 2012 performance of "Video Games" on Saturday Night Live. But, as it turns out, we were better off — Rey's swaying song simply kicked off a year of painful music on television.
Along with the good (say, Phillip Phillips' "Volcano" and Jennifer Hudson's Grammys Whitney Houston tribute), there was the bad — and, thanks to television's obsession with singing reality series, there was hardly a shortage of vocal ugliness.
So who brought us the most embarrassing television performances of the year? Scroll below to take a walk down memory lane — even if it might drive you to run.
Lana Del Rey, "Video Games" (Saturday Night Live)
The artist's sleepy and pouty performance of her hit was so bizarre, even SNL had no choice but to lampoon the singer one month later.
Erin Martin, "Walk Like an Egyptian" (The Voice)
Between the awkward choreography, high school musical costumery, and squeaky vocals, Martin's cover of the Bangles' hit proved why the polarizing contestant soon became ancient history.
Jason Brock, "Dance Again" (The X Factor)
The zebra print blazer wasn't the only wild thing about The X Factor contestant's Week 1 performance of the Jennifer Lopez hit. Brock also surrounded himself with glitter, Vegas showgirls, and men so poor, they could only afford 1/8 of a shirt. Even Cher has nightmares about this.
Jennifer Lopez, "Dance Again" (American Idol)
Of course, Brock didn't do much worse than "Dance Again"'s original artist. Flanked by a handful of shirtless men — including much-discussed new boyfriend, Casper Smart — Lopez's performance screamed "I'm single!" Not to mention desperation.
Jennifer Lopez "Dance Again" live on American… by HumanSlinky
Heejun Han, "My Life" (American Idol)
When Steven Tyler — who critiqued Han's performance by telling the Idol finalist he "took the piss out of" the song — thinks you're not taking things seriously, it's time to wonder about your life.
Nicki Minaj, "Roman Holiday" (Grammys 2012)
Otherwise known as the moment the Catholic Church began to think that Madonna woman isn't so bad. Sorry, Nicki — we were hardly possessed by this desperate attention grab.