Bar Refaeli Makes Out (Sloppily) with a Nerd for a Super Bowl Commercial — VIDEO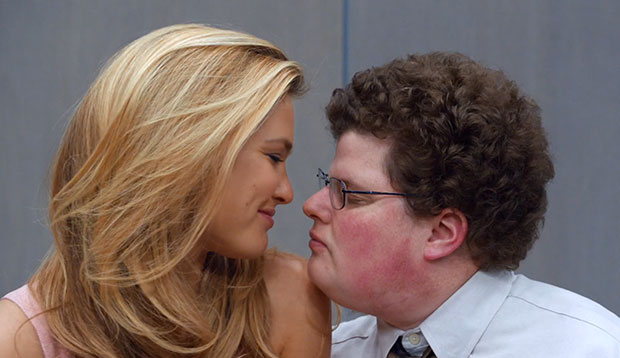 Here's something you don't see on TV every day: an unbelievably gorgeous woman paired up with a schlubby dude (well, not unless you watch The King of Queens or According to Jim or The Honeymooners or The Flintstones or Still Standing …). In their latest bound-to-stir-up chatter Super Bowl ad, GoDaddy.com — who has spent the past few years trying to remind viewers that only men watch the big game (haha, not even close) — have recruited super model Bar Refaeli to lock lips with a nerd named Walter.
While the sexist undertones are still certainly there (Refaeli, the woman, is placed in the "sexy category," while Walter, the male, is placed in the "smart category"), the real pulp of the ad is an actually an equal opportunity offender. Zooming in on the odd couple, the 27-year-old Sports Illustrated swimsuit cover girl sloppily and loudly makes out with the appointed nerd. The objective, one would assume, is to horrify viewers of every sexual orientation. In the end, Walter feels like more of the butt of the joke than the beacon of false hope. Still, this is GoDaddy.com, so it's a safe bet they weren't trying to see how the shoe felt on the other foot. That won't happen until advertisers start putting hot guys in their Super Bowl commercials for the sole purpose of making the other half of their viewing audience drool over their wings, too.
In the meantime, here's a hot lady in another GoDaddy.com commercial. (Eat your heart out, Leonardo DiCaprio?)
Refaeli,
Kate Upton
, and what's bound to be a bevy of other beautiful women, will be on display during the commercial breaks during Super Bowl XLVII on CBS on Sunday.
[Photo Credit: GoDaddy.com]
More: 
40 Hottest Celebrity TwitPics of January (Vh1)

'Star Wars' vs. 'Star Trek': 15 Insane, Awesome Mashups (Moviefone)