Barbara Walters' Most Fascinating People Include One Direction, Ben Affleck, & Stewie Griffin?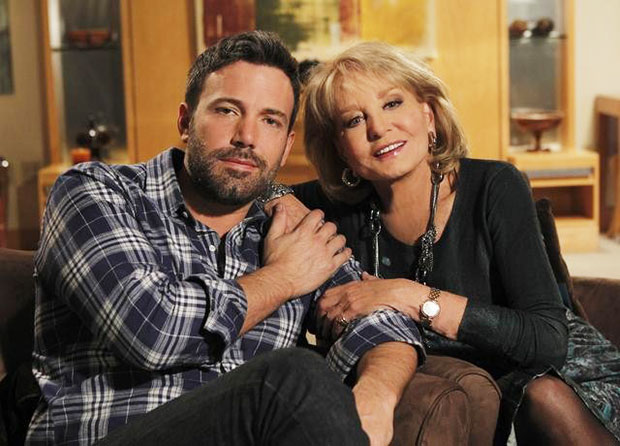 Whew.
Barbara Walters
finally started announcing her Most Fascinating people of 2012, giving us a firm direction for all our celebrity obsessions. And teen girls, you're in luck:
One Direction
made the cut.
Every year, Walters assembles a motley crew of celebrities ranging from politicians to reality TV stars and interviews them, often candidly, about their big years. The 2012 set should come as no surprise, but just in case you've been hiding out in a doomsday bunker in anticipation of the Mayan's predicted Armageddon, here's Walter's list along with the reasons they're so darn fascinating:
1. Gabby Douglas: She's a gold-medal-winning Olympic gymnast, so adorable you just want to put her your pocket (if you weren't afraid she could totally over-power you with those muscles), and she's absurdly humble. 
2. Hillary Clinton: If being President Obama's Secretary of State for the past four years wasn't reason enough, let's also take into account that rumors of her being the 2016 Democratic Presidential nominee and the fact that she's the subject of the most badass meme on record. (We're talking about Texts from Hillary, of course.)
3. One Direction: This British fivesome could command a chorus of singing girls if they wanted. It's a skill, truly. But mostly, I'm fascinated by how they get their hair to be so effortlessly moppy. 
4. Ben Affleck:
He's an actor who went from Oscar-winning screenwriter, to Hollywood heartthrob, to goofy Hollywood star (formerly of Bennifer), to a beloved film director. And with his new film
Argo
garnering waves of praise and whole lotta Oscar buzz, it's not wonder Barbs wants to take a crack at the handsome father of three.
5. Seth MacFarlane:
Why is the creator of
Family Guy
 a Most Fascinating person of 2012? He's been at it for years! Well, he saw surprise success this summer with his live-action flick,
Ted
(starring
Mark Wahlberg
and
Mila Kunis
), and he was named as the 2013 Oscar host, meaning all the hope for rectifying the dull shows of the past few years rest on his show-tune-loving shoulders.
6. E.L. James:
This is the woman who captured the attention of every mom in the U.S. with her imaginative fan fiction sex romp inspired the characters from
Twilight
. Anastasia Steele may confound literary minds everywhere, but for James, Miss Steele is a cash cow.
7. Chris Christie:This New Jersey governor is also among the folks whose names are being tossed around, however prematurely, for the 2016 presidential ticket (he is however, on the Republican side), but this year, his task was something a little more close to home. The governor was shining beacon of hope for New Jersey's Hurricane Sandy victims, shirking sleep and enduring fever and phlegm to comfort the people of his home state. He cast aside party politics in the days leading up to the Presidential election and focused all his energy on making his state strong again. He may be the most fascinating person on this list. Is there someone missing from this list? Who did you find most fascinating in 2012? Follow Kelsea on Twitter @KelseaStahler. [Photo Credit: Rick Rowell/ABC] More: Seth MacFarlane to Host the Oscars, Just Like That One Time… 'Fifty Shades of Grey': First Look at Anastasia Steele Ben Affleck, Don't Lose Your Sense of Humor From Our Partners:

Prince William Shares Personal Snapshots of Royal Air Force Life (PHOTOS)(Celebuzz)