'Bates Motel' at TCA: Carlton Cuse Says, 'The Idea of a 'Psycho' Homage…Isn't Engaging'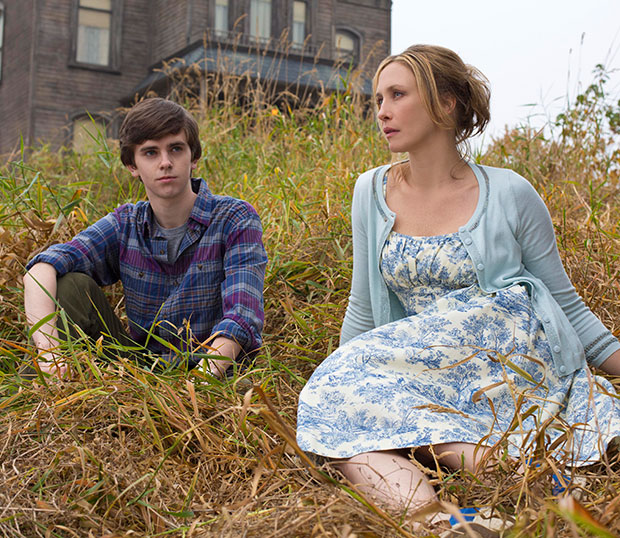 A&E's new Psycho prequel, Bates Motel, isn't a prequel in the exact sense of the word. Although the drama series follows killer Norman Bates (Freddie Highmore) as a teen, it's set in the present day rather than before Hitchcock's classic film. Creator Carlton Cuse (Lost) says that was a very conscious choice on his part.
"I think the idea of an homage, that's just not engaging to me," Cuse tells reporters at the Television Critics Association winter press tour. "Making that fundamental decision to make the story contemporary gave us the freedom to really take these characters wherever we wanted to."
The basic framework of Bates Motel, which will premiere March 18 on A&E, is set within Hitchcock's world, but updating the story "was a way to really become liberated from the original movie," Cuse says. "There's a certain amount of baggage that comes from working within the Psycho franchise…but also opportunity."
Says Vera Farmiga, who plays Bates' mother, Norma, "We have a lot of bounce in the spring to be inventive, because we don't know anything about it."
What you will recognize, though, is the iconic Bates home, which production rebuilt on location where the show films in Vancouver. They used the "original plans from Universal that Hitchcock himself used for the construction of the house and the staircase," Cuse says. "In that way it was the most direct connection to the original Psycho."
What you shouldn't expect, though, is any sort of supernatural bent — despite Cuse's past experience with the genre. "No polar bears, no smoke monsters," Cuse says. "There's no supernatural elements at play. We view this as a psychological thriller, very character based."
Bates Motel premieres March 18 at 10 p.m. ET on A&E.
Follow Jean on Twitter @hijean
[PHOTO CREDIT: Joe Lederer/A&E]
More:
Vera Farmiga Cast as 'Psycho' Mom in A&E Prequel
A&E Developing 'Psycho' Prequel Series 'Bates Motel'

'Buckwild' Stars Talk 'Jersey Shore' Comparisons: 'I Ain't Paying For No Tan' (EXCLUSIVE VIDEO) (Celebuzz)

Oscars 2013: Best Picture Race Is Down to 'Lincoln' Versus 'Zero Dark Thirty' (Moviefone)