SXSW: 'Bates Motel' Isn't Your Mother's 'Psycho'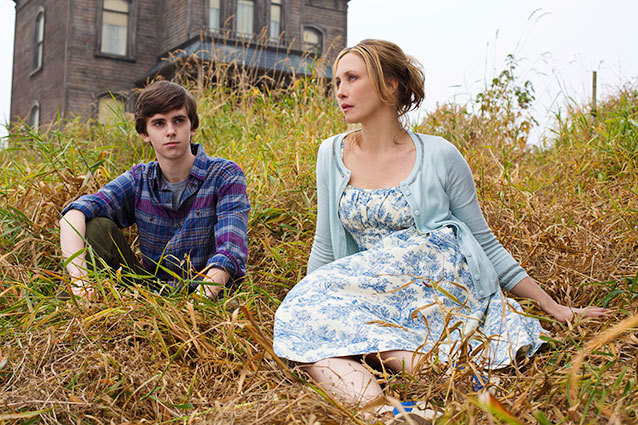 First thing's first: "This is a Bates Motel panel, not a Lost panel." Executive producer Carlton Cuse wanted to make that very clear at the Vimeo Theater inside the Austin Convention Center, for the viewing and subsequent panel for his new A&E series. The comment was, as it turned out, in jest (Lost questions inevitably came up). But Cuse, who is an executive producer on the upcoming show, was serious when he explained that Bates Motel wasn't a send-off origins story of Alfred Hitchcock's horror classic Psycho. 
RELATED: 'Bates Motel' at TCA: It's Not an Homage to 'Psycho'
Instead, Bates Motel uses the imagery (the iconic house) and names from Psycho, but they are detached from Hitchcock's story. Instead, Bates Motel  — which takes place in the present — follows a shy young man named Norman Bates (Freddie Highmore) and his seemingly distant mother Norma (Vera Farmiga), who buy a motel and move into the house next door. "A contemporary piece really unshackled us. We wanted it to be our story," Cuse told the crowd. 
Cuse likened their approach on Bates Motel to how Christopher Nolan made Batman his own: the Batmobile and the characters were all there, but it was a new story. "We created our own mythology," Cuse revealed. "[Norma] is not a shrill hateful mother…how Norman becomes who he is gets answered in the first 10 episodes." While he said that the ending of Bates Motel "will be some version of what happened in the movie," it won't be "a literal reenactment."
RELATED: 'You're Next' is a Horror Fan's Dream Come True at SXSW
So how did the crowd, who were the first to see Bates Motel before it airs on A&E on Sunday, feel about the show? While one audience member told Cuse during the Q&A portion that she wanted to watch all ten ordered episodes right there and then, a few seemed bored — and in one case, someone was clearly offended. During one particularly graphic scene, Farmiga's character is raped and a woman in the crowd, visibly upset, left her seat never to return. 
It's not terribly surprising. For a show that's so deeply rooted in horror iconography, there's nothing particularly scary about something loosely based off of one of the creepiest films in history. The pilot has a few violent moments that should satisfy those looking for action, but for Psycho purists this will disappoint. (That said, the first murdered person in the episode does wind up in a bathtub, though that's not where they were killed). It's not just the look of Pyscho that makes it endure as a classic, but it's the unshakable mood, and that's all but vacant in surprisingly bland Bates Motel. 
RELATED: 'Evil Dead' Takes SXSW on a Gory, Grisly Ride
[Photo credit: A&E]
---
You Might Also Like:


8 Male Stars With Tramp Stamps


15 Stars Share Secrets of their Sex Lives (Celebuzz)