Exclusive: 5 Things to Know About HGTV's New Series 'Beat the House'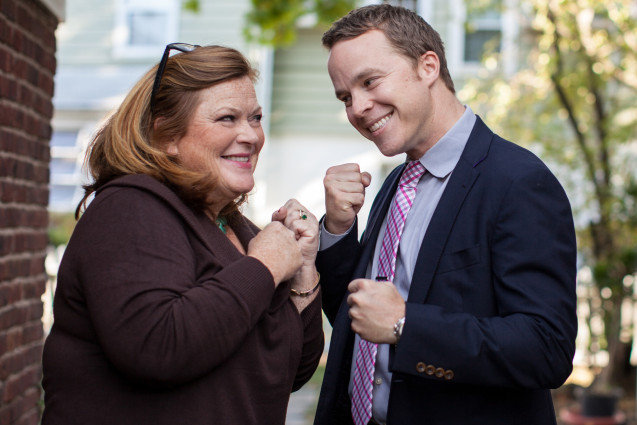 Courtesy of HGTV
HGTV makes shows that are so addicting you can't seem to flip the channel. At least that's what always seems to happen with their flagship series House Hunters and its globetrotting spinoff House Hunters International. HGTV is hoping for another addictive hit with its new reality realty competition Beat the House.
Before the competition to find the best home commences, Hollywood.com talked to stars and real estate experts JoJo Jones and Christopher Kromer about what to expect from the new show:
1. Two Realtors Compete To Find The Ultimate Dream Home
A couple might think they've found the perfect house, but that's before they've met JoJo Jones and Christopher Kromer. Jones and Kromer use their real estate know-how to ensure buyers are getting the best house possible. The one catch? Jones and Kromer have very, very different real estate styles. While Jones focuses on getting buyers exactly what they've always wanted in a dream house, Kromer takes a more hard-numbers approach to finding the best home for the lowest price.
2. JoJo Jones Sells With Her Heart
JoJo Jones has a big personality, a warm heart, and Southern charm for miles. Before jumping feet first into the real estate game, Jones owned a local clothing store in George called The Midnight Pickle. Her focus is to find couples the home of their dreams, everything included.
"I don't think anyone has ever seen someone really sell a house the way I do," Jones told Hollywood.com. "I am truly passionate about my mission to find my clients a house that will make them happy."
3. Christopher Kromer Is All About The Deal
Meanwhile Christopher Kromer worked as a financial consultant before throwing his hat into the real estate ring. As a real estate broker in New York City, Kromer has closed some massive deals on luxury properties. His style focuses on finance, ensuring buyers don't break the bank on their dream home.
"A house can be a wonderful expression of our personality, but it's also a huge financial investment and you want to find something at a price you can manage," Kromer said. "You should own the house – it shouldn't own you."
4. Buyers Are Making Big Mistakes
The one thing both Jones and Kromer can agree on is that buyers are making some big mistakes in their home owning quest. Kromer sees buyers who are far too focused on a static set of criteria, and end up missing some great homes.
"It's similar to dating. Many of us think we know exactly what we're looking for, but sometimes we end up finding love in the most unexpected place," Kromer said. "The same goes for house-hunting – maybe the perfect home is in a neighborhood you might not have initially considered."
While Jones sees buyers compromising on what they want because of the price tag as a major error.
"Many times buyers lose the house that is perfect for them over such a small amount of money," Jones said. "If they would just understand that in the long run that little amount of money might cost you the home of a lifetime."
5. Beat the House Has A Healthy Dose of Competition
While Beat the House has an educational element for home buyers, what's likely to keep audiences coming back for more is the excitement of the competition. Will the buyers choose JoJo's house or Christopher's? Or will they ignore both real estate experts and go with their initial choice?
"Beat the House is a battle of experts against a couple seeking the house of their dreams. It's a game!" Jones said. "Our differences in style will make you gasp for breath by the end of the show!"
Check out a sneak peek of the premiere episode below:
Beat the House premieres January 7 at 11pm ET on HGTV.
Are you addicted to HGTV reality shows? Will you be checking out Beat the House? Share in the comments!