'Beauty and the Beast' Executive Producer Reveals Shocking Finale Twist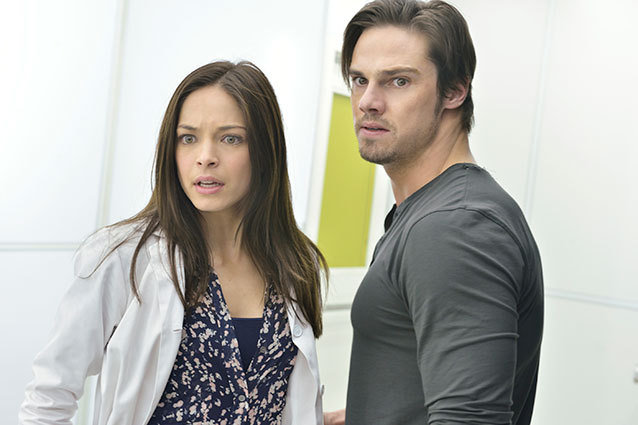 Going weeks at a time without Beauty and the Beast is hard enough. But when we're left with a cliffhanger as juicy as Evan witnessing Cat kissing Vincent, then Vincent jumping off her roof, revealing himself to be the cross-species DNA beast killer the police have been searching for? The wait is downright torturous!
Good news for all BATB fans: the drama returns tonight with an all-new episode, "Heart of Darkness," and according to executive producer Jennifer Levin, we won't be left hanging much longer. "Evan goes straight to Muirfield and lets them know, 'I know where this guy is,'" Levin reveals to Hollywood.com. "He exposes Vincent right away."
But the strange thing is that Evan doesn't expose Vincent for malicious reasons. "He hopes to protect Cat," Levin says. "He obviously knows that Catherine is in love with this guy but he thinks that [Vincent] is a force of evil. And he also hopes to get Cat. He's jealous."
We wouldn't hold our breath for a relationship with Cat if we were Evan, however: Cat won't be feeling too warm towards her work friend after his actions lead to Muirfield successfully capturing Vincent. That's right, we said capture — not kill. Vincent's life won't be in danger, contrary to what he and Cat have always thought. "There's more that they can learn from him by studying him, since he survived out there for a long time," Levin explains. "We get to see inside Muirfield. We get to learn about what they're up to, and [we learn] that they're active… It's not just about cleaning up the past. So perhaps Vincent could help them in their active endeavors."
We can't reveal what those active endeavors are (or else the powers-that-be at The CW would transform into a beast of their own and come after us!), but believe us when we say that you won't see this twist coming. We can tell you that you'll find out this shocking secret before the finale, and that plot is what will drive the story going forward (hopefully into Season 2, if BATB gets a renewal).
If that was too vague for you, here's something scoop-worthy that is more definitive: there may be redemption in store for Evan, even after his big mistake tonight leads Muirfield to Vincent. "He is going to have to do something drastic when he realizes that maybe that was the wrong move," Levin says.
One character who has already been redeemed is Tess, now that she knows the truth about Vincent. "Tess and Cat are at a good spot moving forward," Levin says. "Tess now knows why and understands why Cat has done what she's done. Now Tess is going to be brought in to help with whatever Vincent and Cat need to deal with." That's right: Tess is now a part of Team Beast! 
Though her relationship with Cat is on good terms, Tess's relationship with Joe is another story. Her secret love tryst with her boss is about to hit some bumpy road. "They're going to have to make a choice soon. He's her superior and they're having a relationship," Levin reveals. "At some point in the next couple of episodes someone catches wind of it, so they have a big choice to make. Is she going to stay there, is she going to leave, what are they going to do? How are they going to deal with this?"
Make sure you tune in tonight to watch all the drama unfold when BATB airs at 9 PM ET/PT on The CW. 
Follow Sydney on Twitter: @SydneyBucksbaum
More:
'Beauty and the Beast' Star Promises Resolution to Last Week's Adrenaline-Fueled Cliffhanger
Sendhil Ramamurthy's 'Beauty and the Beast' Debut 'Ruffles a Lot of Feathers'
'Beauty and the Beast' Executive Producer Talks Cat/Vincent Romance 
---
From Our Partners


Stars Pose Naked for 'Allure' (Celebuzz)


Which Game of Thrones Actor Looks Least Like His Character? (Vulture)