'Beauty and the Beast' Star Promises Resolution to Last Week's Adrenaline-Fueled Cliffhanger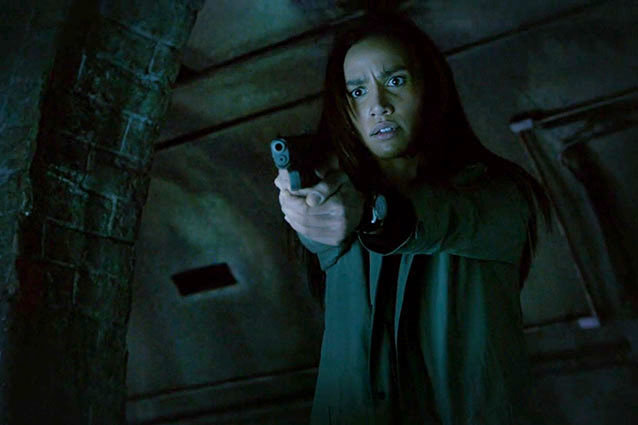 Have you recovered from last week's massive cliffhanger on Beauty and the Beast yet? "Insatiable" cut off right as Tess (Nina Lisandrello) shot Vincent (Jay Ryan), and Catherine (Kristin Kreuk) ran in screaming. If you're worried tonight's "Partners in Crime" might skip over any action with a time jump, you can relax: Lisandrello spilled the beans on tonight's game-changing, drama-heavy episode.
"We are literally going to pick up right from Tess shooting the beast and Catherine running in," Lisandrello reveals to Hollywood.com. "Because of all the adrenaline going through Tess after having just shot someone, when Cat runs in she's screaming no, but Tess is still coming from a place of her partner just ran in and is going to have her back. Tess is kind of all over the place but she does not know that this is the person that Catherine loves."
That confusion will be cleared up very quickly, however, when Catherine finally reveals the truth about Vincent's identity. But just because Cat finally opens up to Tess doesn't necessarily mean her ex-partner will believe her. "The question is will Tess accept what Catherine's saying to her?" Lisandrello says. "It's a huge leap from Tess's reality, that people who turn into beast creatures are coming from a good place. She is really going to have to decide whether Catherine is sane in all of this and whether she can trust her or not."
RELATED: Sendhil Ramamurthy's 'Beauty and the Beast' Debut 'Ruffles a Lot of Feathers'
That dilemma will plague Tess over the course of tonight's episode. Will Tess side with Cat and Vincent now that she knows the truth, or will her feelings for Joe lead her in the opposite direction? "It is going to be a very intense roller coaster ride because Tess is in love with Joe and Vincent killed Joe's brother," Lisandrello teases. "Tess is going to have to decide where her loyalties lie: if it's with her best friend or if it's with the man she's falling in love with."
Tess is stuck between a rock and a hard place, and her choice won't be an easy one to make. "Whatever decision she makes, she has to lie to the other person," Lisandrello says. "Tess is a pretty open, upfront human being, but now she's going to have to start harboring secrets and information from a person that she cares about deeply."
RELATED: 'Beauty and the Beast' Exec Producer Talks Cat/Vincent Romance
No matter what side she chooses, her friendship with Cat may be damaged irreparably thanks to being put in this situation. "It is a very intense and highly emotional episode because we had a beautiful friendship that is now damaged," Lisandrello says. "We have to see if they can make it out of this. The audience will definitely be on edge about what Tess is going to decide to do, and whether this whole thing is going to come crumbling down on Catherine."
Especially now that the new Assistant District Attorney Gabe (Sendhil Ramamurthy) is highly suspicious of everyone in the precinct, no one is safe – even though he is hiding secrets of his own, like how he was responsible for the vigilante copycat murders last week. "Tess didn't trust Gabe out of the gate," Lisandrello reveals. "You'll definitely find out more about him. He is harboring a ton of information and secrets. I think the audience will be really surprised about what's in store for his storyline."
Catch Beauty and the Beast on Thursdays at 9 PM ET/PT on The CW.
Follow Sydney on Twitter: @SydneyBucksbaum
[Photo Credit: The CW]
---
You Might Also Like:


Topanga's Revealing Lingerie Shoot: Hello '90s!


13 Most WTF Fan Tributes