'Ben and Kate': Details on Season 1's Romantic Guest Stars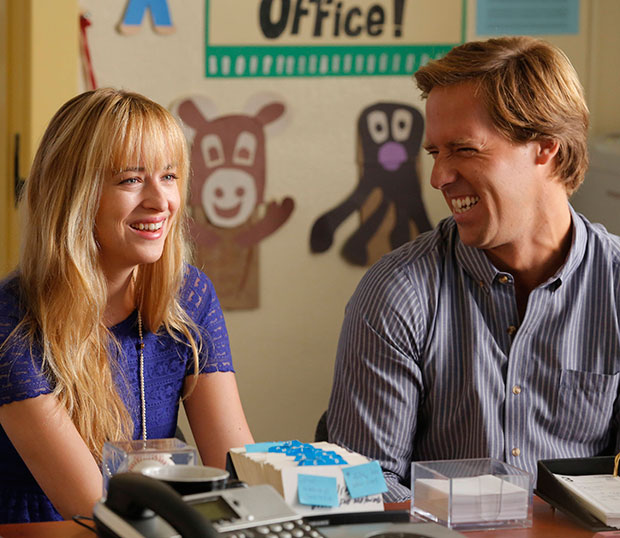 Fox's Tuesday night lineup is mostly about girl power, what with
The Mindy Project
and
Zooey Deschanel's
New Girl
, but they aren't the only ones facing a road full of romantic entanglements. The network's family sitcom
Ben and Kate
mostly centers on the caring and sometimes contentious relationship between a brother and a sister (I'll give one chance to guess what their names are), but, hey, even people who are close to their siblings need a little romance from time to time! And from what series creator
Dana Fox
had to say during a conference call on Wednesday, there's plenty o' butterflies-in-your-tummy feelings to go around. 
First up is Ben (Nat Faxon), who's got not one, but two ladies entering his life this season. Or, in the case of the first, it's more of reentering. Ben's married ex girlfriend, Darcy (Lauren Miller) will make another appearance beyond her mild cameo in the pilot. "Ben can't quite close the door on her," Fox says. But it's not just Ben who's having trouble: "When it comes time for her to close the door on him, she balks a little bit." But will the sweet, lovable Ben be okay with being left on the hook?
He might be okay for a bit. He'll have a distraction in the form of
Lindsay Sloane
, who's set to play Ben's "stalker ex-girlfriend." And while you'd think that would send Ben screaming for the hills, Ben has a fragile ego. Every once in a while, he needs some attention. "She's sort of his kryptonite," laughs Fox. "She says one word to flatter him and sucks him back in." Oh Ben, we don't even know you yet and already, we can tell that you never learn. 
Of course, Kate (
Dakota Johnson
) will also have her share of romance as she hops back into the dating saddle, after taking a few years off to raise her daughter. Naturally, Fox found Kate a hunky man to help her come out of her shell:
Geoff Stults
. "He's a tall drink of water … a real Captain America kind of guy," says Fox. Well, if that doesn't spell hunk, I don't know what does. Let's just hope there's not a wind-tunnel where his brain should be. 
Finally, Fox teased the man who clearly seems to be her favorite guest star:
Rob Corddry
. "He's my muse," she gushes, professing that she's "completely obsessed" with his role. Corddry plays Kate and B.J.'s (
Lucy Punch
) boss at the bar where they both work and B.J. takes a real liking to him. "She explores what it's like to be in a relationship with her boss," teases Fox. Well, if we know anything about Corddry (
and we do
) that relationship is going to be anything but easy, and anything but boring. 
Ben and Kate premieres Sept. 25 at 8:30 PM ET on Fox. Will you tune in?
[Photo Credit: Fox]