'Ben and Kate' Premiere: A Strong High Five for the Heartwarming New Series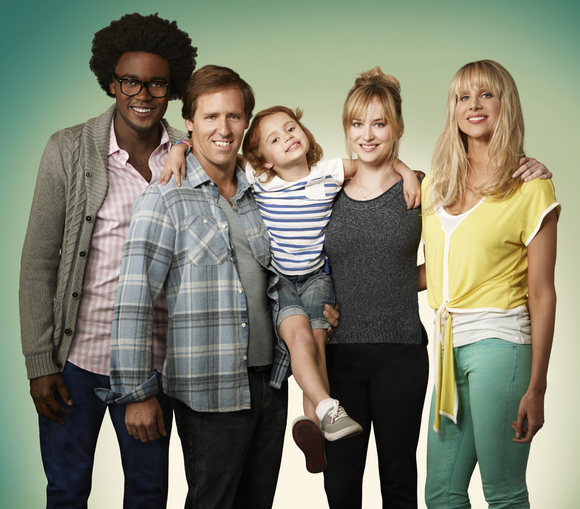 Last year, the George Clooney-headlined The Descendants captured the attention of both theater-going audiences and a little gold man named Oscar for its heart-warming portrayal of a complicated family man in a complicated family situation. And much of the credit goes to the Academy Award-winning co-writer of the film, Nat Faxon, an actor who, prior to his Oscar win, was best known for silly roles in silly movies like Orange County and Walk Hard: The Dewey Cox Story.
So perhaps it's fitting that Faxon's next step post-The Descendants is irreverent family comedy Ben and Kate, which stars the actor as a silly family man in a complicated family situation. After all, the new FOX series is just heartfelt as Faxon's big-screen writing venture. Ben and Kate centers on a pair of siblings that are as close as they are different — the former is a doltish man-boy while the latter is a responsible (but still understandably harried) single mom. When it comes to the Fox family — loosely based on creator Dana Fox's own clan, and a great unintentional branding effort by the series — opposites attract. Kate is patient with her brother's drum-playing, hockey mask-wearing antics, while Ben is inspired by his sister's ownership of her own life. And the two have to get along — how else to teach family values to Kate's young daughter, Maddie (We Bought a Zoo's infectiously adorable Maggie Elizabeth Jones)?
It's an approachable, family-friendly subject similar in nature to fare like Modern Family, but Ben and Kate is much more irreverent than the ABC hit. And we can thank its leading man for that. Faxon, as Ben, begs comparisons to the goofily confident Ryan Reynolds (in need of dental work) and Happy Endings' droll breakout Adam Pally. Ben is outlandish and ridiculous, prone to schemes and pranks — the type of character that would be relegated to a sitcom sidekick, inviting canned audience applause the second he walks through a door. Yet, Faxon manages to make the role worthy of its leading status, incorporating the same heart into Ben that we saw jump off his Descendants script. Ben might be eccentric enough to plan to crash an ex-girlfriend's wedding without pause — and base someone's character on the solidity of their high fives — but his fondness for his sister, and her young daughter, bring him straight down to Earth, transforming him into a manboy far more mature than those you see in lazy misfires like Man Up!. Instead, Ben is a manboy you want to root for. 
It doesn't hurt that Faxon boasts a sweet chemistry with his Kate, played
Dakota Johnson
, otherwise known as 
Melanie Griffith
 and
Don Johnson
's daughter. And Johnson's presence is refreshing — the actress' most high-profile work prior to
Ben and Kate
 was trotting celebrities back and forth on stage as 2006's Miss Golden Globes. But it only takes one viewing of
Ben and Kate
 to see that Johnson has outgrown the punchline status. It's no easy task to share the spotlight with an actor adept at providing comic relief, but Johnson has more than leveled the playing field. The actress refuses to play the straight woman. Even when taking in dating advice from the aptly titled BJ (the delightfully hyper-sexualized sidekick 
Lucy Punch
, speaking of globes) — in a scene that could, admittedly, have been pulled from any sitcom — Johnson heightens the material, selling Kate's awkward jitters and making the gorgeous blonde instantly relatable to any television watcher. And Kate's bizarre relationship with Ben's friend Tommy (scene-stealing newcomer
Echo Kellum
) — who once made out with Kate during what she calls "her fat phase" and what he calls "her hot phase" — only sweetens the comedy deal. 
The breakout on the series is, of course, young Maddie, who — like the network's title character on
Raising Hope
 — provides an emotional backdrop to some of the less-than-PG material. (See: Kate's bra shot, Ben's frustration not being able to scream expletives in front of his niece.) Jones is just funny enough to sell scenes better than some of her brethren on ABC, and adorable enough to reel in viewers less likely to connect with
Ben and Kate
's off-beat humor. But here's hoping audiences
do
 connect with the new series — I'll at least be tuning in to find out what happens to the Fox descendants for as long as Fox will let me.
Follow Kate on Twitter @HWKateWard
More:
Ben and Kate: What You Need to Know Before Watching Tonight's Premiere
Ben and Kate: Details on Season 1's Romantic Guest Stars