The Bloody Best in British TV That You Can Stream Right Now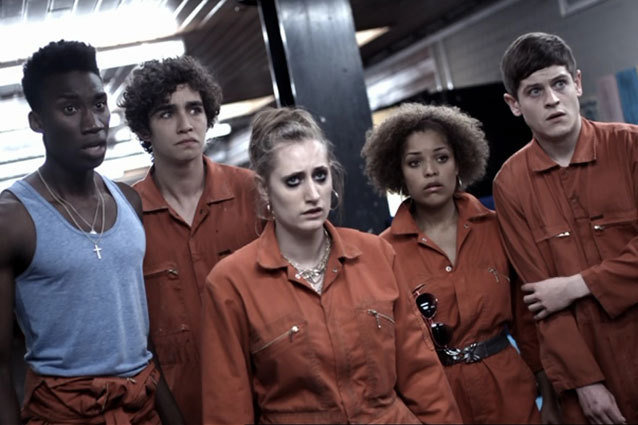 E4
Caught up with Downton Abbey, Sherlock, and Doctor Who and looking to scratch that lingering itch for the dry wit and impeccably plotted story that only British television can provide? Netflix and Hulu have a collective treasure trove of Anglo-centric masterpieces just waiting for your eyes and ears. Check out our recommendations in comedy, drama, and sci-fi, but don't blame us when you get addicted. Cheers.
Call the Midwife
Don't fret if you missed the PBS airing of this critically acclaimed drama. The first six episodes are available on Netflix Streaming and the second series of eight should be up soon.  But we must warn you: Call the Midwife, based on the memoirs of Jessica Worth who served London's poor East End as a nurse in the 1950s, will likely break your heart a few times. But, as with most British series, it'll be worth it.
Spaced
Your plans for next weekend are sorted. Gather your pop-culture obsessed friends; load up on some truly terrible junk food; and marathon all 14 episodes of Spaced on Netflix. The reference-laden slacker comedy marks the first time Simon Pegg, Nick Frost, and director Edgar Wright worked together. See if you can spot all the Spaced cameos and in-jokes in their big screen collaborations Shaun of the Dead, Hot Fuzz, and summer release The World's End.
Torchwood: Children of Earth
The run of Doctor Who spin-off Torchwood has its share of highs and lows. The season that's most worth your hard-earned free time is the masterfully bleak and self-contained Children of Earth. It's a far cry from the cheeky, innuendo-heavy first and second series, but the seemingly hopeless spot the Torchwood team finds themselves in will keep you glued to your TV until the final seconds.
The IT Crowd
The IT Crowd is a gift to nerds and the people who love them. The laugh track is jarring at first, but you'll quickly tune it out and concentrate on the antics of computer experts Roy (Bridesmaids' Chris O'Dowd), Moss (Richard Ayoade), and their clueless boss Jen (Katherine Parkinson). Catch up on all four short seasons on Netflix to be ready for its one-off finale (and first new episode in three years), which is debuting at the end of September.
Misfits
Where Heroes failed, Misfits succeeds. The premise: a strange electrical storm imbues a group of teenage deliquents with a variety of superpowers while they're completing their community service. The series seamlessly blends comedy, drama, and sci-fi with striking visuals to come as close to feeling like a filmed comic book than a TV show has ever been. The first four seasons are on Hulu Plus, and the fifth and final season is on its way.
More:
5 Ways Patrick Stewart's Wedding Could Have Been Inspired by 'Star Trek'
'Crimson Peak' Casts Tom Hiddleston
'Futurama' Farewell — 7 Best Episodes
---
From Our Partners:


40 Most Revealing See-Through Red Carpet Looks (Vh1)


15 Stars Share Secrets of their Sex Lives (Celebuzz)