'Orange Is the New Black' Proves That Prison Can Be Like Summer Camp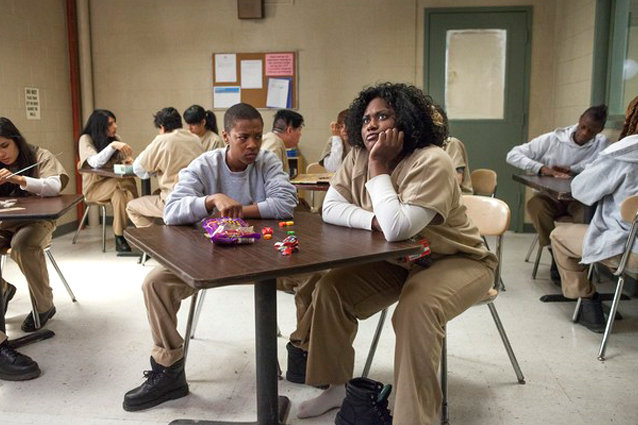 Orange Is the New Black often shows the ugly sides of prison (bloody tampon sandwich, anyone?), but it also shows that when you put hundreds of women together in the same place, close bonds will inevitably form. Even in prison, women aren't always out to get each other, as popular culture often likes to depict. Plus, with counselor Healy on his "lesbian witch hunt" and a guard like Pornstache, those girls gotta stick together. Here are our favorite friendships to come out of Litchfield.
1. Taystee and Poussey
Ever since Poussey set Taystee straight for calling her "pussy" (accent à droite, b***h!), they've been tighter than tight. Poussey was Taystee's running mate during the women's advisory council campaign, seconding her appeal for fried chicken, and she was with Taystee in the salon when she was getting her "white girl's best friend" makeover (to impress the parole board), for which Poussey suggested Regina King. When Taystee commits a crime to be put back in prison, Poussey goes off on her, like a good friend would. But Taystee recounts how much worse it was on the outside, and she tells Poussey that at least in here, "I got a bed. And I got you," to which Poussey says, "I really missed you." Excuse me while I get something out of my eye.  
2. Sister Ingalls and Sophia
One of the unlikeliest pairs, Sister Ingalls and Sophia take comfort in each other, despite their differences. Sister Ingalls shows her true compassion by accepting Sophia, a transgender woman, for who she is, a stark contrast to the way Pennsatucky (who claims to be a voice of Jesus) treats her. Even though Sophia initially befriends Sister Ingalls because she hears the sister has estrogen pills, she comes to count on her as a voice of reason. When Sophia senses that her wife, Crystal, might be in love with her pastor, Sister Ingalls convinces Sophia to give her blessing, and when she does she gets her full estrogen dose back as a karmic reward. It's nice to see two women from such different backgrounds find common ground.
3. Nicky and Alex
Nicky and Alex are two tough-talking, no-BS gals who make each other laugh. When Alex talks about her dashed goals, revealing her soft side for the first time, Nicky comforts her, saying, "It's gonna be OK, sister. There's always hope that tomorrow will be taco night." Nicky and Alex just get each other, especially when Nicky gets dumped by Morello and learns what it must have felt like for Alex, who was also dumped by a woman for a man. Then there's the Christmas episode scene that started sweet (Nicky walks in on Alex making her earrings) and ended raunchy. What will become of their friendship in season two? We hope they never lose their witty banter.
4. Big Boo and Little Boo
Because, well, this:

Via
More:
The Best of Taystee in GIFs
The Hippie Lady in OITNB was Patti Mayonnaise!
Star Watch: 5 New Stars on the Rise
---
From Our Partners


Stars Pose Naked for 'Allure' (Celebuzz)


20 Grisliest TV Deaths of 2012-2013 (Vulture)