TV's Spookiest (and Funniest) Halloween Episodes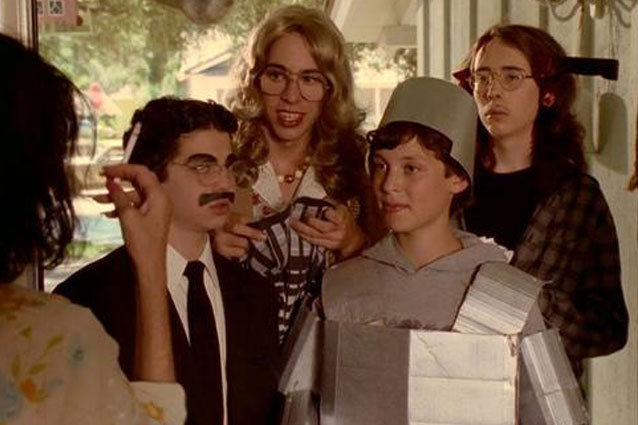 NBC
What is it about Halloween episodes that bring out the best in some of our favorite shows? Maybe it's because Halloween is a holiday when anything seems possible but everything seems to go awry. Relationships can start and end on a night when mistaken identities are pretty much a given. And the folks in the writers room must really enjoy putting their actors in truly embarrassing costumes. Whether it features reimagined horror movie tropes or Chandler Bing in a giant pink bunny suit, every one of these episodes was an instant classic.
Freaks and Geeks — "Tricks and Treats"
The teen transition from Halloween as a childhood romp to Halloween as an opportunity to subvert those very traditions is explored by the Judd Apatow series, just as touchingly as every other coming-of-age topic it covered. Plus, Bill Haverchuck dresses up like the Bionic Woman.
The Simpsons — "Treehouse of Horror V"
No comedy owns the holiday quite like The Simpsons. Its "Treehouse of Horror" episodes are a yearly tradition. Our favorite is the fifth, where the family ends up stranded at Mr. Burns's abandoned estate, experiencing what Groundskeeper Willy calls, "The Shinnin'." Now if only we could remember what a lack of TV and beer can make Homer do…
Buffy the Vampire Slayer — "Halloween"
Halloween is complicated in Sunnydale, where the Scooby Gang falls under a spell that makes them become their costumes. What use is a slayer who's acting more like a prissy medieval princess?
How I Met Your Mother — "The Slutty Pumpkin"
HIMYM's first Halloween episode introduced the unattainable "Slutty Pumpkin," a girl who inspires Ted to repeat his once-timely "hanging chad" costume year after year so that they might find each other again.
Friends — "The One With the Halloween Party"
The party itself is irrelevant. It's the costumes, from Spud-nik to the not-so-Velveteen Rabbit to Chandler ("Waahh!"), that put this one on the list.

Boy Meets World — "And Then There Was Shawn"
The TGIF sitcom succeeded in pulling off a genuinely scary send-up of teen slasher fics, complete with a cameo by scream queen Jennifer Love Hewitt.
More:
It's Appropriate to Watch 'Hocus Pocus' Every Day
'The Simpsons' Will Kill Off an Emmy-Winning Character
'How I Met Your Mother' Recap (Season 9, Episode 3)
---
From Our Partners:


40 Most Revealing See-Through Red Carpet Looks (Vh1)


15 Stars Share Secrets of their Sex Lives (Celebuzz)