The Steamiest, NSFW-est Scenes From 'Being Mary Jane'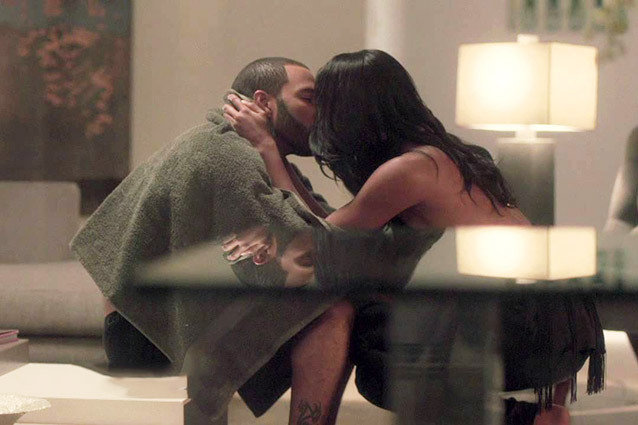 BET
This year, BET's Being Mary Jane totally nailed it: creator Mara Brock Akil had the number one original series debut on cable for the 2013-14 television season. Five million viewers tuned into the season premiere, and with good reason. The protagonist, Mary Jane Parker (played by Gabrielle Union) is fascinating and complex, the love triangles (and quadrangles… or squares… or trapezoids) are intense, and the music offers a fantastic soundtrack for all of that drama. But we're here to celebrate the one extra-special reason folks are tuning in: the crazy-hot sex scenes that just won't quit. Mary Jane has had a quite a busy season thus far, and we've all been enjoying it immensely. So join us as we reminisce about some of the unforgettably steamy NSFW moments from Being Mary Jane.
The Only Shower Scene That Matters
From this point on, we shall no longer think of Norman Bates dressed up as his mama and wielding a knife when someone makes reference to a shower scene. Now, the only shower scene that matters is this one, in which Mary Jane runs into the one guy she'd been avoiding at the gym promises to place you firmly on Team Andre. Firmly. Until…
That Awkward Moment When You Find Yourself on #TeamAvery
For the most part, viewers are rooting for Union's character to make it work with Omari Hardwick's Andre, mainly because… well… did you see the shower scene? Those two are hot! But in a recent episode, Andre got into a heated argument with his wife, which resulted in some insanely steamy make-up loving. Although the Avery/Andre reunion didn't last very long, it was an unforgettable scene and for a moment, a few of us found ourselves on Team Avery.
David's First Hello
If you're not watching the show you missed that first episode where — SPOILER ALERT — Mary Jane may or may not have stolen this guy's sperm. But before the stolen babymakers comes the love-makin', and when David showed up with a bag of chips and asked if she'd be "down for some consensual sex," the two of them were actually pretty good together. It also helps that Union's body is the definition of flawless, so pretty much every scene where she's rocking a t-shirt and panties (because it's all about the t-shirt and panties) is hot.
Self Love Is The Best Love
We're not gonna lie. That scene? Where Mary Jane — how do you put this delicately? — provided herself with self love? At work?! Kind of a big deal. She opened up about preparing for the experience in a recent interview. Not only was the scene hot, but it was both humorous and progressive, and sort of made us feel like there should be more women masturbating on television. Ya know. For feminism. 
So now you're feeling some combination of completely entertained and shamefully dirty. Watch Being Mary Jane to keep that feeling going.