Best Wigs Ever: Michael Douglas and Matt Damon Take Liberace
When you think Liberace, you think Michael Douglas. Or at least you will, soon. You might have heard about the HBO movie endeavor to pay tribute to the deceased singer/pianist with a developing biopic by Steven Soderbergh. In the fall of 2011, Douglas was cast to play the lead, while Matt Damon was brought on to portray Liberace's much younger lover, chauffeur Scott Thorson.
Douglas and Damon are featured below in the first picture from the HBO film, which is titled Behind the Candelabra. They might not be spitting images of their famed characters, but you cannot deny that the spirit of Liberace lives on in those shades. And that wig. And the collar. Douglas has this down.
Thorson is obviously a less iconic figure, meaning that Damon will have more leeway in his portrayal of the young man with whom Liberace was romantically involved. The hair might cut it for the visual embodiment of Thorson; whatever Damon brings to the table in his performance is bound to be a winner.
Check out the pic, and get ready for Behind the Candelabra, set to air on HBO sometime in 2013.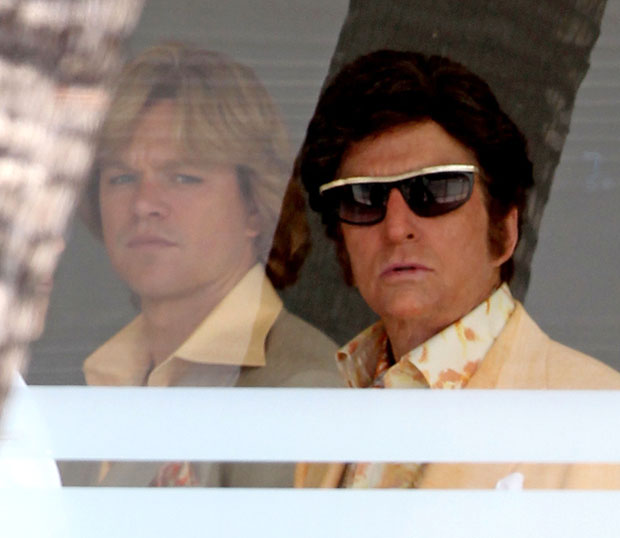 [Photo Credit: Miguel Aguilar/PacificCoastNews.com]
More:
Michael Douglas and Matt Damon to Star in a Liberace Biopic for HBO
Rob Lowe May Play Liberace's Plastic Surgeon
Steven Soderbergh Sheds Light on Upcoming 'The Bitter Pill,' 'Liberace' and His Retirement