'Bet On Your Baby' is Your Worst Nightmare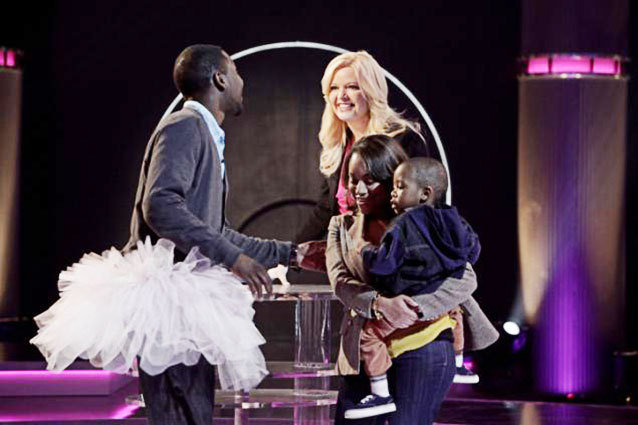 ABC gets a little credit for trying to be creative with its newest game show, Bet On Your Baby. But doesn't mean the show isn't so horrible that you'll want to systematically Kill Bill the executives responsible for bringing this calamity to actual television screens.
If you're planning on tuning in to watch ironically (with, say, an adult beverage or five), let me stop you right there. Don't. Don't do that. Just drink your wine/beer/other while you listen to the new Justin Timberlake album. Or even the new Limp Bizkit album, because even that would be more pleasing to the ear than shrill women screaming about their children.
The premise of BOYB, hosted by the lovely, personable, far-too-amazing-for-this Melissa Peterman is that one parent bets on whether their child can complete such scintillating tasks as stacking Oreo cookies, holding an inflated beach ball for an entire minute, or twirling around in a certain number of circles while the other parent supervises the activity.
At the end, the parents compete in a weird Price Is Right Showcase Showdown-style thing that involves their children picking up a pile of discarded toys so they can solve a puzzle underneath. Then they get to smash piggy banks with a hammer to see how much money they'll be able to put toward their kid's college education, like a weird, lower-stakes Deal or No Deal. Like, the most they can take home is $25,000, which won't even cover a year of a state school, let alone their kid's college education in 15 years.
Plus, aside from the misguided jumble of literally every other game show on television, the parents are insufferable. It's like willingly cornering yourself at a party with a couple who only wants to talk about their child's every accomplishment. Why would you ever do that?!
Follow Jean on Twitter @hijean
---
From Our Partners


Jessica Alba Bikinis in St. Barts (Celebuzz)


Which Game of Thrones Actor Looks Least Like His On-Screen Character? (Vulture)