Our Predictions for 'Breaking Bad' Spin-off 'Better Call Saul'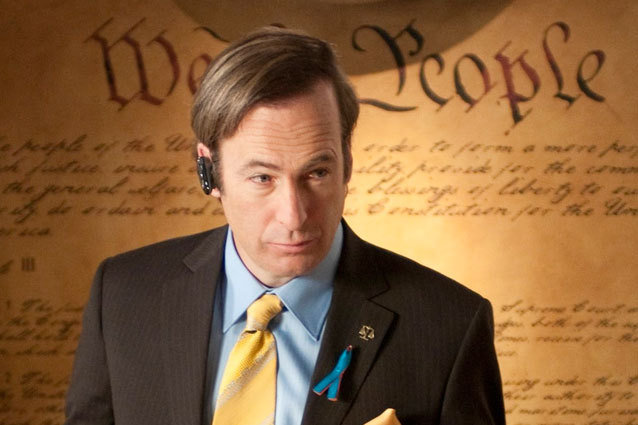 AMC
Where did he come from? A plaguing question that surrounds any grand figure, heroic or villainous, and one that has been answered in accord to many of cinema's favorite characters: Anakin Skywalker, Indiana Jones, Bilbo Baggins, Butch Cassidy, Charles Xavier, Mike Wazowski, and the Man With No Name. When it comes to fictional greats, we have the opportunity to travel back in time — via the good graces of the "prequel" — to engage in the origin stories that got these individuals set on their paths to glory. Or terror. Or small scale duplicity and tactless one-liners… that last one we can chalk up to the Breaking Bad spin-off Better Call Saul, a comedic series centered around Bob Odenkirk's shifty lawyer Saul Goodman in his pre-Walter White era.
TheWrap reports that the idea, floated by the AMC network and Breaking Bad creator Vince Gilligan a while back, is now officially a go. We're still not totally sold on the project — a bit nonplussed by the idea of anything thinking it might carry the Heisenberg torch — but we're at the very least curious. After all, with more of a humorous hue and a far different type of character at the forefront than Breaking Bad has, Better Call Saul is going to veer quite a bit from its predecessor. So what, exactly, will this show be like? Maybe some of the involved parties' past works might inform us…
The X-Files
Many Breaking Bad fans know that creator Gilligan is an X-Files vet, having written and produced the classic sci-fi series starting in its second season. We don't presume that Saul Goodman is going to have many run ins with alien life forms or the Cigarette Smoking Man, but maybe a week-to-week super-procedural, steeped in mystery and dense mythos, might best fit the amoral attorney. Roswell ain't too far away from Albuquerque, you know.
Mr. Show with Bob and David
Everyone who knew Odenkirk before Breaking Bad knew him from Mr. Show, a sketch comedy series starring and created by the actor/writer and Arrested Development's David Cross. Although it sounds crazy, maybe Better Call Saul would work best in sketch comedy form. Each week, the lawyer could find himself in three or four distinct scenarios — defending junkies, spying on clients, poisoning schoolchildren — each erupting in wacky hijinks that only his doubletalk can solve. (Costarring David Cross as rival attorney and constant one-upper Mort Grandfellow.)
Hancock
Wanna hear something weird? Vince Gilligan wrote Hancock. Remember Hancock? That Will Smith superhero movie you don't remember? Yeah, that one. Again, we're not expecting anything too mystical to come from BCS, but if we can dream, we wouldn't mind a comical series about a superpowered laywer… or better yet, a lawyer who defends superheroes. There've got to be an awful lot of property damage cases.
The Spectacular Now
If you've seen this summer's powerful coming of age drama, you know that supporting player Odenkirk can pack a wallop of sentiment. As the surrogate dad to main character Sutter (Miles Teller), he doles out reserved charm and somber advice… the sort of wisdom that you could almost see coming from Saul Goodman, if he were to have just a fraction more of a soul. But hey, Saul and a teenaged delinquent? A pseudo-father-and-son dramedy about a childless Goodman and the young meth head he takes under his wing… that could be the winner.
What version of Better Call Saul would you want to see?
More:
'Breaking Bad' Recap: To'hajiilee
'Breaking Bad' Recap: Rabid Dog
'Breaking Bad' Recap: Confessions
Follow @Michael Arbeiter
| Follow @Hollywood_com
---
From Our Partners


Stars Pose Naked for 'Allure' (Celebuzz)


20 Grisliest TV Deaths of 2012-2013 (Vulture)