Beyoncé Documentary Reveals a Lot of Dancing, But What Else? — TRAILER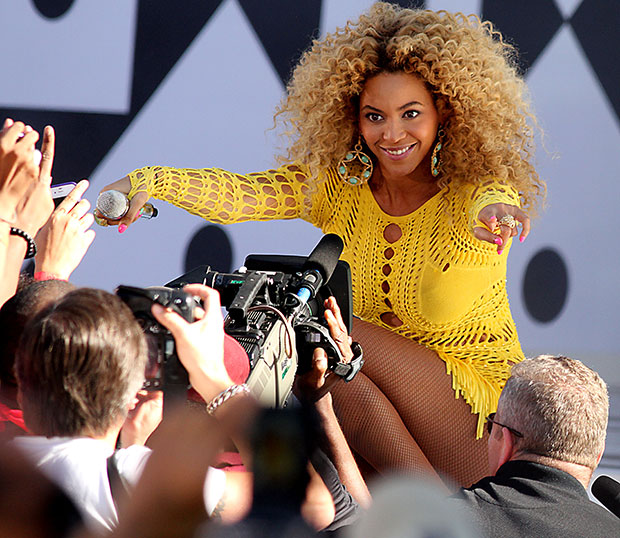 The literary form of autobiography dates back as far as the Fourth Century, when figures like St. Augustine pioneered a pride in self-documentation. Ever since, the art of telling one's own story has become commonplace, with written memoirs coming from every celebrity with a career of note (or one that can be sold as such). But the auto-documentary is another story — we haven't seen too many artists get behind the camera to chronicle their lives and work. That's one of the most interesting facets of the forthcoming HBO doc about and directed by Beyoncé Knowles.
Below is the first trailer for the movie, which features a sequence of clips of the music artist performing, placed beneath a brief narration about the fears and concerns that have plagued and encouraged her throughout her professional climb. The film will mark Beyoncé's directorial debut.
Obviously, one must approach the idea of an artist's autobiographical documentary with a bit of apprehension. Immediately, the idea of objectivity is tossed out the window. No matter how honest, self-aware, and well-intentioned a figure might be in the crafting of his or her own auto-doc (not this kind), no human being can achieve total objectivity when looking at or discussing itself. Sensationalism, slanting either positive or negative, is an inevitability.
That said, there's not exactly zero to be gained from an "inside perspective" on Beyoncé. If nothing else, people do love her. They want to know what it's like inside her head, and what her career and personal life have felt like. Where this movie might prove victorious is in the artist's honesty: bearing in mind how colossal a cultural idol she is, Beyoncé's greatest achievement here would be to deliver a candid, inspiring piece about the artistry and the climb. Encouragement balanced with realism. And a recharge of her longstanding messages about self-love, empowerment, and tolerance would be a good thing to tack on as well.
The documentary will air on Feb. 16, 2013, on HBO.
[Photo Credit: WENN]
More:
Beyoncé Shares Squee-worthy Blue Ivy Baby Pictures
President Obama Says Beyonce and Jay-Z Are 'Down-To-Earth'
YOLO, Jeah! 10 Catchphrases We Don't Want to Hear Again in 2013

Inside 'Bachelorette' Stars Ashley Hebert and J.P. Rosenbaum's Wedding — EXCLUSIVE DETAILS

Mario Lopez, Courtney Mazza's Wedding Pictures Revealed!