'The Bible' and 'Vikings' Are Huge Hits for History, Break Ratings Records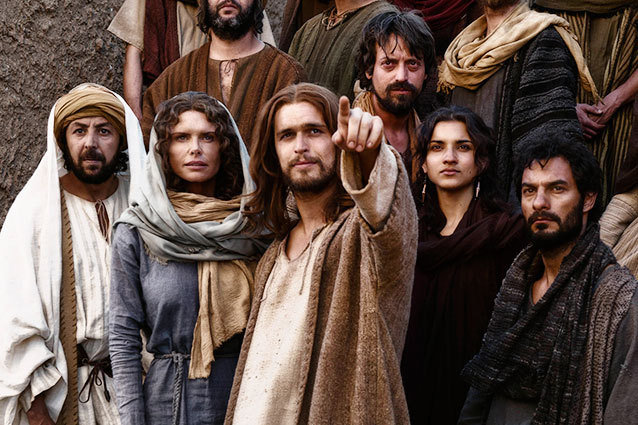 Everyone thought it would be as impossible to beat The Walking Dead on Sunday nights as it is for those zombie hunters to find a fresh change of clothing (seriously, can't they just steal a few new shirts that aren't covered in sweat and walking dead pus?) but it seems like The History Channel is up to the challenge with a resurrection of their own: The Bible. 
13.1 million people watched The Bible's debut from 8-10 PM, and the total number of viewers for the night went up to 14.8 million with the addition of encore showings. Not only that, it also brought in about 5 million viewers in the 18-to-49 demographic that advetisers crave like the Catholic church craves a break from scandal. The channel is touting it as the "top cable entertainment broadcast of the year" which has plenty of qualifiers, but is still a pretty big deal. The Walking Dead, currently the number one show on TV in the demographic, had a ratings high of 12.3 million viewers earlier this year. 
Vikings didn't do quite as well, but its first episode still pulled in 6.2 million when it premiered at 10 PM, and had 8.3 million watching a bunch of blond dudes bury their swords both literally and metaphorically throughout the encores. Didn't I tell you it was going to be huge? 
RELATED: Sure to Be a Huge Hit, 'Vikings' Is Horrendously Watchable and Amazingly Schlocky
History Channel has had a string of hits lately, including Hatfields & McCoys, which did blockbuster business and picked up a couple of Emmys. If they keep this streak up, their name is going to mean what all the rest of the cable channels will be if they don't start keeping up: history. 
Follow Brian Moylan on Twitter @BrianJMoylan
[Photo Credit: Joe Alblas/History Channel]
---
From Our Partners:


Seal Is Dating the Pink Power Ranger: Report (Vh1)


60 Celebrity Bikini Bodies: Guess Who! (Celebuzz)