'Big Bang Theory' Promo: Will Sheldon Finally Say That Four-Letter Word to Amy? — VIDEO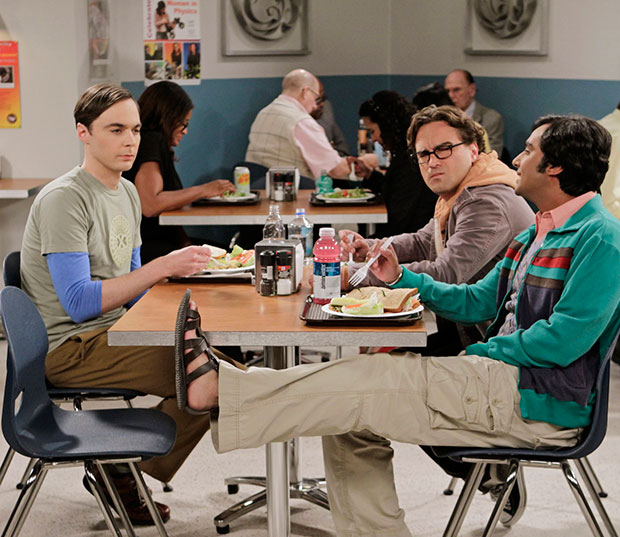 "The Date Night Variable" — With his friends on dates, Raj (Kunal Nayyar, right) must face his loneliness, on the sixth season premiere of THE BIG BANG THEORY, Thursday, Sept. 27 (8:00 – 8:31 PM, ET/PT) on the CBS Television Network.
Sheldon Cooper is not one to express… um… well… anything, really. Emotions are a tricky landscape for everyone's favorite socially inept scientist. And that's why his romantic (if you can call it that) relationship with Amy Farrah Fowler on CBS' The Big Bang Theory is so perplexing. How could this cardboard model of emotions last? Ladies — especially ones genius enough to be neurobiologists — don't put up with that nonsense forever. And that's probably why we saw Sheldon — dare we even utter this phrase — sweetly holding Amy's hand at the end of the Season 5 finale. But it would seem that bliss is fleeting: the new promo for the Sept. 24 Season 6 premiere of BBT spells out quite a different story.
Amy is finally fed up and walks out on Sheldon in the middle of dinner, but it just might do the trick. He just might say that four-letter word: N-e-e-d. Bazinga! (That works as a "gotcha," right?) Okay, so he's not exactly jumping out of his own skin and becoming a whole new person, but what did you really expect? 
Also of note in the promo: Howard did, in fact, make it to space. And his mother did, in fact, figure out how to annoy the bazinga out of him there too. 
[Photo Credit: CBS]