'Big Bang Theory' Recap: The Unfunny Ballad of Sheldon and Dr. Kripke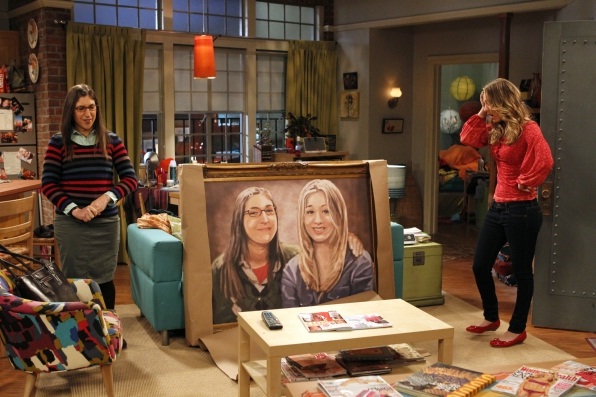 S5E17: This week's The Big Bang Theory is kind of a wash. No storylines progress, which is usually okay since it's a sitcom. But nothing of merit happens. We get a Barry Kripke-heavy episode, so if you like watching a guy speak like Porky Pig, then this one's for you. For the most part, "The Rothman Disintegration" plays like an episode from one of the earlier seasons, which isn't terrible. But by this point in the show's history, Chuck Lorre and his writers can produce a much better half hour than this paint-by-numbers episode.
"These shrimps are all the same size, there's no logical order to eat them in." – Sheldon
On their way back from Dr. Rothman's retirement party, Sheldon wants to take a look at his new office, which is Rothman's old one. Seeing as how Rothman was driven insane and forced to retire, he won't be needing it…which could mean that Sheldon will have the same fate. Unfortunately for Dr. Cooper, Dr. Barry Kripke is already in the office, having called dibs, which means we're in for a war over some prime office real estate. It's just like the rest of the episode, but it's a decent way to start things off.
"Before I met you I was a mousy wallflower. But look at me now: I'm like some downtown hipster party girl. With a posse, boyfriend, and new lace bra that hooks in front, of all things." – Amy
Amy Farah Fowler's continual misunderstanding of boundaries is taken to new levels as she commissions a painting of herself and Penny…and what an eyesore the gargantuan thing is. Unless the painting will keep Penny and Amy young – a la Dorian Gray – it needs to go posthaste. Judging by the look on her face, Penny feels the same way. Luckily for fans, Mayim Bialik continues to sell Amy no matter what the Big Bang writers throw at her. She's grown far beyond her initial role as the female Sheldon.
"As you know, the essence of diplomacy is compromised. With that in mind, I propose the following – I will take Rothman's office, and you will find a way to be ok with that." – Sheldon
Kripke comes over to discuss who will get Rothman's office. Evidently, Kripke hasn't heard of the classic "Rock, Paper, Scissors, Lizard, Spock," so we're treated to another explanation of the game. Despite the fun of watching R.P.S.L.S. again, the dueling scientists agree to decide who gets the office over a basketball game – an area in which the guys agree they're both terrible. Go figure – sitcom uber-nerds are bad at sports. So long as they don't try to grapple with each other like Raj and Howard did last season, I think we'll be okay. And at halfway through the episode, I haven't grown tired at Kripke's Porky Pig-like voice, so hopefully I'll be ok.
"You know all those terrible things bullies used to do to us? I get it." – Leonard
Sheldon and Kripke do battle on the basketball court and play to five points. Justin "Linsanity" Lin of the New York Knicks these guys are not. Neither man can even make it to one point, let alone five, but they both break a sweat while pithily trying. Leonard lowers the standards and suggests making a basket from the free throw line. Even than doesn't work, so the winner is decided over who can bounce a ball highest – Sheldon wins the grade school competition and praises his own satisfactory P.E. performance.
"Goodnight painting Penny. Goodnight real Penny. You don't have to say goodnight to painting Amy because she's never leaving." – Amy "Goodnight real Penny. Goodnight transvestite Penny." – Bernadette
Amy finds out that Penny hides their painting whenever Amy is not around, and she takes the painting home with her in an angry huff – at least she didn't go for the sculpture. When Penny goes to Amy's to apologize, she blames taking down the painting on Bernadette's jealousy. Satisfied with the answer since Bernie is the "least cool," Amy grabs the painting so she can re-hang it in Penny's apartment.
"Mockingbirds can change their song, which means he's out of tune on purpose. He's mocking me." – Sheldon
It's hard to believe, but Sheldon's new office has sort of gone to his head. The room itself is bound to make an OCD scientist snap: it's got stale air, the hole in the wall where "something wanted out," wind chimes, a mockingbird who clashed with said chimes, and vibrations from being underneath the geology lab. Sheldon's "nervous system is being plucked like the strings of a harp." To the victor go the spoils, indeed. Sheldon going crazier than he already is? Yes, please.
If you couldn't tell, I'm tired of Barry Kripke. He's a one note character mocking a speech impediment. As for the actor who plays him, John Ross Bowie, they've used him to better effect on several occasions. Sadly, the battle over a new office wasn't even funny. Kripke and Sheldon have had much funnier duels than this one. It's not a good sign when throughout the episode, you get the feeling that Johnny Galecki has grown bored as I have with these sorts of plotlines – no matter how much the audience in attendance seems to love it. I'm sure I'm not the only one who has grown tired of repetitive sitcom tropes from a series that time and time again has shown it's better than that.
Does anyone else want to see Sheldon's growing insanity in his new office continue? Hopefully next week, we'll get back to the quality this show is known for. What do my fellow Theorists think? Sound off in the comments below and follow Hollywood and me on Twitter @Hollywood_com and @CouchForceOne.