5 Reasons To Fall In Love With Tonight's 'Big Bang Theory'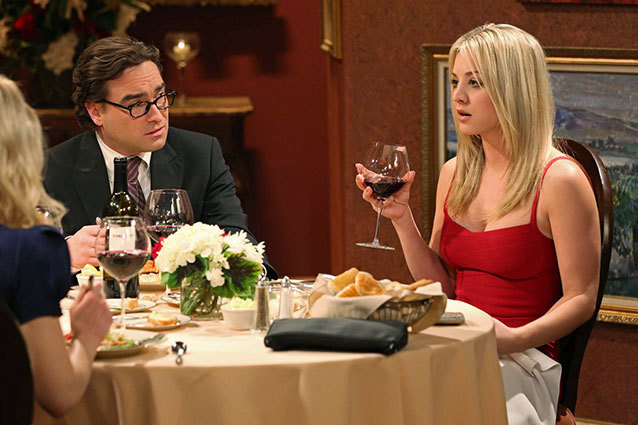 Tonight's all new Valentine's Day-themed episode of The Big Bang Theory is a total bore…
Bazinga! We all know there's no such thing as a boring episode of the BBT, especially when love is in the air for our favorite CBS beauties and geeks. Tonight's 30 minute V-day extravaganza, "The Tangible Affection Proof," is packed with so many hilariously heartfelt moments that you're going to want to watch it over and over again. (We're already up to 3.5 times!)
To help prepare you for all of the wacky moments and wonderment, we've jotted down five reasons why you'll fall in love with tonight's episode of Big Bang Theory. Cancel all your plans, make a date with your favorite spot on the couch, and order some take out because it really doesn't get any better than this.
RELATED: Leanne's Spoiler List: Kaley Cuoco's Sister To Star On 'Big Bang Theory's Valentine's Day Ep
1. Romance Ninja: It's common knowledge that Leonard loves Penny — always has and hopefully always will. So you can imagine the great lengths he's going to go to make sure that she has the perfect Valentine's Day. Get excited for the greatest superhero you've never met before: The Romance Ninja! Confused? Let me have Leonard explain, "You don't see it coming and then Bam! Romance! Watch out! Hearts! Kisses! Love! Waaaaaah-cha!" That's right ladies, would your boyfriend ever by this adorkably sweet? I didn't think so…
2. All The Single Fellas: Once again, February 14 is upon us, and Raj and Stuart don't have anyone special to spend it with. So what's an astrophysicist and a comic book storeowner to do? Throw a singles party! Now instead of being lonely and sad on Valentine's Day, all of Pasadena's comic book-lovers are just gong to be sad. Don't feel too bad BBT fans, Raj gives a heartfelt monologue to raise their superhero-loving spirits.
RELATED: No Surprises: 'Modern Family,' 'Big Bang Theory,' 'Grey's Anatomy' Top DVR Ratings
3. The Perfect Gift: Sheldon enlists the help of his always-eager assistant Alex, to help find Amy Farrah Fowler (aka Sheldon's amazing scene-stealing girlfriend) the perfect Valentine's Day present. After turning down multiple wonderful options, Sheldon ends up giving Amy a very special something that will make you smile for days. It's even better than this gift! Let's just say that Shamy has reached the next level of their relationship.
4. Love and Marriage: Howard and Bernadette are so fantastically funny in this episode that you'll wish they were bickering each and every week. Bernadette has been working 17-hour days, and all she wants is for Howard to put down Assassin's Creed and help out around the house. The result is an amazing game of grown-up hide-and-seek in the Wolowitz house. Plus, be prepared to laugh out loud and clutch your sides when Bernadette delivers one of the shortest yet jam-packed lines of the night: "Bite me!"
RELATED: 'Big Bang Theory' Gallery
5. A Sweet Proposal: We at Hollywood.com were the first to tell you that Kaley Cuoco's sister Briana Cuoco is going to be making a cameo in tonight's episode as Gretchen — the girl that Penny's ex-boyfriend cheated on her with. Penny sees her old flame and former friend in the same restaurant tonight, and let's just say she's not too happy about it. Just when it seems like the night was a complete and total bust, Leonard proposes a very important and swoon-worthy plan to his lady — which she then happily accepts. Bottom Line: Don't miss the final two minutes of tonight's episode, Leonard/Penny shippers!
Make sure to catch tonight's all-new episode of The Big Bang Theory at 8 PM on CBS!
Are you excited for "The Tangible Affection Proof," BBT fans? What do you think Leonard is going to ask Penny? Any thoughts on Sheldon's perfect present for Amy? List your speculations and hypothesizes in the comments below!
Follow Leanne on Twitter @LeanneAguilera
[Photo Credit: Michael Yarish/CBS]