Big Brother: And The Evicted Houseguest Is…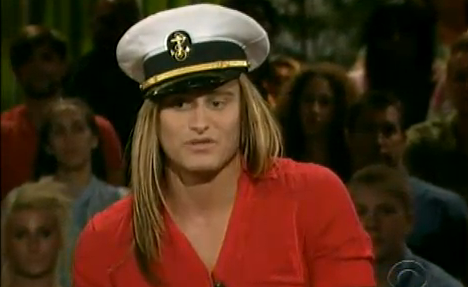 Well the Slient Six/Quack Pack have spoken, America. And gone from the game is Wig Wil! After a weird hour of programming that involved an "ice cream date" between Frank and Ashley that turned into a "make-out date," Wil and his luscious luxury locks were sent packing back to the Britney Spears video from whence they came.
No one was really surprised by this, though, right? I mean, Frank had said from the get-go that Wig was the one he wanted out of the game, on top of the fact that he never really played it well. So really, his going far just wasn't in the cards.
The HoH competition was next, and the fans decided that during "Swamped" the house guests would be tempted with a whole bunch of money. Tonight's competition involved filling a jug with water. But–TWIST!–there were two other jugs. One labeled "Safety" and the other for the $10,000. And man was it slippery–in more ways than one. There was banjo music, ladies on their knees, and when we left only Mike Boogie was taking the money bait (because of course he was).
Regardless, next week episodes look to be game-changers, with a big ole DOUBLE ELIMINATION on the horizon. Are you happy Wil/Wig/Sailor Moon (seriously what was with the boating cap?) getting the boot? Are you mad Joe didn't get evicted (or at least his bleach blonde flavor savor shaved off)? Sound off in the comments and make sure to check back tomorrow for Brian Moylan's recap!
Follow Alicia on Twitter @alicialutes
More:
'Big Brother' Recap: Return of the Zingbot
'Big Brother' Recap: You Bought a Lemon