'Big Brother' Recap: And the Evicted Houseguest Isn't…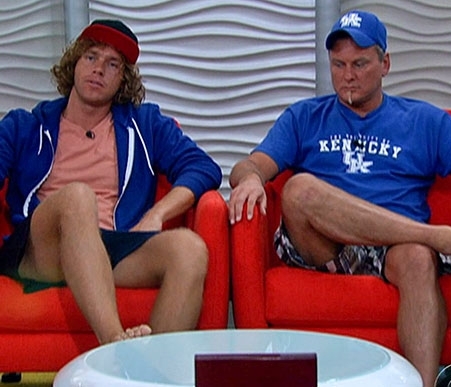 DID JOE EFFECTIVELY COOK FRANK'S GOOSE? OR DID THURSDAY NIGHT'S BIG BROTHER PROVE THAT ONE COOK IS TOO MUCH FOR BIG BROTHER'S KITCHEN? AND HOW MANY COOKS DOES IT TAKE TO SCREW IN A HUNDRED FOOD PUNS?
ALSO, WHY AM I WRITING IN CAPS LOCK? TURNS OUT JOE'S VOICE IMMODULATION IS CONTAGIOUS, FOLKS. SO I HAVE NO CHOICE BUT TO SCREAM LAST NIGHT'S RESULTS AT A VOLUME HIGH ENOUGH TO REACH ASHLEY'S HEAD: NO ONE WAS EVICTED FROM THE BIG BROTHER HOUSE.
Wait, no one? That's right — in a twist only M. Night or Big Brother could deliver, this season's game has been reset in order to allow the coaches in the game. Of course, it's a twist that's more Unbreakable than The Happening. (The trees did it? Wait, what no?) After all, we knew from the second CBS announced alums would be returning to the house that the familiar faces would eventually get their chance at the $250,000. And the timing couldn't be better for Big Brother's producers — the relatively underwhelming Season 14 was in need of a reset more than an iPhone 2. Especially when a strong player like Frank was one bare foot out the door. And especially when our new players' star-gazing started to wear thin.
Because though Big Brother is trying as hard as a Frank blink to keep intriguing players in the game, it's also pushing to create non-Willie drama that would kick life in the game like it's Ian's head. But, as it turns out, Big Brother might not even need twists to create house tension. So far, in the course of one single episode:
1. We saw that the game of telephone is fun for ages 2 to stupid: How much fun was it to watch Ian's damaging comment to Britney — about whether Shane would go on the block in the future — transform from "Not in the foreseeable future," to "Not a foreseeable option," to "Not a foreseeable plan," to "Not a foreseeable banana"? We also found out that Frank told Janelle, who told Ian, who told Joe, who told Dan, who told Jenn that America told Shane to get his receding hairline in order. Oh wait, that was true. Also: Who's Jenn?
2. We learned that houseguests can't lego of their egos: Granted, expecting a Big Brother houseguest to not have an ego is like expecting Chenbot to not one day open her mouth to reveal a tiny alien named Jabieko operating her body for a intergalactic apocalyptic mission with the code name, "B.U.T.F.I.R.S.T." But Wig not being able to tame his temper over the fact that Janelle claimed to save him from eviction — which, if we can remember from the coach's challenge, she did — is disappointing. As is Janelle's inability to admit that she may have made a social gameplay error by uttering the words. As terrible a move as Chenbot's Wilma Flintstone necklace.
3. Our coaches are not quite the apple of their players' eyes: Wig and Janelle's fall-out ended in fake tears — and Wig seeing right through his coach's theatrics: "Act One, Scene Two. Insert waterworks." (Don't we wish it was "Insert Waterworld, because that would be an endurance challenge.) And it's easy to imagine Dan's relationship with the foundation bottle that replaced Danielle will wane after he (rightfully) warned his player to not tie her decisions to high school crush Shane: "I command you to stop liking him … You're not going to date when you get out of here. He's not your husband." But she's not going to be ignored, Dan!
All which leads to: Put the coaches in, Big Brother: They're ready to play, today. Well, all except Boogie, who shockingly voted not reset the game and remain a coach. That hesitance, however, can only work in Frank's favor — with a less-than-driven Boogie still on his side, not eager to take over the game, and a possible partnership with Dan (who, like in this season, was overlooked until he rightly won Season 10), Frank could reel in support from the likes of Ian, Jenn, Danielle, and even a Janelle-feuding Wig. Add in the fact that the stoic player lacks any iota of ego (even with a famous father like Sid Vicious), and we've got a contestant with all the hair of Hayden, but triple the potential. That is, if the returning players don't all band together to obliterate the new players, Season 13-style.
Of course, everything depends on who locks in a win during Thursday night's Head of Household competition, which looked a little like that Disneyworld ride that your father agrees to participate in before realizing how miserable he will be while immature youth of the world look on in glee. My money (and my hopes) is on Ian — the game is dying for an unassuming HoH to mix things up again. Make it happen, Ian. Don't make me kick myself in the head.
Fellow Big Brother fans, were you surprised with the twist? (No, you weren't.) Who will win HoH? Will Janelle and Wig repair their relationship? Which judge will make it furthest in the game? ARE YOU TOO SUFFERING FROM VOICE IMMODULATION? (Or at least investing in earplugs?) How did Ian become victim of a yellow unitard? Do you, like me, wish Dan would take off his vaguely racist headgear so we can return to liking him best? Do we think Ashley has ever watched Jeopardy, seriously? Is Willie Hantz feeling stupid for thinking he had the most famous celebrity relative in the house? Will Danielle boil a bunny (or, at least, Shane's pink tank top) after learning he doesn't want a showmance? And was OMC's "How Bizarre" written about Shane's hairline?
Follow Kate on Twitter @HWKateWard
[Image Credit: CBS]
More:
Big Brother Recap: Send In the Clowns
Big Brother Recap: Let's Get Physical