'Big Brother' Recap: Bizarro World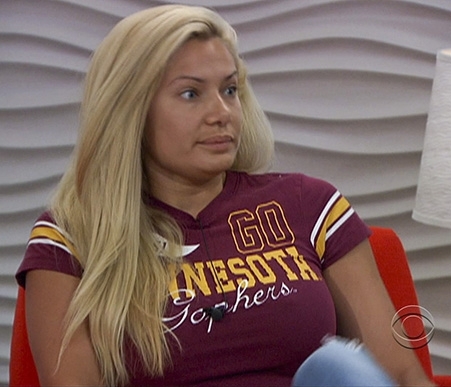 During the very first episode of this season's Big Brother, when it became immediately obvious that the so-called "coaches" would enter the game at some point during the summer (M. Night takes your twist, CBS, and raises you a nefarious tree), I was convinced we would witness a newbie bloodbath. Dan, Janelle, Boogie, and Britney had been there, done that. People like Boogie and Janelle — who have each played the game twice before — had been in the house long enough to know that newbies latches onto vets like Ian on slop, and vets can easily ditch them like Ashley ditched math class. (Just look at the first four weeks of Season 13.) Wear spandex unitards together, die alone.
But this week, the house turned upside-down, and not just from the perspective of Ian getting a tummy rub. A coaches' alliance failed, Janelle left herself vulnerable, and Boogie — that's right, Boogie, with his sneaky play, junior high t-shirts, and name of Boogie — came off as the game's most morally upstanding player. And as if that weren't enough to make you wonder whether we are in a bizarro game of Big Brother, Chenbot showed human emotion. No, sorry, that didn't happen. But Janelle, a player so accustomed to placing third that she should have a hairy, hairy chest by now, was sent out the door in 12th place.
And in true bizarro fashion, Janelle — the player who said she wouldn't cry if she saw Noah from The Notebook eat a live, defenseless kitten while reading The Year of Magical Thinking, or something like that — shed tears following her eviction. She could blame the shock of being sent out of the house by members of her own alliance. (Not that viewers were surprised — the fact that the live eviction began 20 minutes into the show, giving Chenbot enough time to suitably interview viewer favorite Janelle, was all the indication we needed.) She could blame the fact that she was evicted while channeling Barbara Bush.. Or she could blame the fact that Big Brother refused to let her out before broadcasting at least one gratuitous banana shot. But I'd say Janelle put the "Boo(Hoo)" in "Boogie" after watching her nemesis' goodbye tape: "This one was all me. So, for the third time, always a bridesmaid, never the Big Brother bride." Getting served by someone who still wears a trucker hat despite looking increasingly like the Herbert from Family Guy would make anyone bawl.
Tangent: More proof we were living in a Big Brother alternate universe this week? Julie Chen, who suddenly became skilled in the art of a follow-up question, also made an Anchorman joke following Frank's plea to the houseguests to "Keep it classy": "You sound like Ron Burgundy." No, do not do that Chenbot. Do not make me feel as though you have a soul. You do not know now why we cry. Now, please, go back to oiling your servo brackets so you can build me a glass case of emotion. Thank you.
But the most infuriating thing to come out of this week's bizarro episode of Big Brother was the crowing of Danielle as Season 14's power player. We're talking about a houseguest who has yet to make any decision on her own. A player catapulted only by her impressionable nature and Shane's libido. A player who, when Boogie approached her with his plan to backdoor Janelle, couldn't even finish his sentence about evicting "A really, really, really powerful player out of the game… Janelle." (You know she heard the "J" and was going to say "Jelly Beans" until Boogie filled in the blanks for her.) Now, her indifferent nature would be charming if she was at all aware of it. But Danielle's insistence that she has been calling the shots — while folks like Janelle herself note that Danielle "couldn't have come up with this on her own" — is as grating as her voice. As is Dan's damn encouragement of Danielle: "You're about to get one of the best players out." Of course, I understand Dan's willingness to throw away credit — inform Danielle she's a power player, let word spread, and, suddenly, his puppet, complete with a threatening showmance, pulls all the attention from him. Now, if only he learned to convincingly throw a Head of Household competition.
Because, let's face it: Dan losing the "Battle of the Bands" Head of Household face-off was about as genuine as Kara's best asset to the game. (Who?) Dan, one of my favorite players of all time, managed to swoop so under the radar in Season 10, CBS' cameras didn't even bother to focus on him until weeks into the game, making his rise to power all the more intriguing and impressive. But he seems to forget that every player in the house not only owns a TV, but is also a fan of the franchise — you can't simply repeat gameplay, Dan. Your repeat gameplay is not going to be ignored, Dan . Still, the Season 10 victor does have one thing going for him: His likeability. Even Janelle, a player who left the house in large part because of his gameplay, told Chenbot she was rooting for Dan: "I love Dan. Who doesn't?" (The Diary Room sound editors, for one.)
Dan, however, wasn't the only player to throw the competition — Boogie made way for his No. 2, Frank, to regain HoH status for the second time in the game. So, fellow Big Brother fans, let's look forward to a week during which Season 14's floaters are going to be as angry as I was seeing that CBS had hid Ashley-Ian flirting scenes from us. Jenn, Joe, Ashley, and Wig: grab a life vest.
Tell me, friends: Were you shocked to see Janelle tossed from the house? Surprised to see Joe was the only houseguest loyal to his coach? As irritated as I am about Danielle's position in the house? Happy that Ian and Ashley gave CBS the chance to cross-promote, leading us to see more footage of the "real-life Big Bang twosome"? Finding that Britney is incredibly endearing when not surrounded by The Brigade? Were you too distracted by Frank's pit stains to enjoy his cheer? Worried that Shane is slowly starting to evolve into a villain from an '80s movie? Is Wig baking a cherry pie some sort of euphemism? Were you surprised to hear Jenn talk about "her game," because who is Jenn?
[Image Credit: CBS]
Follow Kate on Twitter @HWKateWard
More:
Big Brother Recap: Silent, But Deadly
Big Brother Recap: Good Ship and Lollipops