'Big Brother' Recap: Quick Quack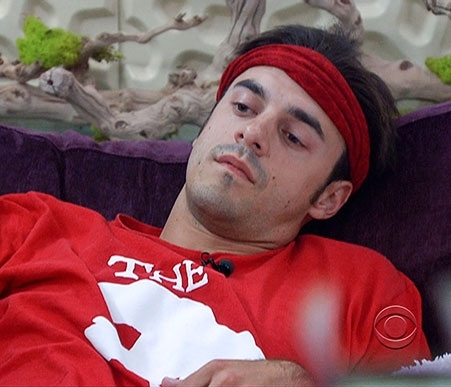 Whoever said that good things come in three was sorely misguided. (Was it Jack Tripper? Beetlejuice? The Grim Reaper of celebrity deaths?) No, my fellow Big Brother fans, our favorite summer TV guilty pleasure has taught us year after year that the best things come in twos. Chilltown, Brenchel, and, of course, the double eviction.
Over the past few seasons, the double eviction has brought fans relief (so long, Season 10's Ollie!) and overwhelming dread (if only Dumbledore could save you, Season 13's Jeff!). But during last night's doozy of an episode, the double eviction managed to fill us both with overdue relief and surprising dread.
Because while Boogie was sent packing in the first few minutes of the episode — dressed as Payne Stewart-meets-Don Johnson on his way to the candy shop with 50 Cent — the numbers were hardly in support of Chilltown 2.0 (or, as my colleague Brian Moylan nicknames them, Froogie) surviving the week. But Frank, who has enjoyed so many ups and downs in the Big Brother house that I hope the Have-Not closet is stashed with Fruit Loops and Xanax, managed to squeak by another week, winning the Power of Veto following Head of Household and Quack Packer Ian's nominations. Instead, Ashley was sent out the door before she could count to 10, which I'm pretty sure she's still trying to do.
And I feel for our young, newly hairless, devoted Big Brother player. Not only did his plan to completely dissolve Chilltown 2.0 in the matter of one week come just short of succeeding, but Ian also didn't get the opportunity to enjoy the full Head of Household experience in the house. Add to that the fact that he instead sent out his flirtshowmance partner, and created an enemy in former ally Frank, and the smooth road Ian had orchestrated just got as bumpy as his man nipples.
Not that he made the smartest choices throughout his very short run as Head of Household. It's unclear whether it served him well to fess up to Boogie following his mentor's eviction — the revelation that Boogie would "see things you don't like" enabled the evicted houseguest to tell Frank that Ian was "not to be trusted," already shedding doubt in the houseguest's mind before a vital Head of Household. Then again, the move not only eventually won Boogie's respect — after Ian had told him in his goodbye message that "I learn from the best, and that is why you're sitting there right now" — but also at last established Ian as a threat and powerful player before the first houseguest was sent into the jury house.
Of course, knowing that Frank is a tough competitor — and knowing that the previous challenge that allowed him to nab Head of Household, "Before and After," was a mental game — Ian perhaps should have anticipated that the Power of Veto competition would play to Frank's physical strengths. In fact, if he's been paying attention since Day 1 in the house — and let's face it, Ian might as well fill out a Scantron with the way he's studying the game — he should know that Big Brother's producers will always find a way to play to Frank's strengths. Wouldn't it have been better to plan to backdoor Sid Vicious' son?
Either way, it certainly would have been better for audiences if the house had decided to keep the hilariously inarticulate Ashley and voted to oust Joe — who, as we learned last night, is far more enjoyable silent — or Jenn, who got embarrassingly riled up following her nomination as pawn. (As Ian said in the Diary Room, "She couldn't be a bigger pawn right now against a legend of the game.") But while Jenn's anger is as laughable as Ashley's first comment to Chenbot out the door ("I love your side pony!"), Frank's tirade could end up reversing his luck. Not only did Frank begin the night alongside a bullying Boogie — who channeled his inner Regina George to attack Shane and Dan ("I, like, bad hairlines, you know what I mean?") — while he could have been attempting to form last-minute alliances with Danielle and other fringe members of the Quack Pack, but live footage from Thursday's show also seemed to indicate Frank's continuing in Boogie's footsteps by prolonging his tear. During Big Brother's early weeks, Frank proved himself to be a promising player because of his seemingly unflappable nature. The houseguest was placed on the block more times than he could blink (which is a lot), and still never lost his cool. But now, thanks to the schooling of his bitter coach, Frank has started to play the offense without any defense to back him up. (That clap you just heard was Dan approving of that metaphor.) That sort of assholery will only make him lonelier than Ian on a Big Brother mixer night — and more likely to head straight to the couches next week.
But, for now, we only say goodbye to Big Brother: All Stars winner Boogie — a player so entertaining and egomaniacal, he gets furious for being both nominated for eviction and not nominated for eviction — and Ashley, a player so dim and incoherent, she'll have a show on E! within the week. So, in honor of the entertaining player's sad exit, let's excerpt her final plea in the house: "Obviously, I'm not articulate. I can't express myself the way others do. I don't have that talent." Oh, lady, you were made for reality TV.
Best double eviction episode ever? Now get to steppin', you crazy kids!
Follow Kate on Twitter @HWKateWard
[Image Credit: CBS]
Big Brother Recap: A Wolf in Geek's Clothing
Big Brother Recap: Quack Pack Attack