'Big Brother' Season Premiere Recap: 10 Lessons Learned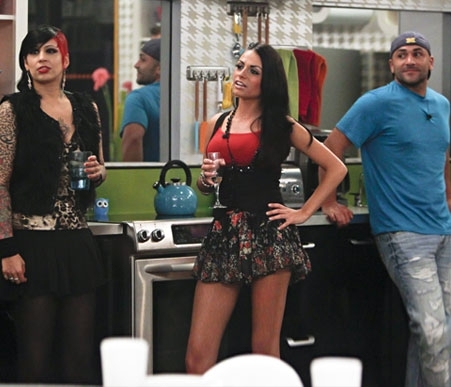 School's out for the summer! Instead, what's in is a season full of ridiculous wardrobe, nonsensical lies, and bewilderment at the number of VIP waitresses that exist in this world. (Surely, Tiger Woods doesn't have enough hours in the day, right? Hey, when did it become 2009?) That's right: It's Big Brother time — that time of year when we trade in social hours cocktailing on the beach for disarmingly sheltered existences in which we destroy our livers while bemoaning the burgeoning stupidity of our country… while fully acknowledging that we love watching the burgeoning stupidity of our country on our TV screens. If the country's obsession with Big Brother doesn't prove we're slowly becoming the real-life version of Idiocracy, then I don't know simple math. (Wait, where was I going with that?)
But guess what, America? Season 14 of Big Brother is all about education! So pick up your spelling books by the Department of Technotronics, and get ready to learn. Because this season's twist surrounds the return of four former houseguests who have come on to coach the 12 newbies. (Coaching isn't coaching without any spinning chairs, though. Thanks for ruining everything — like an existence without "Moves Like Jagger" — The Voice.) So who are "four of the greatest Big Brother players" who have come on board to help one houseguest win, and score $100,000 in the process? We have: Season 10 winner Dan Gheesling, a personal favorite who has the distinction of beating a mixologist and the most unlikeable old man to grace TV since Charles Widmore; Season 2 player and All-Stars winner Mike "Boogie" Malin, one-half of "Chilltown" known for his social game and appearance in Enrique Iglesias' "Do You Know (The Ping Pong Song" music video); Season 6 and All-Stars player Janelle Pierzina, whose drive to win is as big as her… hair; and Season 12 Britney Haynes, who… hmm… was on Big Brother, she sure was! Is it me, or is one of these things not like the other?
During a time in which reality TV series have all been stuck in a rut — opting to boast high star-wattage without delivering quality programming that people want to, you know, actually watch (ahem, Idol and X Factor — it's admittedly nice to see Big Brother continuing to put in effort. And the twist this season should prove to be an interesting one: With each of the returning houseguests mentoring three players, it's only time before teacher and student don't see eye to eye when it comes to gameplay. Wax on, vote off.
But since this was an educational evening, full of twists and admirable pantsuits (Chenbot's inner clock took her back to 1976), let's run down some of the lessons we learned during the premiere, shall we?
NEXT: Lesson #1: In case of looming apocalypse, go directly to Vinton, La.Lesson #1: In case of looming apocalypse, go directly to Vinton, La.
Because the Hantz family will be the only surviving living organisms, left to feed off of Twinkies and hump refrigerators to further mankind. Surely, I couldn't have been the only person who thought Willie Hantz was destined for an unremarkable Big Brother run the second I read he described himself as "serious, hostile, and docile," right? Still, despite the fact that Ian, Janelle, and Boogie all had him pegged as Russell's sibling (and the fact that Dan strongly suggested it in front of the rest of the houseguests), and despite his stupidly revealing a hometown suspiciously close to Russell, Willie not only cemented a spot in the game, but was awarded Head of Household by Britney after her team won the first competition. Could this Hantz be the cockroach that finally wins it all? For the sake of CBS, yes; for the sake of our emotional well-being, no.
Lesson #2: Being surrounded by good-looking ladies might make you win in life, but not on Big Brother.
They say that those who can't do, teach. So I suppose those who can teach, don't do? Or something like that? Either way, my favorite player, Coach Dan, sorely disappointed when choosing a team full of lovely ladies with little ability to actually execute a competition. It wasn't even close — though the fight for third place between Boogie and Janelle's team was nearly a photo finish, Dan's women failed to come close to catching up, despite the fact that they looked pretty losing. Dan, in the future, don't disappoint and take a page from Coach Taylor: It's "clear eyes, full hearts, can't lose," not "sparkling eyes, full breasts, lose."
Lesson #3: Sometimes the loser is clearly the winner.
Poor Jodi. Regardless of the fact that she pushed harder than any of her teammates — and regardless of the fact that her marathon history does make her a fierce competitor — she is not svelte 20-something bimbo with a ridiculous occupation. So, clearly, she is not meant for Big Brother. Consider Dan's choice to evict you a compliment, Jodi. See you on the season finale stools, dignity and all. Congrats!
Lesson #4: World War III sounds fun!
That is, if we believe Wil's (with one "L"! Where did the second one go?! Let's guess!) proclamation that the Head of Household challenge — complete with spinning mattresses and teddy bears — was like "World War III" with "flapjacks" flying around. You guys, the future sounds amazing — I want to go to there.
Lesson #5: Do study the game.
All Big Brother players can learn from Ian, who, despite his standout appearance, has already managed to fall under the radar. Dude was the seventh pick of the HOH, despite his clear advantage in the intellect department. Plus, the Tulane student was the only houseguest to recognize Willie's familial connection, and he appears to spend most of his college days watching television. This is my kind of contestant, people! NEXT: Don't lie about trivial personal detailsLesson #6: Don't lie about trivial personal details.
I'll be honest: I dig the dishonest on Big Brother. If you're going to play nice, why play at all? If we wanted to watch an unbearable sleepover, we'd watch an episode of The Girls Next Door. But nothing grates on me more on Big Brother than when houseguests lie about trivial personal information for no discernable reason whatsoever. See: Season 11's Natalie telling houseguests she was 18 when she was really 24. And, last night, Danielle telling her fellow houseguests that she's not a nurse, but a kindergarten teacher. Okay, first: There's nothing that bothers me more than people who have bloated senses of self-worth about their choice of employment. (Yes, a nurse is a respectable career path, but nothing about that job tells me you're a strategy-driven mastermind… especially if you're standing next to a chemical engineer and especially if you're willing to spend your summer jumping off mattresses to collect bears.) And, secondly: Your occupation does not matter on Big Brother. Past the first day of gameplay, your fellow houseguests don't care about how you get paid outside of the house. Instead, your fellow houseguests care about whether you're sticking their toothbrush in the toilet or, more importantly, if you're lying. Which Danielle is. And if you're going to lie on Big Brother do it right and despicably. (See: Season 12's Matt's sick wife lie.) So, please, future contestants: Do not lie about trivial matters…
Lesson #7: …Unless you should.
After all, if your fellow houseguests think you're lying about your unemployment, then it's probably time to at least get a fake job, Frank.
Lesson #8: Don't be boring.
I'm talking to you, Kara and Joe. Who? Exactly. At least the mostly silent Shane has the defining characteristic of warning people of his personality by wearing a tool belt.
Lesson #9: Don't judge a book by its cover.
Especially in the Big Brother house, because what are books?!. I do, however, have to admit: Though I thought I would hate Ashley the second she mentioned she was a mobile spray tanner (as if she were an actual object!), but her affection for Ian and reference to Frogger has somehow made her endearing. Could I possibly back a contestant whose career is a spray tan technician?! I'm shuddering like the house shower after Wil's declaration that Season 14 is "The Year of the Hair."
Lesson #10: People who watch Big Brother must have a lot of herpes.
How else to explain the mouthwash commercial for "sore mouths"?
What do you think of this year's twist? Do the newbies have much to learn? Is there a point to watching Wipeout once Big Brother comes back on? Did the show choose the right returning contestants to serve as mentors? Do you hate yourself for liking Ashley? Does Ian have this in the bag? And did you, like me, miss Dan's voice immodulation in the diary room after all this time?
Follow Kate on Twitter @HWKateWard
[Image Credit: CBS]
Big Brother Unveils New Cast, Big Twist