The Biggest Relationship Fails On 'Love & Hip Hop: New York' Season 4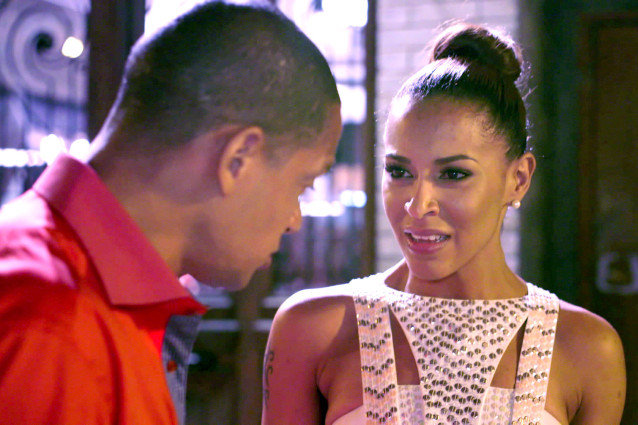 VH1
Well folks, it's been another epic season of Love & Hip Hop, and we're not even close to the finale. Love & Hip Hop New York took the drama to a whole 'nother level with new cast members, the continuation of last season's drama, and the most epic love triangle in the history of reality TV love triangles. And no, that is not an exaggeration. In case you missed it, or if you just need to make sure that what you were actually seeing was real, here are the biggest relationship fails (so far) on season four Love & Hip Hop New York.
Erica Mena Decides To Get Back With Her Ex-Manager/Boyfriend Rich Dollaz, But It's Fine Because It Will All Work Out This Time
Oh, Erica and Rich. You slayed us last season with your creepy relationship, which involved a mixing of business and pleasure the likes of which we'd never seen. After watching Erica refuse to sign her contract all last season, and finding out that the two of them were actually cheating on each other with the same person (yes, take a moment to think about that), we were all surprised (or not surprised at all) to see Erica and Rich getting back in the business sack together. The moment that Erica decided to sign that contract, audiences everywhere breathed a collective sigh of regret for her. Plus she's got a girlfriend now, and Cyn Santana (who, sidenote, is ridiculously obsessed with Chipotle) doesn't seem too psyched to see this hook-up happening again. The drama is inevitable.
Saigon Demands That His Babymama Get A DNA Test, Then Asks If They Can Get Back Together
So here's an awkward situation. You give birth to a guy's son. Said guy waits until your son is well past infancy to demand a paternity test, and lets you know that as long as he is the father, he will totally consider dating you. Not an episode of Maury Povich, but the real life expereinces of Saigon and his babymama Erica Jean. It's fine. The two of them are fine now.
Joe Budden Explains The Non-Tahiry Hair On Tahiry's Side Of The Bed
Fellas, if your girl finds hair in your bed. And it's not her hair. Just tell her you had a friend over, and that friend was a woman, and that friend laid down on her side of the bed, but not in a sexual way at all. Oh, and also when you changed the sheets it had nothing to do with the hair situation either. There ya go. Relationship Fail 101, courtesy of Joe Budden.
That Time When Peter Gunz Secretly Married His Artist/Mistress While He Was Still Living With His Girlfriend/Babymama
For the first few episodes of the season we were all disappointed in Peter Gunz, who was cheating on his girlfriend of 13 years and babymama Tara with his new artist Amina. But wait. There's more! Much more. As it turned out, Peter had actually secretly married Amina… but was continuing to live with Tara… because… WTF? Exactly. So, to recap. He married his mistress, thereby deconstructing the notion of the side chick, and creating for television the most horrifyingly epic love triangle of all time.
That Time When Peter Gunz's Girlfriend/Babymama Found Out That He'd Married His Artist/Mistress And Kept Hooking Up With Him Anyway
So you can imagine what happened when Tara found out that her boyfriend had married his other girlfriend, while still living with her and acting like everything was super cool. We all felt warm and gooey inside watching Tara take a pair of scissors to all of Peter's clothing and musical instruments and, of course, sneakers. It was ah-mazing. But one episode later she was hooking up with him again! Again, WTF?! How? Why? Which now, technically, makes her the mistress in this sick, sick turn of events. Of all the relationship fails on Love & Hip Hop New York, Tara's willingness to jump back in the sack with Peter was probably the biggest. No judgment, though. Just … some real concern for the state of love and hip hop in America.