'Boardwalk Empire' Preview & Clips Prove The Excitement Is On The Rise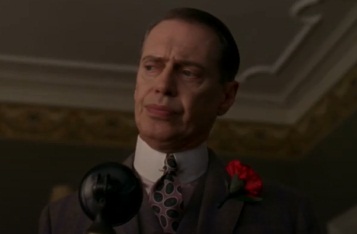 This season of Boardwalk Empire may have gotten off to a slow start, but after Nucky's fistfight with his brother; Maggie's unsettling feelings for Owen Slater; Mickey Doyle's warehouse explosion; van Alden's marital turmoil; Richard's near suicide; Jimmy's scalping of a wheelchair-bound business head; and the rooting of a multi-syndicate heroin operation, it's safe to say that things are back in the neighborhood of excitement.
As we can see in the preview below, Sunday's episode seems no different. With Jimmy on the rise and Nucky on the fall, Maggie and van Alden each engulfed by their emotional demons, and everybody and his mother trying to upstage their bosses and break into a crime ring of their own, things aren't about to get any less complicated.
As if tensions weren't thick enough for Maggie in the Thompson household (what with the servants mocking her behind her back, Nucky losing friends by the minute, and Slater coming around everyday to send a charge into her heart), she decides to pay a visit to her long-estranged brother. In the clip below, we can see that Maggie doesn't exactly receive the warm welcome she desires.
With nowhere else to turn (as her previous support group was the already batty Detective Nelson van Alden, who is now plagued with the additional mental disarray of his wife having left him), the new mother Lucy returns to her old mate: Nucky Thompson, interrupting a very important meeting with his lawyer. We can see below that Nucky will not be bamboozled, however. Before Lucy can even speak, Nucky has the exact statement prepared to ellapse him from any parental responsibilities.
Boardwalk Empire airs Sunday nights at 9 p.m. ET/PT on HBO.