'Boardwalk Empire' Recap: Bad Dreams, Bad Luck, Bad Italian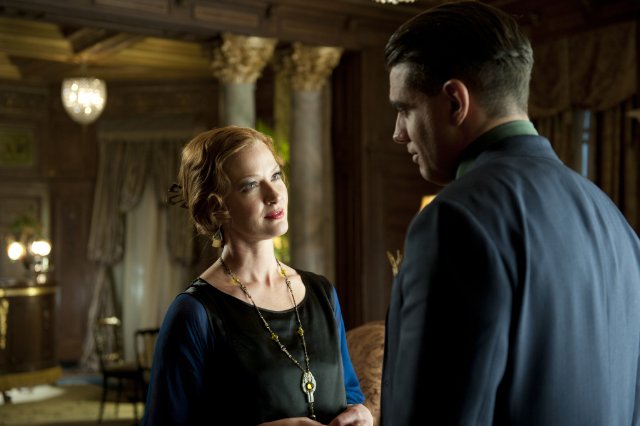 It looks as though Boardwalk Empire isn't quite as done with Jimmy Darmody as we might have thought. Actor Michael Pitt is long gone — save for some Season One footage repurposed for flashbacks — but as of this week's episode, the spirit of his character lives on quite vivaciously in the mind of Nucky Thompson.
The episode opens amid a nightmare segment: Nucky, alone and desperate for companionship (seeking such in the form of a phone call to his new marginally-invested girlfriend, showgirl Lillian Kent), finds himself the perpetrator of a lethal gunshot wound in the face of a young boy — a projection of childhood Jimmy.
Throughout the episode, which follows Nucky through the attempted reparation of his business relationship with the perpetually inconsolable Gyp Rossetti, and through the acceptance of an honor for his donations to the Catholic church, Nucky is plagued by visions of young Jimmy, facial wound and all.
The haunting delusions inform a good deal of Nucky's decisions through the episode. He offers Gyp Rossetti a compromise following the conclusion of their business arrangement, agreeing to sell him liquor through the month. Nucky reaches out to Margaret, albeit very slightly, with whom his relationship has all but dissipated completely. And finally, when Lillian does show up by his side at the end of the episode, Nucky confides that he fears aloneness. Killing Jimmy, his own son of sorts, has left Nucky quite spiritually alone — perhaps he no longer understands his own limitations, and fears his own capabilities. Or maybe it's as simple as recognizing what is indicated by the fact that the young man he once loved and raised turned out to be his mortal enemy — someone he felt it necessary to dispose of. Either way, Nucky is no longer comfortable with himself nor with his world. But he trucks on, with business engrained in his blood.
Despite Nucky's extension of his arrangement with Rossetti, the latter leaves the episode none too thrilled with the Atlantic County treasurer. Rossetti takes Nucky's failure to show up at their final warehouse transaction and his message of "Bone for Tuna" (buona fortuna — Italian for "Good luck") to be an insult. And driving a wedge further between the two men is Gillian Darmody, acting presumably out of a form of Machiavellian revenge for the death of her son, planting ideas of Nucky's lack of honor and trustworthiness in Gyp's mind. So how does Gyp Rossetti handle all of this information? He lights policemen on fire and pledges ominous soliloquies. He's not leaving Jersey anytime soon, much to Nucky's chagrin.
Over in the warehouse, Mickey Doyle is riding high on the death of his partner and "friend," Manny Horvitz, trying to play himself off as the killer to earn a bit of gravitas… but it doesn't last too long. When word gets around to Richard Harrow that Mickey is touting himself the guy who shot Manny, Richard pays the chuckling fool a visit (gun in hand), teaching him a lesson about his very bizarre code of honor. Richard spares Mickey, but reduces him back to his sniveling, moronic, spineless state of being prior to the lies that earned him the fear and respect of others in the biz (temporarily). When Nucky, who gets roped into the whole ordeal, asks Richard why he killed Manny, Richard explains that Angela should not have been the victim of Jimmy's war. Richard assures Nucky that he will not seek revenge for Jimmy's murder, and that the Thompson family should not worry about his wrath.
Although I'm certain some fans might be disappointed to see this as the end of Richard's war path of revenge, his scenes still do stand out as the most enjoyable of the episode. Rivaled only by Van Alden (who is coaxed by coworkers to visit a speakeasy this week, only to find himself amid a raid by law enforcements), the character of Richard is far and away the savior of every installment of Boardwalk Empire. Without these two tormented souls, the show would take a very sour, very rapid decline south.
Even though Van Alden's home life is going better than ever (his Scandinavian wife does seem to adore him, although their financial troubles make for concern), he's forever embedded in his deep pocket of bad luck. Two shirts ruined, stuck amid a prohibition raid, and has his pride kicked out of him when he's forced to pay off a federal agent with the little cash he does have (particularly injured thanks to the memories of his own former glory as an honest cop).
And finally, we have Margaret, who might be the only major character who has a promising immediate future. Margaret does the old "force someone into doing something by telling a priest they already agreed to do it" trick, pushing her chief of medicine into agreeing before their clergyman that he will institute the program for prenatal education for women at the hospital. Cagey ol' Margaret still knows how to get things done.
So with Nucky stuck in Jimmy-related nightmares, Rossetti pledging to tear down the man's kingdom, Gillian out to get him, Margaret on her own crusade, and Lillian barely invested in their relationship, the man at the center looks to fall pretty hard this season. Let's hope this doesn't distract from the real intrigue: Richard and Van Alden.
[Photo Credit: HBO]
More:
'Fringe' Premiere Recap: The Future Is Dark, and Really Crappy
Everything You Need to Know Before the Second Season of Emmy Darling 'Homeland'
'Grey's Anatomy' Recap: The Plane Crash Claims Another Victim