'Boardwalk Empire' Recap: The Next Jimmy Darmody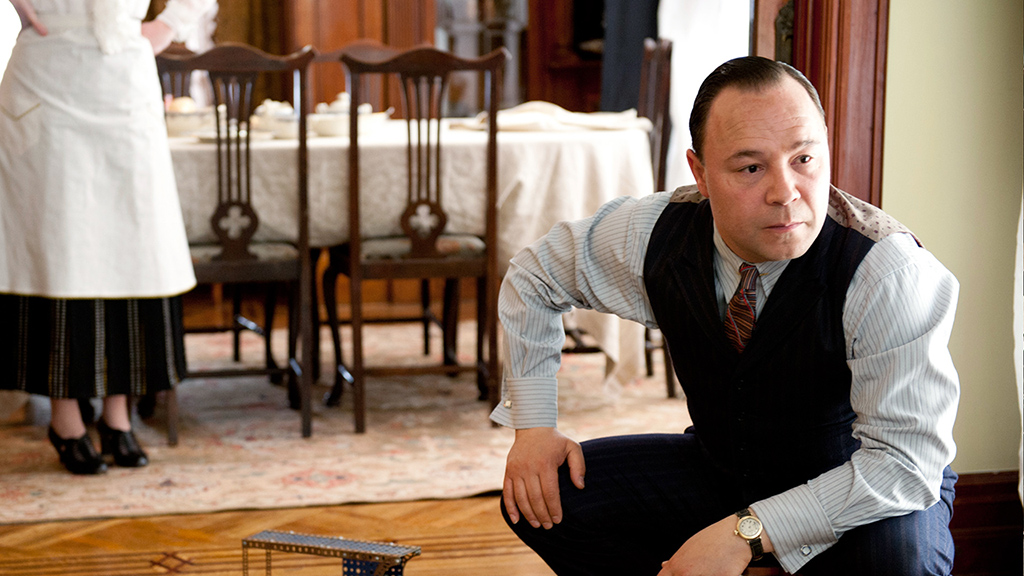 Last week's episode of Boardwalk Empire instituted a plague with which Nucky has been dealing: the weight of Jimmy's murder, which is haunting him to no end. Dreams and hallucinations of a young Jimmy, bullet wound in his head, haunted Nucky throughout as he strove to cope with his decision to kill his own former surrogate son. Jimmy's absence has left Nucky without a compatriot. Nobody — not Margaret, Eli, Owen, or anyone else — has managed to successfully fill the void in Nucky's heart resultant of Jimmy's betrayal. Not Roland Smith, either.
If you'll think back to the first episode of the third season, the name Roland Smith might ring a bell: he was the unseen accomplice of the fellow who robbed Nucky's warehouse (the guy who Nucky killed after a long speech foregoing the crook's responsibility and admonishing Mickey for the loss of their wares). Roland, a 19-year-old conman and smooth-talker, shows up on this week's episode as Nucky and Owen stake out warehouse… just in time for the place to earn the visit of a swarm of federal agents. While Nucky's red shirt henchmen earn the wrath of the cops, Nucky, Owen, and Roland wait out the law by spending the night in an unlit and dank basement.
From the onset of the episode, a new tension is present between Nucky and Owen, with a few contributing factors. Nucky phones his right-hand man, catching him in the throes of passion with the Thompsons' housekeeper Katy. Secondly, Owen seems to be commanding and distributing an essence of authority among Mickey and company, combating Nucky's position as head of the pack (and infuriating the treasurer). Whereas the Nucky of Season 1 was forgiving, levelheaded, and even-keeled, 1923's Nucky is not at all interested in mercy or blows to his pride and image. We see this hiked up a bit with the conclusion of his story on this week's show.
During their hideout, we see a bond grow between Nucky and young Roland (who pretends at first to be 15). When he was young, Roland and his family received the gift of a Christmas turkey from Nucky, something for which he expresses gratitude. Still, this hasn't stopped him from stealing from the man, though it's "nothing personal" (unlike with Roland's other victim Waxy Gordon, whom Roland considers to be a "crook"). After taking a few jabs at Owen and demonstrating his capabilities in the con game, Roland asks Nucky for a job. And at first, it seems like he'll get it — a new young protégée for Nucky to take the place of a pre-traitorous Jimmy. And now that Owen is falling from grace, this is exactly what Nucky is looking for. But as soon as the cops drive away, Nucky reinstates this season's motif that he is not a man to be messed with, and shoots Roland dead.
Maybe the young man's likeness to Jimmy is what contributes to Nucky's decision. He sees in Roland someone in whom he could feasibly become invested. But Nucky's heart is cold now; he no longer has the faith in people that would have provoked a new mentorship of a young up-and-coming thief. He doesn't want to get hurt again, so he's nipping this problem in the bud. And in the process, it might teach Owen a lesson about who's in charge here.
On the theme of wars over authority, Eli seems to have a problem with Mickey's management position over him. Desperately trying to earn a shred of occupational dignity, Eli challenges Mickey at every step during an operation (in the wake of Nucky's absence) to run the team's wares through forbidden territory — setting a new precedent, Eli is actually right, and the lot of Nucky's men fall victim to a deadly ambush during their delivery.
For the first time in quite a while, we get an interesting look into the life and mind of one Al Capone, the 1920s' precursor to today's anti-bullying movement. As we know, Capone's young son is deaf, which makes him the victim of schoolyard antagonism. In an effort to teach his son to stand up for himself, Capone inadvertently makes the child cry, prompting a softer, musically inclined side to the character that we haven't yet seen. But this is paired with the hotheaded Capone we're more familiar with. When Capone's partner and close friend, who is very overweight, is physically and verbally assaulted by a rival criminal, Capone pays the perpetrator a lethal visit, beating him to death in a crowded bar (out of emotional vengeance for his son's hardships), declaring it unjust to pick on people who cannot defend themselves.
Finally, the grooming of Bugsy Siegel: a storyline that is only interesting because of the convenience of real life foreshadowing. We know Bugsy, at this point on the show nothing more than an errand boy for Lucky and Meyer, is going to be a huge element to the crime world, so we're engaged in his rearing. But we aren't given much in-universe reason to care about him.
Lucky reconnects with his roots by visiting some Italian men he used to work for before hitching his wagon to Rothstein and Lansky. Taking issue with his Jewish associations, and with what this company is doing to his character, the Italian men give Lucky a hard time about the deal he presents to them, and about his place in their industry. It seems as though some of what they say does affect Lucky, who might be looking to sever ties to the "headstrong" (as he calls him) Meyer Lansky and Bugsy Siegel (whom he doesn't have much of a liking for).
It's more of an internal episode than it is one to forward plot — Nucky is tortured with conflicting feelings about Jimmy and his death, which transcends to how he treats Owen, Eli, and the late Roland White. Eli himself wants more, as does Bugsy. And Al Capone will not tolerate people picking on the little guy. And that he's an excellent crooner!
[Photo Credit: HBO]
More:
' SNL' With Daniel Craig: Brought to You By the Letter B. For Big Bird.
HBO's 'The Girl' Turns Alfred Hitchcock into a Psychological Horror Villain — EARLY REVIEW
Fall TV Characters Who Should Contribute to the Douchebag Jar
From Our Partners:

Noo!! Most Tear-Jerking Pet Deaths in Movies
(Moviefone)

(Moviefone)