'Boardwalk Empire' Season 4 Premiere Recap: A Breakdown of What's to Come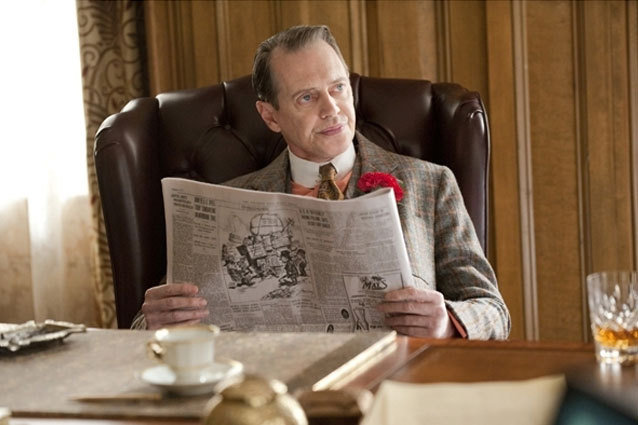 HBO
As Boardwalk Empire is imbued with a larger population than most Asian countries, it's always helpful to take a step back and give some thought to where each of the HBO drama's characters are setting up to go at the beginning of every new chapter. The Season 4 premiere set a number of familiar faces on their courses for the next set of episodes…
Nucky Thompson
Now a bachelor, standing knee-deep in that same narcissistic lust for troubled showgirls that has plagued him since the Lucy days, Nucky takes an interest in Eddie Cantor's new onstage sidekick, using his ominous reputation as a tool to entice her (and scare detractors like Cantor). Meanwhile, Nucky manages a peace treaty with kingpins Masseria and Rothstein, albeit one that feels oh so fragile.
Al Capone
Eternally affixed on his public image, Capone goes nuts when a local newspaper runs reports of his and Johnny Torrio's malfeasances but with his name misspelled as "Caponi." We see Al's childlike rage build as he yearns for notoriety and respect.
Chalky White
A businessman on the rise, Chalky institutes a deal with a talent agent… one who faces a nasty end when Chalky's right hand man, Dunn Purnsley, finds himself in one severely twisted love triangle.
Eli and Will Thompson
Putting his best foot forward in the fathering game, Eli is really riding his oldest son Will to stay studious, healthy, and righteous. Will, on the other hand, wants in on the family business. And, of course, he will probably get involved pretty soon.
Gillian Darmody
Poor Gillian. Poor, pathetic, corrosive, evil Gillian. With a legion of prostitutes over whom to loom no longer, Gillian has taken to turning tricks herself, roping in big bucks for her encounters with deep-pocketed businessmen. Her latest client, played by Ron Livingston, seems like the sort we'll be seeing quite a bit this season. Additionally, we find Gillian on the villainous side of a heated legal battle for custody of Tommy Darmody — also fighting to adopt the child: Richard's flame Julia and her father, Mr. Sagorsky. Which brings us to…
Richard
Still pretty glued to the whole "killing people" thing, we see Richard take down three nameless cads over the course of the episode, but a far more surprising conclusion faces our favorite character: he goes home. Back to the farm, where he reunited at long last with his twin sister. So does this mean he can finally be happy? Maybe? Please?
Where will the season take these characters? And which old favorites are we looking forward to seeing pop up next week?
More:
'Boardwalk Empire' Snags Patricia Arquette
Vampire Weekend + Steve Buscemi = Strange Glory
'American Horror Story: Coven' Teaser