'Boardwalk Empire' Will Make It to 1924: It's Renewed For Season 4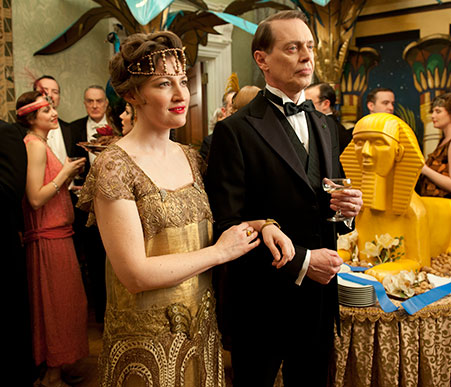 When Boardwalk Empire closed out its second season with a particularly jarring character death, many wondered if the show could actually carry on. With the third season only three episodes in, the HBO drama seems to be striving to expand its universe without completely shutting out the past two years of character development (as we saw most notably on this past Sunday's episode). Apparently, it's working — at least as far as the network is concerned: HBO has renewed Boardwalk for a fourth season.
Set in 1920s Atlantic City, the series tells the story of Nucky Thompson (Steve Buscemi), the New Jersey waterside county's crooked treasurer who makes a  living off the illegal distribution of alcohol by keeping his hand in the pockets of the local law enforcement, the various tribes of gangsters, and his beloved city's general population. Presently, Nucky is facing a budding threat in the form of mobster Gyp Rosetti (Season 3 newcomer Bobby Cannavale), who doesn't take too kindly to the treasurer's means of doing business… or to pretty much anything about him. Or anyone. The guy's got a pretty short fuse.
But Season 3 is also giving new rise to supporting characters like war veteran Richard Harrow (Jack Huston), criminals Lucky Luciano and Meyer Lansky (Vincent Piazza and Anatol Yusef), and Nucky's Irish right-hand man Owen Slater (Charlie Cox). It's likely that we'll see these characters, along with several others (perhaps Stephen Graham's Al Capone and Michael K. Williams' Chalky White) given a greater spotlight through this and the newly announced fourth season.
Boardwalk Empire airs Sunday nights at 9 PM on HBO.
[Photo Credit: HBO]
More:
'Boardwalk Empire' Recap: Bone for Tuna
'Boardwalk Empire' Recap: Spaghetti and Coffee