5 Theories About Bob Benson, The Mystery Character of 'Mad Men'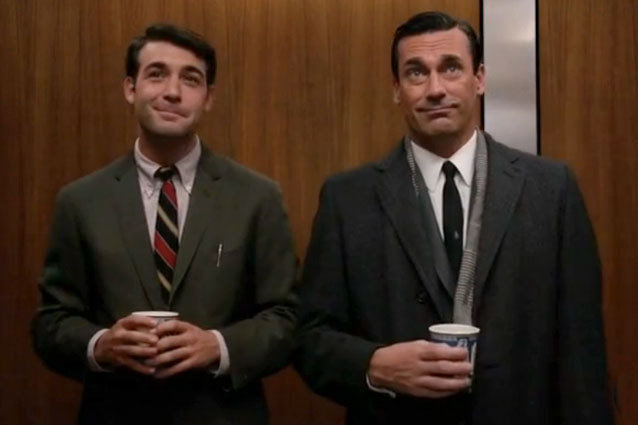 As soon as we met Bob Benson, the handsome go-getter on Season 6 of Mad Men  played by James Wolk, we all knew that something was going on with him. We're seven episodes into the season with only six left to go and we still have no idea what Bob's purpose is. But, since he's in every single episode so far, series creator Matthew Weiner must have big plans for him. Here are some of my ideas about Bob.
1. He is a homeless person living in the SCDP office. In the last episode, Bob tells Joan, "I have nowhere to go." That's because he is a bum with a suit who just showed up one day and started pretending to be an account executive. That would explain why he has no office and just wanders around. He might not even have a job!
2. He is Don Draper's long lost son. Maybe Don knocked up one of those hookers in his uncle's house and Bob is the fruit of that union. Now he's back to get into his father's life. But do you think he is a force for good or a force for evil. With a smile like his, it has to be evil.
3. He is a spy investigating Don Draper. That is Rolling Stone's idea but I don't really agree. He's trying to impress everyone in the office, not just Don. It's gotta be something else.
4. He is Mad Men's Nikki and Paulo. Remember when Lost introduced these two characters well into the show's run inserting them in various scenarios only to give them one episode all their own where they end up buried alive with a bag of diamonds (spoiler alert)? That's what's going to happen with Bob. He's going to get one episode all about him and then hurl himself off the building and teach us all some stupid lesson.
5. He is just some ambitious jerk. Is this one of those cigars that is just a cigar?
Follow Brian Moylan on Facebook and Twitter @BrianJMoylan
More:
'Mad Men' Recap: Don Draper Gets Super Kinky
10 Things You Should Know About the 'Mad Men' Season 6 Premiere
'Mad Men' Season 6: Who Is Going to Die?
---
From Our Partners:


Zoe Saldana Strips Down For Magazine (Celebuzz)


33 Child Stars: Where Are They Now? (Celebuzz)