'Bones' 150th Episode Features Cyndi Lauper and…a Skull?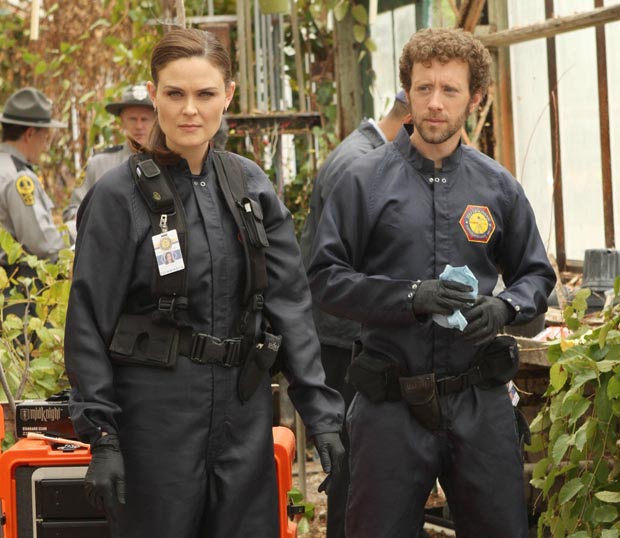 Bones has never shied away from the quirky or unorthodox, but the FOX drama's 150th episode, "The Ghost in the Machine," was particularly unique: The entire episode was shot from the point of view of the skull of a 14-year-old boy whose murder the Jeffersonian gang was investigating — and it worked.
The death of a kid hit close to home for Booth, Brennan, Angela and Hodges, being new parents and all (and father of a boy who's approaching that age, in Booth's case). But it took on extra meaning when Cyndi Lauper's psychic character, Avalon, returned to tell the group that the child's spirit was still lurking around on Earth. If they solved his murder, maybe he could finally be at peace.
Turns out, it wasn't a murder after all — it was just an accident that happened when a few teenage boys decided to do something stupid.
Bones is at its best when it's at its most unconventional. On another show, the handheld camera, smoky graphics and characters directly addressing the viewer as if you were the skull of a teenage murder victim would be considered weird.
Well, on Bones it's probably weird too, but that's precisely why everyone loves the show so much. Between the 9/11 episode and "The Ghost in the Machine," Bones has tackled some pretty resonant topics in Season 8, and that's something to be applauded. Not every show is so ambitious so late in its run.
As for the murder case itself, was it more or less tragic that Colin's death turned out to be an accident while trying to "surf" on top of a car being driven by his friend? At least he was finally at peace once the truth about his death was revealed — and the girl he loved finally knew.
Bones airs Monday nights at 8 p.m. ET on FOX.
Follow Jean on Twitter @hijean
[Photo Credit: Patrick McElhenney/FOX]
More:
Another One Bites the Dust: The Best and Worst TV Deaths and Resurrections of 2012
Seth MacFarlane to Guest On 'The Simpsons': 'D'oh!' or 'Alright!'?
The Best and Worst TV Episodes of 2012—Staff Picks

Inside 'Bachelorette' Stars Ashley Hebert and J.P. Rosenbaum's Wedding — EXCLUSIVE DETAILS

Mario Lopez, Courtney Mazza's Wedding Pictures Revealed!