'Bones' Renewed for 9th Season — It's True, Not a Fib-ula!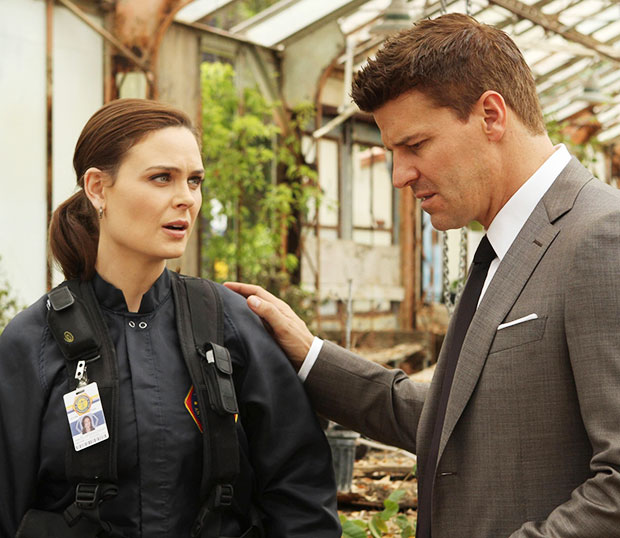 If you try hard enough, you might be able to remember back to a long-forgotten era… a time when America would flip through the TV listings, land on Fox's weeknight schedule, and not happen upon that now-mainstay known as Bones. The long running comedic crime procedural has been officially renewed for a ninth season, as announced by Kevin Reilly, Fox's Chairman of Entertainment, in a press release.
The program, presently on winter hiatus from its eighth season, will return to its Monday night slot on Jan. 14 with a special two-hour midseason premiere. The newest episode, bearing the title "The Diamond in the Rough/The Archaeologist in the Cocoon," sets the forensic team investigating the murder of a professional dancer just prior to her audition for a dance competition reality show. The case forces Emily Deschanel and David Boreanaz to don the masquerade of dance show competitors to find out more about the mysterious killing.
Speaking on behalf of Fox, Reilly states, "After more than 150 episodes, Bones continues to be one of television's most dynamic and consistent dramas. We at FOX, along with millions of zealous fans, look forward to seeing where the incredible creative team takes the series next season." Catch the midseason premiere on Jan. 14 at 8 PM.
[Photo Credit: Fox]
More:
Raylan Returns: What to Know Before 'Justified' Debuts, Guns Blazing
Everything You Need to Know About Tonight's Premiere of 'Deception'
New Syfy Show 'Defiance' Is A Geek and Gamer's Dream

Megan Fox's 12 Hottest Moments (Moviefone)