Boss Talks 'Secret Circle' Finale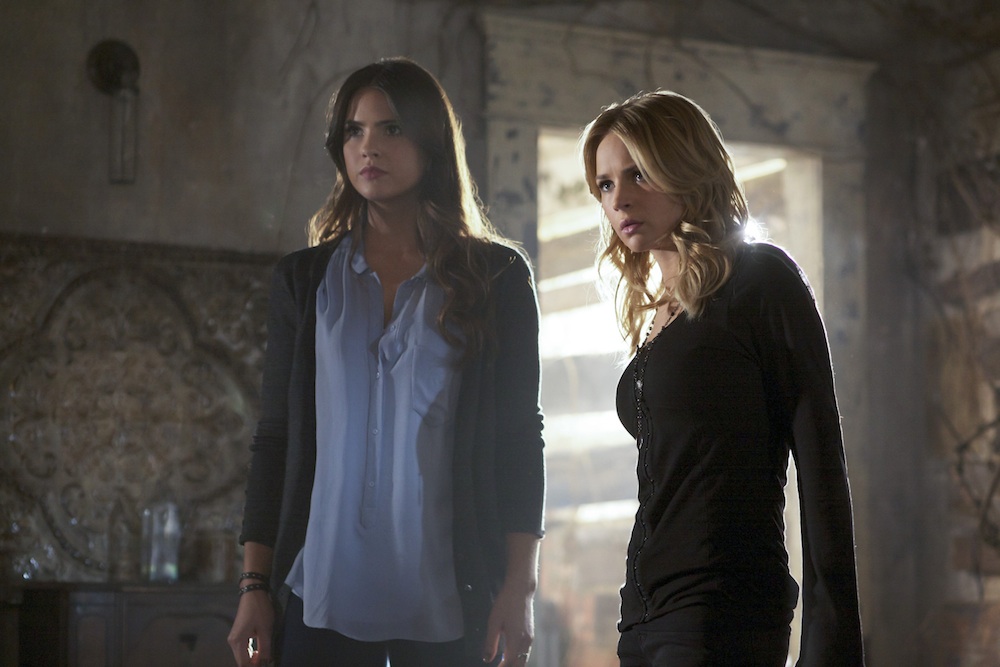 When we last saw the members of the not-so-secret Circle last week, their lives had gone from pretty crappy to seriously deadly. Faye was kidnapped by evil, demon-possessing witch hunters, Diana was hesitant to tap into her dark magic, and Cassie finally learned that her real dad, John Blackwell, had used his magic to impregnate the women of the last circle sixteen years ago. No one could trust Blackwell's motivations, but the growing threat of the witch hunters made him an unfortunately vital asset to the team. With all of this circulating drama, tomorrow night's finale must bring the goods — and executive producer Andrew Miller promised Hollywood.com that fans will be more than satisfied.
"It's an epic season finale that brings the past crashing into the present, and forces our kids to define what their future is going to be," Miller said. "By the end of this episode, the stakes are raised so high that they're forced to examine who they want to be as people as they move forward."
One major character who has been struggling with identity lately is Diana, and Miller said that her decisions regarding her dark magic will greatly affect the finale's outcome. "Dark magic is very alluring, ultimately," Miller explained. "What we saw with Cassie was a slow progression from normal, everyday girl, to witch, to someone who can make people spit blood with the blink of an eye. Diana has seen this just like we have, and I think she likes it less than any of us. Taking a big moral stand on things is easy to do when you're not confronted with a terrible situation like they're confronted with this week. We'll see what Diana chooses, how much she's willing to give of herself for Faye. Depending on how she chooses, we'll see what Cassie has up her sleeves to get the results she needs."
Thankfully, Miller also assured Hollywood.com that fans will get answers regarding the ultra-mysterious John Blackwell. "He's an ambiguous guy," Miller said. "We'll know for sure what he's up to; we'll know absolutely what he wants from Cassie, from the Circle, what he was doing 16 years ago, and how it relates to all of those answers. But I can't really promise you if we'll get a definitive answer if he's a good or bad guy. There's just a lot of grey in magic. That's where the series lives, and he is the personification of that. He's more twisted than the average witch, based on what we've heard and what we see on Thursday, but he has a reason and methodology behind what he's doing. You may or may not agree with him. Cassie will definitely take a side and act accordingly."
It sounds like most of our witches will choose their side tonight, and their choices could change the dynamic of the Circle forever. The Secret Circle is yet to be picked up for a second season, but Miller is hopeful for an even juicier — and much more expansive — season two. "We've been trying in the last couple of episodes to open up the world more," he said. "They can be separate and have their own storylines. We have this opportunity now that their world is expanding — we're able to put a little air into it. Now that we've established what that world is, we can have more fun with it. This season was all about being stuck together. Next season will be about when they're not stuck together — what does it take to bring them back? That's when the idea of more witches coming in will really start to play."
But tonight, the real question on every fan's mind is: "Will my favorite witch make it to season two?" Unfortunately, according to Miller, you shouldn't bet on it. "You can absolutely assume that not everybody is safe in the finale," he said. "There will be death. Surprising deaths — and who is making the deaths happen is also pretty surprising."
Watch "The Secret Circle" Tonight at 9 p.m. (ET/PT) on The CW.
Follow Shaunna on Twitter @HWShaunna
MORE: