'Boy Meets World' Characters Minkus, Morgan, and More: Where Are They Now?
In 1993, the world was introduced to the Matthews family: hard-working mother and father, cool older brother (eventually overtaken by unexplained brain damage) Eric, impish/occasionally nonexistent younger sister Morgan, and middle son Cory Matthews, whose misadventures with friends, relatives, and faculty members were the life force of the now classic Boy Meets World. Although we bade farewell to Matthews — played, of course, by Ben Savage —when the show came to a close, we will be meeting up with the BMW hero once more in the forthcoming sequel series Girl Meets World. An adult Cory (played again by Savage) and his wife Topanga (the character's original portrayer Danielle Fishel) will star on Boy creator Michael Jacobs' new show, hopefully instilling the same heart and soul into their daughter Riley that we found in the original program. (And for more Boy Meets World nostalgia, be sure to check out Matt Patches' oral history of "And Then There Was Shawn," in which BMW cast and crew talk about the series' infamous 1998 Halloween episode.)
While many of us can now rest happily, dreaming of an imminent reunion with Cory and Topanga, some BMW super fans still wonder: what happened to everyone else on that show? Savage and Fishel will be recharging their careers on the new Disney series, but what are the other cast members up to these days? What has Minkus been doing? Or Harley? Frankie the Enforcer? And how about Mr. Feeny?
The Hollywood.com staff has lived out its fantasy as a team of private investigators (it's not as swanky and glamorous as the Bogey movies always made it seem… the Internet kind of ruined that magic) and sought out the post-Boy Meets World career ups and downs of the show's cast. Want to see where the John Adams High student body is today? Check out what we discovered below.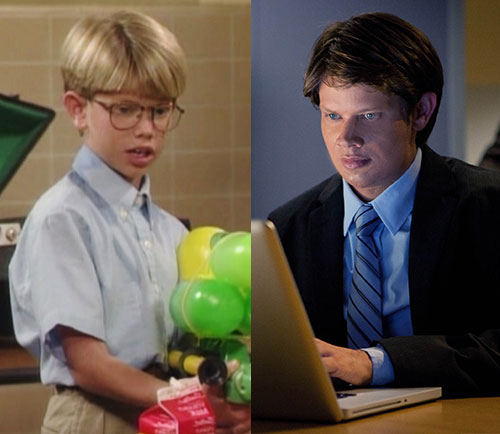 Name: Lee Norris
Character: Stuart Minkus
Seen In…: 23 episodes, with his last appearance at high school graduation making a joke about how all the characters we hadn't seen in seasons were just "on the other side" of the school.
You'll Remember Him For: Being an even bigger nerd than early-seasons Topanga.
What He's Up To Now: Two cameos in Dawson's Creek, "Barefoot at Capefest" and "To Green, With Love," and playing Marvin "Mouth" McFadden for all nine seasons of One Tree Hill (where he got a six-pack!).



Name: Lily Nicksay
Character: Morgan Matthews (The Original)
Seen In…: 35 episodes
You'll Remember Her For: Playing Cory and Eric's adorable little sister in the first two seasons. This version of Morgan enjoyed tea parties, playing with dolls, and eating only the marshmallows from boxes of Lucky Charms. She disappeared after only 35 episodes, and was replaced with Lindsay Ridgeway who took over the role with, "That was the longest time-out I've ever had!"
What She's Up To Now: Nicksay made appearances in a handful of other TV shows after her Disney debut, including Judging Amy, The Guardian and 8 Simple Rules. She also appeared in Michelle Pfeiffer and Robert Redford's 1996 film Up Close & Personal. Nicksay is now 24-years-old, and she recently attended college at the University of St Andrews in Scotland. 
NEXT: What Happened to the other Morgan Matthews?
Name: Lindsay Ridgeway
Character: Morgan Matthews (The Second)
Seen In…: 75 Episodes
You'll Remember Her For: Ridgeway turned Morgan from adorable youngest daughter to sharp comedic sidekick when she took over for the original Morgan, Lily Nicksay, in 1996.
What She's Up to Now: After Boy Meets World ended, Ridgeway went on to do what a majority of teenagers do: She went to college. The actress received a Political Science degree from University of California Riverside in 2007 and a Masters in Counseling University of Redlands in 2010. Aside from a few voiceover parts, Ridgeway doesn't have too many credits to her name, but she continues to pursue her passion for singing (which she showed off in the 1997 animated film Cats Don't Dance). She regularly performs the National Anthem for Los Angeles Angels of Anaheim.
NEXT: What Happened to Jack Hunter? 
Name: Matthew Lawrence
Character: Jack Hunter
Seen In…: 68 Episodes
You'll Remember Him For: The middle Lawrence brother joined Boy Meets World in 1997 as Shawn's step-brother Jack, who evolved into a Eric Matthew's partner in crime (and comedy).
What He's Up to Now: Lawrence was working steadily as a child actor before Boy and he continued to find work on both the small and big screens afterward. He appeared in 2002's The Hot Chick and 2007's The Comebacks. When we caught up with Lawrence for our Boy Meets World retrospective, he was enthusiastic about acting and his work off-screen: ""Besides auditioning and constantly going out for roles, I work in conservation with animals,"" Lawrence said. ""I'm doing this other TV show, it's somewhat reality based, coming up in January."" The actor recently joined his brother Joey Lawrence on the ABC Family sitcom Melissa & Joey.
NEXT: What Happened to Angela Moore?
Name: Trina McGee-Davis
Character: Angela Moore
Seen In…: 60 episodes
You'll Remember Her For: Being Shawn's first long-term girlfriend who was on-and-off with him throughout the whole series before moving to Europe with her father in "Angela's Ashes."
What She's Up to Now: A mother of three, McGee-Davis has made a few TV movies, like All of Us and Business Class.
NEXT: What Happened to Mr. Feeny?
Name: William Daniels
Character: Mr. Feeny
Seen In…: 158 episodes, spanning from the first until the very last episode
You'll Remember Him For: Living next door to Cory and Eric, and being first their teacher, then principal, then professor, and always their friend. He gave the best advice, and was the greatest mentor kids could wish for. And you can't forget the legendary Feeny call!
What He's Up to Now: Most recently, he befriended and taught Dr. Cristina Yang before dying mid-surgery on Grey's Anatomy (freeing him up to appear on Girl Meets World!). He also appeared on two episodes of The Closer, one of King of Queens, one of Boston Legal, one of Scrubs, played the voice of K.I.T.T. on The Simpsons, and the voice of a robot pilot on Kim Possible with fellow BMW alum Will Friedle.
NEXT: What Happened to Jason Marsden? 
Name: Jason Marsden
Character: Jason Marsden
Seen In…: 9 episodes from 1994-1995
You'll Remember Him For: Playing a character with his real name, being best friends with Eric.
What He's Up to Now: Marsden voiced various characters in DC Warner Bros. animated series like teenage Clark Kent, Firefly, and Danger Duck, and served as the voice of Max Goof in A Goofy Movie and An Extremely Goofy Movie, Mungo the gorilla in Tarzan. Marsden also landed gigs as the head announcer for Toon Disney, part-time announcer for Disney Channel. Of course, he also appeared in the flesh on occasion, with roles in Fun with Dick and Jane — as the cashier at the gas station — episodes of Even Stevens and Will and Grace, and voiced Felix Renton in Kim Possible with fellow BMW alum Will Friedle. He also continues to voice Nermal, Vito, Doctor Bonkers, and others on The Garfield Show.
NEXT: What Happened to Eddie Hunter? 
Name: Maury Sterling
Character: Eddie Hunter
Seen In…:  Episode 317 ("The Pink Flamingo")
You'll Remember Him For: Being the trailer park thief who turns out to be Shawn's surprise half-brother… who was never heard from or spoken of again. Ever.
What He's Up to Now: He's Max on Homeland! Max! Virgil's socially inept surveillance expert brother! Sorry for all the exclamation points, but that's how we felt when we realized this.
NEXT: What Happened to Desiree?
Name: Sydney Bennett
Character: Desiree
Seen In…:  Episode 203 ("Notorious"), Episode 204 ("Me and Mr. Joad")
You'll Remember Her For: Playing Eric like a fool as his Southern Belle girlfriend Desiree, a senior who uses him.
What She's Up to Now: The last we heard from Sydney Bennett — not to be confused with the like-named music artist who performs as Syd the Kid — she had a supporting role in the 2009 Juno-starrer Whip It!, upholding her background as an experienced roller derby performer. Bennett earned her Master's degree at the California-based Emperor's College of Traditional Oriental Medicine. She was married in 2007 and gave birth to her first child in 2010.
NEXT: What Happened to Lauren? 
Name: Linda Cardellini
Character: Lauren
Seen In…: Episode 514 (""Heartbreak Cory""), Episode 516 (""Torn Between Two Lovers (Feeling Like a Fool)""), Episode 521 (""Honesty Night""),  Episode 621 (""The Psychotic Episode"")
You'll Remember Her For: Cardellini appeared on Boy Meets World as one of the few girls to catch Corey's attention, even locking lips with the Topanga-obsessed everyman. The two crossed paths during a school ski trip, when a sprained ankle kept Corey holed up in the lodge with Lauren.
What She's Up to Now: After her four-episode run as a sitcom temptress, Cardellini nabbed her breakout role on 1999's short-lived Freaks and Geeks. She continued to land roles, including a recurring role on ER in 2000 and parts in the Scooby-Doo movies and the Oscar-nominated Brokeback Mountain. This year, Cardellini was nominated for the Independent Spirit Awards ""Best Leading Female"" for her performance in the war drama Return.
Name: Danielle Harris
Character: Theresa "T.K." Keiner
Seen In…:  Episode 215 ("Sister Theresa")
You'll Remember Her For: A one-time romance with Cory, which hit a snag when her overprotective older brother Harley — Cory's high school bully — kept diligent tabs on the pair the whole night.
What She's Up to Now: Scaring the hell out of you. The vast majority of movies that a still-active Danielle Harris has filmed have been horrors, and several are currently in production: Night of the Living Dead: Origins, Hatchet III, and The Farm. Harris was also a main player on the animated Nickelodeon series The Wild Thornberries, voicing older sister Debbie Thornberry.
NEXT: What Happened to Rachel McGuire?
Name: Maitland Ward
Character: Rachel McGuire
Seen In…: 45 episodes
You'll Remember Her For: Rachel McGuire was the tall — like, really tall — red-headed girl who magically appeared in Boy Meets World for the purpose of being Eric's and Jack's bombshell roommate (and to cause tension). Of course, the boys begin battling for her love – or at the very least for a date – but in the end they all just remain friends. Though they could never help stare like idiots every time she waltzed around in a towel. (Why'd she do that, anyway?)
What She is Up to Now: Rachel — who has blonde roots don't you know? — got married after making appearances in Boston Public, White Chicks, and Rules of Engagement, and is active on Twitter, sharing a lot of cleavage-baring pics, like the time she thought about being Wonder Woman for Halloween.
NEXT: What Happened to Corinna?
Name: Leisha Hailey
Character: Corinna
Seen In…: Episode 405 (""Shallow Boy"")
You'll Remember Her For: You'd remember Corinna (no last name) for being the super energetic and perky musician who begins dating Eric… for one episode. He's totally into her at first, but then gets turned off by her constant optimism. Instead of working things through, Eric dumps the girl, only to later hear the far-too-familiar song ""Shallow Boy"" on the radio describing their ""relationship"" to a T: I wanna give into my heart / I wanna give up who I am / Cause you trampled on my soul / Cause you don't understand / You're – shal—low / You're – shal—low.
What She is Up to Now: Since BMW, Leisha Hailey was most notably on The L Word as Alice Pieszecki and most recently as Victoria on the new show The New Normal. She's also, wouldntchaknow, a real time musician – you can check out her band Uh Huh Her (which was formed in 2007) here. Her band also launched TELUHHVISION, a behind-the-scenes look at making music. She also sparked controversy back in 2011 when she was thrown off a Southwest flight for kissing her girlfriend, Camila Grey.
NEXT: What Happened to Harvey? 
Name: Danny McNulty
Character: Harvey ""Harley"" Keiner
Seen In…: 8 episodes
You'll Remember Him For: Harley Keiner was the meanest, scariest, coolest guy at John Adams High. After failing to recruit Shawn to join his gang, Harley begins to pick on Corey (who he calls ""baboon."") Cory briefly weasels his way into Harley's good graces when he dates Harley's sister, TK, but unfortunately things quickly go sour when Cory decides he and TK are O-V-E-R. Ultimately, Harley gets sent to ""juvenile boot camp,"" at which time a young Adam Scott takes over as John Adams High's biggest bully.
What He is Up to Now: According to his Facebook page (he wouldn't accept my friend request for more info), McNulty currently lives in Sedona, Ariz., and spends his time traveling and taking selfies in front of picturesque horizons. He attended the Less Strasberg Theatre and Film Institute, but his Boy Meets World stint and one episode of a 1993 show called Street Justice remain his only acting credits.
 NEXT: What Happened to Frankie?
Name: Ethan Suplee
Character: Frankie ""The Enforcer"" Stechino
Seen In…:  19 episodes
You'll Remember Him For: As the man responsible for putting kids in trashcans when Harley told him to, Frankie struck a terrifying figure. However, as we come to learn, Frankie is a sensitive soul who possesses a deep and profound love of poetry.
What He is Up to Now:  After Boy Meets World, Suplee went on to make quite the name for himself in films and on TV. His credits span the gamut, from the grizzly American History X to family-friendly Remember the Titans. You may remember seeing Suplee in Mallrats, The Butterfly Effect, and  My Name is Earl (on which he had a starring role from 2005-2009). Suplee is currently in production on a number of projects, including The Wolf of Wall Street, starring Leonardo DiCaprio. Other fun facts about Suplee include: 1) In 2011, Suplee announced that he lost over 200 pounds by riding his bike. 2) He is a Scientologist. 3) Juliette Lewis is his sister-in-law. He and his wife, Brandy (Juliette's sister) have two children.
NEXT: What Happened to Joey the Rat?
Name: Blake Sennett (credited as Blake Soper)
Character: Joseph ""Joey the Rat"" Epstein
Seen In…: 16 episodes
You'll Remember Him For: Being the smaller, faster-talking half of Harley Keiner's brute squad.
What He is Up to Now: Following Boy Meets World, Sennett went on to appear in 6 episodes of 3rd Rock from the Sun. He is best known, however, as the guitarist for the indie rock band Rilo Kiley and frontman for the Elected.
NEXT: What Happened to Jonathan Turner?
Name: Anthony Tyler Quinn
Character: Jonathan Turner
Seen In…: 52 episodes
You'll Remember Him For: Mr. Turner was the cool English teacher, the one who rode a motorcycle and had an earring, long hair, and a mysterious bachelor lifestyle. Shawn moved in with Mr. Turner in Season 2.
What He is Up to Now: Quinn seems to be interested in finding work wherever he can get it these days. He has had guest roles on shows such as Caroline in the City, Passions, and more recently, Dexter, House, and Pretty Little Liars. Oh, and let's not forget, Quinn had a starring role in the 2009 Christian film, which he called ""very near and dear to me,"" No Greater Love.
Name: Jessica Wesson
Character: Wendy
Seen In…:  Episode 202 ("Pairing Off"), Episode 210 ("Breaking Up Is Really, Really Hard to Do")
You'll Remember Her For: Being the girl who Cory tricked into dating him after his utilization of Eric's patented scheme for winning over any young lady failed to land him her heart. The eventual romance was brief.
What She's Up to Now: Wesson continued acting straight up to 2001, earning a roles in films like Casper, Flipper, and Longshot, and a recurring spot on Judging Amy. Since she turned 19, Wesson has fallen off the radar (this last known shot of her is from 2001)… perhaps she has taken the past decade to recover from a shattered heart with which she was left following the betrayal of one Cory A. Matthews.
Reporting by Michael Arbeiter, Anna Brand, Sydney Bucksbaum, Matt Patches, Leanne Aguilera, and Abbey Stone
[Photo Credits: ABC (18); The CW; Twitter; Facebook; FOX; Lionsgate; IMDB (4); WENN (2); Fox Searchlight; Showtime (2); CBS]