'Boy Meets World' Sequel Opens Casting Call for Girl Versions of Cory and Shawn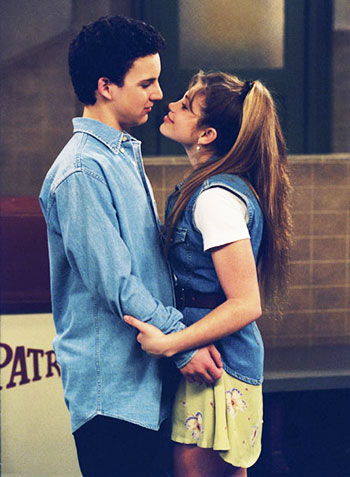 We get that you probably don't want to get your hopes too high in respect to the in-the-works Boy Meets World sequel series, Girl Meets World. What if it never happens? Or worse yet, what if it does happen… and it's awful? Perfectly understandable concerns. But not necessarily valid.
The second matter can be quelled by the involvement of Michael Jacobs, creator of Boy Meets World, who is the brains behind this new production. Although the still-not-concrete GMW might find its home on the Disney Channel, as opposed to the preferable ABC or ABC Family, it will have the genius who crafted the story of Cory Matthews (the Story Matthews, if you will) back in the golden era that was the 1990s.
And as far as the project's uncertainty, we at least have some progress to hang our hats on: Entertainment Weekly has apprehended Disney's casting call information for the two lead characters. At the center of the show is Cory and Topanga Matthews' daughter, who is revealed to be named Riley. Below is a profile of her developing character:"Please submit all ethnicities. 13 years old, indelible personality, an adorable girl on the cusp of whatever comes next in life, and wanting to rush into it head first. She is fiercely loyal to her friends, and spends most of her time juggling the obstacles that life throws her way, some of those being her father who is also her seventh grade history teacher, her mother who is Topanga, and her brother, Elliot, who is one grade older in school and in life experience and makes sure to always let her know it. But there is no obstacle in this girl's world that can dampen her bright spirit and eternal optimism. Series Lead."Alongside Riley will be the character's best friend, Maya:"Please submit all ethnicities. 13 years old. Maya is Riley's best friend and does not share Riley's optimism. She is far darker and less trusting of the world. She is an only child and has never known her father, which immediately makes her relationship with both Riley and Cory Matthews very important to her although she'd never admit it. She is not a good student in school, but is a wonderful student of life and absolutely magnetic in attracting or intimidating the people in her sphere as she cares to. Dark and edgy, but just as fiercely loyal to Riley as Riley is to her. Which makes us want to believe that maybe there's a good heart under the acerbic wit. Or maybe not. Series Regular."Sound familiar enough? A precocious, earnest, wide-eyed young lead (with a "cool" older brother and a father figure schoolteacher), and her more cynical best friend who comes from a broken home — we're setting up for a female, post-millennial Cory and Shawn. Jacobs clearly isn't straying too far from the formula that made Boy Meets World so beloved. At first, it might seem like Riley and Maya are too similar to their respective predecessors, but that's probably only the case on paper. How these broad character descriptions manifest can vary widely as a result of their performers and the scripts for the new show. Plus, we do want some familiarity here — something that makes Girl Meets World actually feel like Boy Meets World.
As you can see above, we also learn that Cory has taken a position as middle school teacher, following in the footsteps of his mentor George Feeny. But we don't know what Topanga will be up to — that very same school's principal? Political figure? A detective bent on solving the unsolved disappearance of her younger sister, Nebula Stop-the-War Lawrence?
And for that matter, where will the rest of the old cast be throughout this show? TMZ spoke with Lily Nicksay, the now-24-year-old actress who played Cory's feisty younger sister Morgan on BMW, who says that she'd "love to talk about being a part of [the show]." But what about older brother Eric, parents Alan and Amy, ol' Mr. Feeny, and Shawn Hunter himself? How about Angela, Jack, Minkus, Harley, and Frankie the Enforcer? We understand that not everyone can be a regular on Girl Meets World, but hopefully, we'll have a faithful revival of the Philadelphia we once fell in love with.
[Photo Credit: ABC]
More:
An Oral History of the Infamous 'Boy Meets World' Horror Parody Episode
'Hooker Lawyer': Rider Strong Is a Lawyer… for Hookers — VIDEO
'Final Destination' + 'Saved By the Bell' + Musical = 'New Romance'

Lady Gaga Dons Strapless Bikini Top, Waves to Fans in Brazil (PHOTOS)
(Celebuzz)