Brave the Storm of a 'Family Guy', 'American Dad' and 'Cleveland Show' Crossover this Sunday
Considering this year's influx of natural disasters, Fox decided to pull the hurricane-themed Seth MacFarlane tri-crossover of Family Guy and its two subsidiaries, American Dad and The Cleveland Show. But now that the climate is all cleared up, the always tasteful MacFarlane will see his special air this Sunday, Oct. 2.
The crossover will occur on each of the three series, starting with The Cleveland Show, continuing on Family Guy and concluding with American Dad, acting as a three-part episode about a hurricane that has taken over the residences of each series and causing some (probably pop-culture-referencing) disasters for the Griffins, Smiths and Browns.
The Cleveland Show's installment of the crossover special, "The Hurricane!" will air at 8:30 p.m. ET/PT.
Family Guy's installment, "Seahorse Seashell Party" (a title inspired by this), will air at 9:00 p.m. ET/PT.
American Dad's installment, simply "Hurricane!" will air at 9:30 p.m. ET/PT.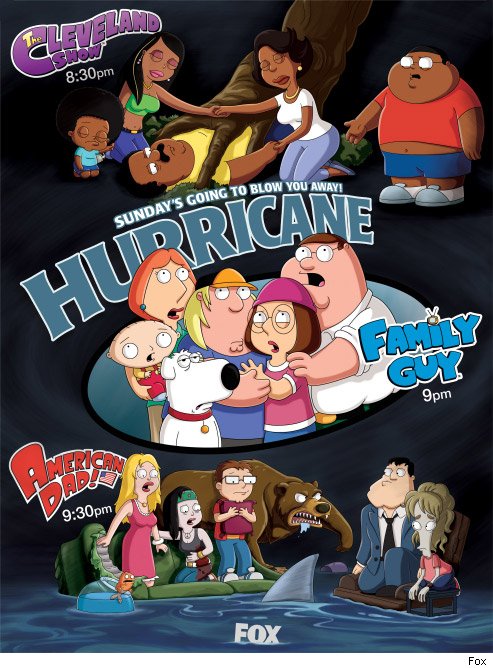 Source: AOLTV