'Breaking Amish' to Address Whether or Not It's Staged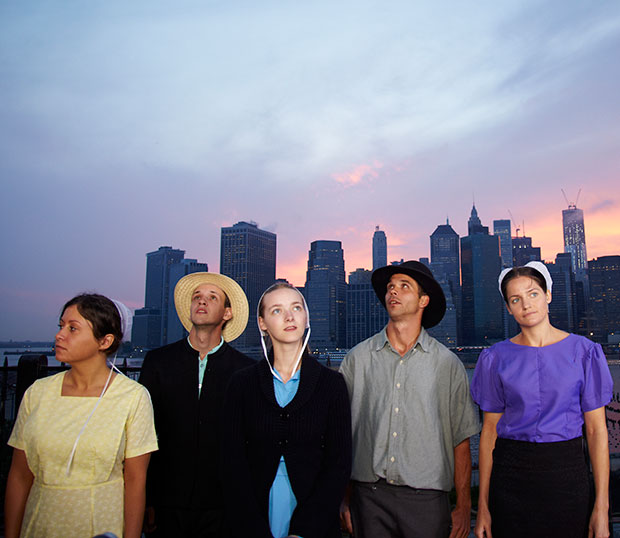 Breaking Amish fans, take note — TLC is about to address your concerns. The network will reunite all five cast members of the series for a two-part reunion special that will confront the accusations of fraud that have haunted the show since its September debut. 
The show focuses on former members of Amish and Mennonite communities who are starting new lives in New York City. But Facebook and MySpace evidence — as well as remarks from the cast members themselves — have led viewers to believe that TLC (and the cast) were faking their stories. Reports claim that the cast members were integrated into mainstream society long before the cameras started rolling, and have already experienced issues ranging from DUIs to divorce to extramarital affairs.
The reunion itself will be a two-hour panel hosted by NBC's Michelle Beadle, with the first installment airing Sunday, Nov.11 directly following the finale episode, and the second on Sunday, Nov. 18. According to TLC's release about the reunion, the cast will "speak candidly about their experience in New York, and address all of the swirling rumors and allegations. From drunken fights and hook ups, to whether any of them have been married, have kids, or have been arrested, it's a raw discussion revealing intimate details about their lives and relationships."
The freshman show has been a huge hit for TLC, with demo ratings living up to the standard set by the network's current behemoth, Here Comes Honey Boo Boo. A decision regarding a second season has not been announced, but TLC is undoubtably expecting big numbers for its inaugural reunion.
Breaking Amish airs Sundays at 10 p.m. ET/PT.
Follow Shaunna on Twitter @HWShaunna
[PHOTO CREDIT: TLC]
MORE:
Honey Boo Boo's Celebrity Tour Tuckers Her Out: Are We Responsible?
Honey Boo Boo on 'South Park': Are Reality Stars Parker and Stone's Blind Spot?