'Breaking Bad' Casts 'Malcolm in the Middle' Mom as Bryan Cranston's Worlds Collide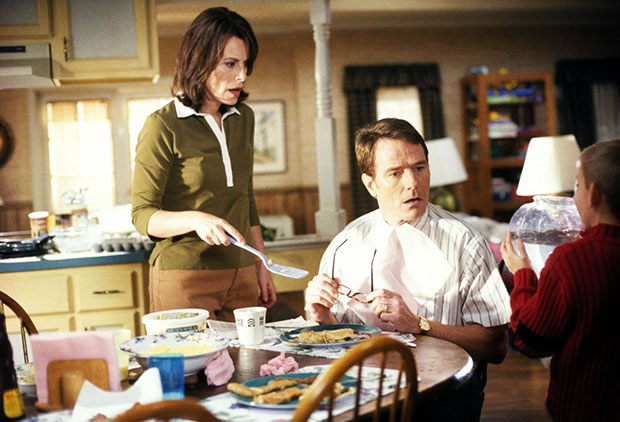 The bane of the entertainment journalist's existence is a news story so independently wonderful and inherently hilarious that the attempt to write it up with any sort of clever spin or witty voice is utterly futile. Such a case hits our world today, centering on (as most independently wonderful stories do) Bryan Cranston. In a frenzy of pop culture madness that will likely provoke nothing more articulate than elated gasps from fans the world over, Cranston will be entertaining the merging of his criminally underappreciated past and his appropriately beloved present: Cranston's Malcolm in the Middle costar Jane Kaczmarek is joining the cast of Breaking Bad for two upcoming episodes.
Go ahead, get all the "Whaaa!"s and "Ohmygosh!"s and "I gotta text Ray!"s out of your system — and believe it! The news was confirmed by Kaczmarek herself on Twitter, following Cranston's Sunday night SAG victory.
Yes, it's true… I will indeed be on #BreakingBad. Can't wait for you all to see it. Congrats to @bryancranston for his win tonight.
— Jane Kaczmarek (@JaneKaczmarek) January 28, 2013Need further proof (lest you think Kaczmarek is just concocting an Abramsian fallacy)? Breaking Bad supporting star Dean Norris, the magnanimous Hank Schrader, tweeted the below image of himself, Cranston, and Kaczmarek onset for the AMC program's forthcoming final semi-season: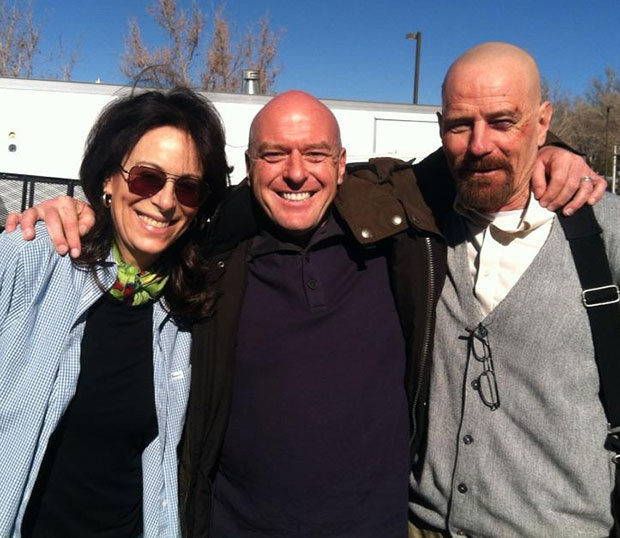 Who Kaczmarek will play on Breaking Bad, which only has eight episodes left to air, is still unknown. As Cranston has adopted a far more menacing identity in Vince Gilligan's high intensity drama than he upheld on Malcolm, the idea of old chemistry reviving between beleaguered Hal and sitcom wife Lois, who kept him on a short, tight, terrifying leash might be difficult to picture. Difficult, but not impossible.
Many fans have speculated that Walt's undoing would come at the hands of Hank, Jesse, perhaps even Skyler. But the most appropriate downfall of all might be a face-off of Cranston and Kaczmarek… not necessarily a gunning down of the crystal meth kingpin, but the dooming of him to a life of mental fragility under the reign of Lois, and a long life of mediocrity as the father to her five ne'er-do-well sons. Now, we're not exactly saying that we think Breaking Bad is a prequel series to Malcolm in the Middle, and that all of the darkly comic events in the Fox sitcom are a spiritual penance for Walter White (perpetually imprisoned in his ad-hoc witness protection program). We're just saying that it would be some mighty fine television.
But no matter what largely more plausible character Kaczmarek will be playing on Breaking Bad, we're excited to see her reunite with her old performing partner.
[Photo Credit: FOX; Twitter]
More:
'Breaking Bad': Dean Norris and Betsy Brandt on What's Next
'Downton Abbey' Recap: Shocking Death Shocks Everyone With Deadly Shocks and Death
SAG Awards 2013: 'Downton Abbey' Beats 'Breaking Bad,' 'Mad Men,' for Best TV Drama

20 Hottest Celebrity Bikini Bodies