'Breaking Bad' Final Eps Teasers: Hank Is Out for Blood, Jesse Hangs with a Roach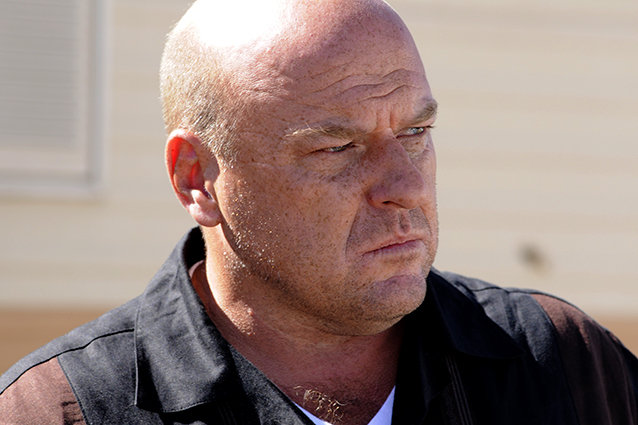 Brace yourself, because Breaking Bad is about to reach a whole new level of intensity when it returns for its final slate of eight episodes on AMC August 11. Three new ten-second character teasers show some serious unhappiness in Albuquerque. First, and most striking, we've got Dean Norris' DEA lawman Hank. When we last left off nearly a year ago, he had a bowel-movement epiphany that his brother-in-law, Walter White (Bryan Cranston) is Heisenberg, the meth kingpin whose crystal blue persuasion has left a trail of bodies across the Southwest. And judging by his facial expression while driving in this clip, he is one angry Narc.
Next, Breaking Bad proves once again that some of the greatest terrors in life can come while wearing a bathrobe and/or standing at the end of your driveway. Seriously, how many times has something horrible happened as Walter has stood in his lawn? This time, though, he seems to be suffering from "Riding the Blue Dragon"-level paranoia.
It's hard to say exactly at what point Jesse hit rock bottom. Was it the all-night pizza-and-Battlefield orgies at his house? When he chose to shoot up rather than take off for New Zealand to paint that mystical land's "castles" with Jane? When he pulled the trigger on poor Dale? Well, he seems to be having another low point in this clip, communing with a roach…and not that kind of roach. If the fly in Gus' lab symbolized Walt's growing paranoia, what does this roach symbolize for Jesse? Maybe that he's a survivor?
Seriously, how excited are you for the final episodes?
Follow Christian Blauvelt on Twitter @Ctblauvelt | Follow Hollywood.com on Twitter @Hollywood_com
More:
Saul's 'Breaking Bad' Spinoff Moving 'Full Speed Ahead'
'Breaking Bad' Casts 'Malcolm in the Middle' Mom as Bryan Cranston's Worlds Collide
'Breaking Bad' in a Wine Glass: Awesome, Fan-made Terrarium Tribute
---
From Our Partners:


What Happened to 33 Child Stars (Celebuzz)


40 Most Revealing See-Through Red Carpet Looks (Vh1)