'Breaking Bad' Final Season Gets August 11 Premiere Date, 'Talking Bad' After Show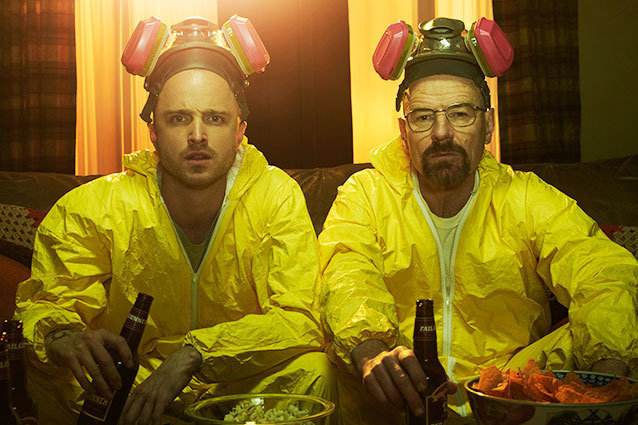 We've been waiting for the better part of a year to see how things finally work out for Walter White as Breaking Bad draws to a close, and now know we only have to wait until Aug. 11 at 9 PM. AMC announced the premiere date today at their upfront meeting, where the network shows off their upcoming shows in the hopes that tons of advertisers are going to want to sell their soda pop and tires and cheap clothing during the commercial breaks. 
AMC also announced the show will get a wrap-up talk show that will air after each episode. Talking Bad will be in the same mold as The Talking Dead, the Chris Hardwick-hosted show that airs after blockbuster The Walking Dead (and often beats network shows in the ratings). The 30-minute Talking Bad will air at 11 PM, after new episodes of Low Winter Sun, AMC's new crime drama that also premieres Aug. 11. 
In other announcements, Talking Dead got renewed for a third season, as did Comic Book Men, AMC's show about Kevin Smith's nerd patrol. Freak Show — about, well, a freak show in California, will also be back for another season. 
The network also put a bunch of new shows in development, nearly all of them set in the future or the past. The best bet seems to be Ballistic City, which is about a cop on a giant space ship. Think Blade Runner-meets-Battlestar Galactica. There's also King, about a corrupt politician in the '60s; Ashland, about a family dealing with the Red Scare in the '50s; White City, a drama following diplomats in Afghaniston;  Untitled Dahvi Waller Project — from a Mad Men writer — a yarn about two brothers in the auto industry in the '20s in New York and their lovely ladies, and finally The Wall, where a businessman gets caught up in the spy game between East and West Germany. 
On the reality side of things, Chris Hardwick is bringing us the self-explanatory All-Star Celebrity Bowling. Majority Rules looks at the American democratic process from the local to national level. Finally, there is the genius Cancelled, in which eight family's homes are equipped with cameras and they compete for "ratings" to try to be the one most deserving of their own reality show. I thought I was excited for Walter White, but this really seems like a game-changer. 
Follow Brian Moylan on Twitter @BrianJMoylan
More:
Walt Jr. from 'Breaking Bad' Did a Weird, Sexy Photo Shoot
'Breaking Bad' Saul Spin-Off: Best Idea or Worst Idea?
'Breaking Bad': What Are Walt and Jesse Up To?
---
From Our Partners


Jessica Alba Bikinis in St. Barts (Celebuzz)


Which Game of Thrones Actor Looks Least Like His On-Screen Character? (Vulture)