'Breaking Bad' Returns: How Will Walt Die?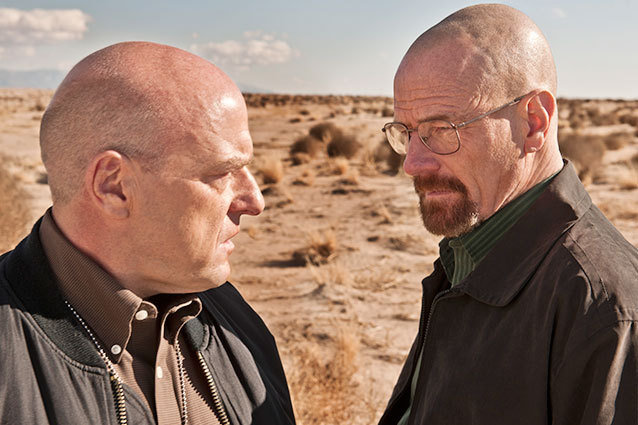 It all comes down to a New Hampshire license plate, a $100 diner tip, and an automatic weapon. Eight weeks from today, these three innocuous things will come together just before the inevitable demise of Walter White. But how? How, exactly, will the man called Heisenberg, the one who knocks, the danger bite the bullet? Who will pull the trigger? What will be the ultimate undoing of Bryan Cranston's fascinating antihero? With the return of Breaking Bad for its final eight episodes, we are called upon to entertain the various possible answers to the probing question…
HOW WILL WALT DIE?
Hank
When we last left the series, DEA Agent Hank Schrader had determined (finally) the true identity of his white whale, Walt White. Those closing shot of his calamitous realization set the course for a year of dread on the part of the apprehensive viewer, which culminates (finally) in Hank's next movie in the premier eof the fifth season's back half. But what will Hank do about this new information? The dutiful lawman in him thirsts for Heisenberg blood, but the loving family man must foster a sense of conflicted mercy for Walt.
Likelihood: As impassioned as he is to hunt down the drug lord, Hank cares too deeply for his friend and proverbial brother. Throw him in jail? Sure, maybe. But kill him? We don't think so.
Skyler
For seasons now, Skyler has known the truth about Walt, and held a deep, corrosive resentment for her toxic husband from whom she cannot escape. But if Skyler were going to kill Walt, if she were even able to take on such a feat, wouldn't she have done so already?
Likelihood: Skyler would love more than anything to see Walt offed, and understandably so. But after the past year of emotional decay, we don't see her actually carrying out the task.
Some Lesser Cop or Criminal
The poetry behind the takedown of The Wire's Omar Little was born from the fact that his killer was a child, proving that the Baltimore criminal's invincibility was as waning as anything else in this unpredictable world. Walt has built himself up to be the master of all things in his timeline. If a nameless cop or street thug were able to close the curtains on his story, it would be a surprisingly fitting conclusion.
Likelihood: As thematically appropriate as it might be, we feel as though Vince Gilligan has something grander, something more buoyant in store.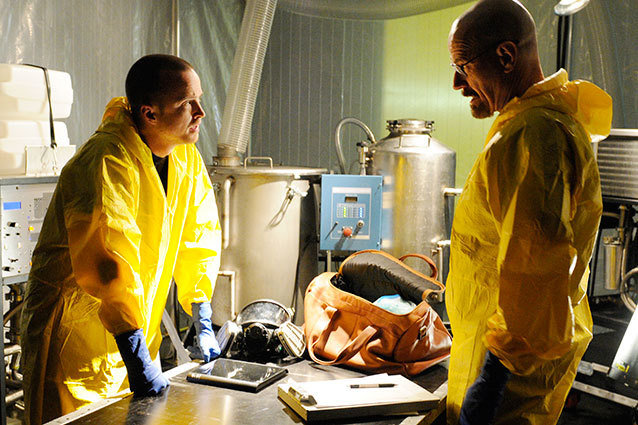 Jesse
Here it is. Walt's surrogate son. His protégée. His best friend. And, incidentally, the young man whose life he has ruined irreparably. Jesse is warming (back) up to the idea that his mentor and unlikely father figure might be an unfit role model. Having caught glimpse of Walt's indifference to the murder of the boy in the desert, and inches away at all times from an understanding of Walt's hand in the deaths of Jane and Mike, and his poisoning of Brock, Jesse has no shortage of incentive to do the deed.
Likelihood: Certainly the most likely major character to take Walt down both in logical motive and in poetic justice. But could Jesse just be too… predictable for Vince Gilligan? We think so.
The Cancer
Dying alone in a hospital bed, isolated from a once dense hive of family and friends. Fans have wondered if Walt's cancer, the kickoff for his life of crime and the show in totality, would return with a vengeance. To see the mighty Mr. White, overcompensating for his weakening body — an idea that has disgusted him ever since watching his father succumb to disease — with an embellished sense of pride fall, victim to the illness that sparked this destitute path would be duly artistic.
Likelihood: The only reason we're willing to bet against this one is because of the gun-toting flash forward we saw back in the first episode of Season 5. But here's another possibility…
He Won't
That's right. Maybe Walt won't die at all. Maybe he'll be forced to live alone, on the perpetual run, knowing that his wife, son, and family are estranged not only physically but emotionally, suffering from the loneliness he tried to stave off with his mission to become the mighty, insuperable Heisenberg.
Likelihood: We're betting on this one. Sure, they'll be a showdown (again, per the Season 5 premiere intro), but we think Walt will win, and take with him a proverbial immortality of misery. He will "win," sure, but at the cost of just about anything. 
More:
Watch 'Breaking Bad' If It Were a '90s Family Series
'Breaking Bad' Season Finale Recap
'Breaking Bad': Is Walt Getting Back in the Game? — TRAILER 
---
From Our Partners


Stars Pose Naked for 'Allure' (Celebuzz)


20 Grisliest TV Deaths of 2012-2013 (Vulture)