'Breaking Bad' Recap: Finally, the Theme Song Pays Off! (Season 5, Episode 15)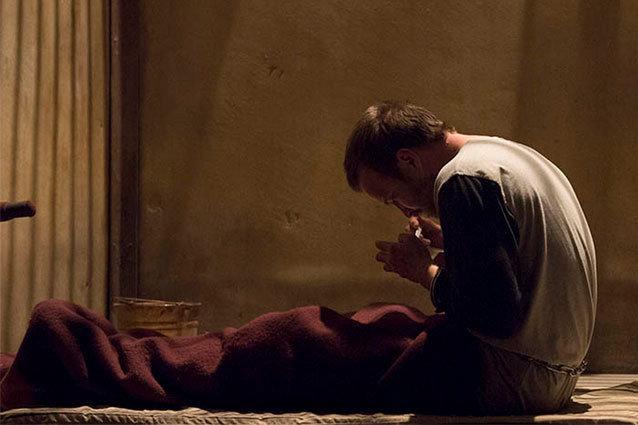 AMC
It was this very same night that I was harping on one of Breaking Bad's only shortcomings: its theme song. Reflecting in the brief, dark ditty after hearing it played at the Emmys ceremony, I thought about how flimsy it sounded in comparison to the booming, personable harmonies of its dramatic brethren: ominously upbeat contemporaries attached to Mad Men and our dear departed Dexter, the gigantic opus that is the opening number from The Sopranos. The semi-song that introduces every episode of Vince Gilligan's masterpiece has always done little to invigorate, in my musically uneducated opinion. But in the very final moments — chilling, counterintuitively satisfying moments — the series' penultimate episode gave its theme a new purpose: next week, and in every Breaking Bad rewatch, I will approach this melody with a new reverence. It is the song that marked Walt's (probably regrettable but oh-so-enlivening) return to action.
What's most impressive about "Granite State" is that it makes this return feel like a long time coming; it's as though we've spent episodes upon episodes holed up in that New Hampshire cabin with Walt, dwelling on remorse, prying lifelessly at deliberations on how to get his barrel of cash to Skyler, Walter Jr., and Holly, and waiting to die. It helps that we've had precedent for the Northeastern purgatory in the Season 5 premiere, but the masterful conduct of this latest episode — which sees Walt reach his secret destination by way of Saul's guy (Robert Forster in a performance that is both wonderfully earthy yet enigmatic), determined upon arrival to transfer his funds but immediately struck by the limitations put upon him by, among other elements, the law, his location, and his physical health — has us enduring these months of internal decay with just a handful of scenes.
And then, finally, a second wind. After hitting rock bottom in his loneliness and desperation (he actually pays Forster's character $10,000 just to spend another hour with him — this from someone who has never been a particularly big "people person"), Walt trudges to town with a small box of cash to send to the family, heading into a dimly lit tavern and phoning Walt Jr.'s — excuse me, Flynn's — school and directing his son to pick up the package, which he will address to his friend Louis. (There was something particularly off-putting about the line "He's a good kid. He's like you.") But Walt is beaten nearly to death by Jr.'s assertions that he doesn't want Walt's dirty money, that he blames Walt for the death of Hank and that Walt should just "die already." Harsh words that rattle the man so ferociously as to prompt him to call in his location to the Albuquerque police. But before the local law enforcement arrive, Walt treats himself to one last drink at the bar… catching, in a fortune of timing that only the best of dramatic television can pull off without feeling hokey, a broadcast of old pals Elliott and Gretchen Schwartz denigrating his newly publicized life of crime and diminishing his contributions to Grey Matter to little more than just "the name."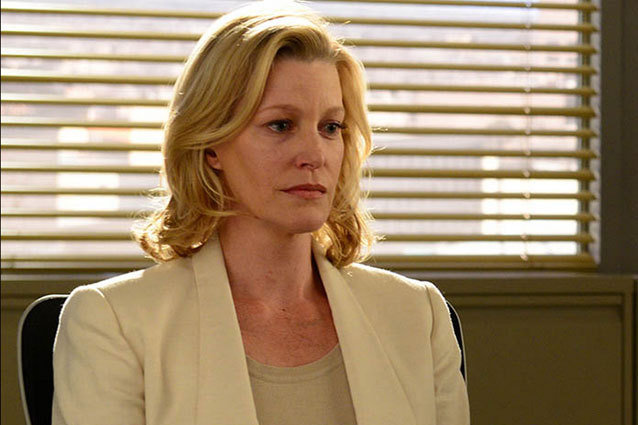 AMC
And then, finally (well, it's only been a few minutes, but still), a third wind. See, the only thing more prominent than Walt's love for his son: his obsession with his image. Ever since he watched his father succumb to disease, Walt has been a man obsessed with leaving memories of strength and power. There is no way that he will fade from this Earth a failure. And so, as the theme song reverberates with a new life force, we see Walt disappear from his bar stool, ready to gain back the kingship he once knew and has always craved.
Meanwhile, our hearts break for everything this king has ever touched:
1. Skyler suffers at the strangling hands of the law (even with Walt's absolving phone call, she's still a target for the legal system until she can give up some info on her husband) and comes face to face with a home invading Todd, who threatens her and baby Holly. Somehow, her word that she's not going to spill the beans on him or Lydia is good enough for the same psychopath who murdered an innocent child. What's his angle there?
2. Jesse somehow loses even more than he has already lost. Tortured in the nazis' pit after they discover the revealing tape he recorded with Hank and Gomey (oh Gomey… we miss you), Jesse manages a brief flee for the fences, only to be caught, bound, and made to watch his beloved Andrea shot dead as a punishment (and a warning, as Brock is kept alive to tempt Jesse to continue his servitude for Todd and company). Seeing Jesse slip even further down toward the inescapable black hole of despair and self-loathing is so damn agonizing that it's a wonder this show has any returning viewers. But the dark, bleak turn does offer new hope for the big-hearted fool. Now, the show has a reason to keep him alive. Someone (Brock) needs him. There is a palpable victory in store for young Jesse: he can get out of this mess forever, perhaps raising, or otherwise caring for, young Brock. At the very least, we hope he can die in a successful plight to free Brock from this menacing world. Give him some kind of win, Vince. Something. We need the strength to go on, here!
All this torture adds up to a frightfully strong second-to-last episode, meaning more excitement than we can bear for the finale. As always, we wonder: how the hell are they going to wrap everything up? And as always, we trust: perfectly.
More:
'Breaking Bad' Recap: Ozymandias
'Breaking Bad' Recap: To'hajiilee
'Breaking Bad' Recap: Rabid Dog
Follow @Michael Arbeiter
| Follow @Hollywood_com
---
From Our Partners


Stars Pose Naked for 'Allure' (Celebuzz)


20 Grisliest TV Deaths of 2012-2013 (Vulture)