Bright Lights of Hanukkah: Shalom Sesame, Featuring Dreidel. of. Fortune!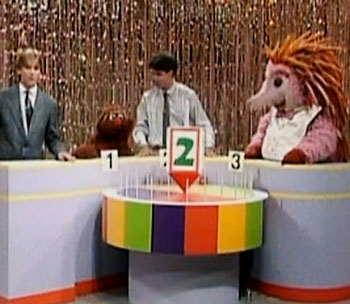 You can't change the channel between Thanksgiving and Dec. 25 without stumbling upon a Lifetime movie about falling in love with Santa (against all odds) or a variety show starring Blake Shelton, stop-motion Blake Shelton, and a man in a turkey suit. It's a veritable avalanche of Christmas-themed programming. Meanwhile, Hanukkah programs are few and far between. Luckily, there's a Sesame Street special that delivers the family friendly variety show appeal of so many non-Shelton Christmas specials: Shalom Sesame Show 6: Chanukah.
The special, which aired originally in 1990, features 17 segments in honor of the Festival of Lights, including a stop-motion video about what it takes to make a bottle of olive oil, starring Joan Rivers as a microphone, narrating the whole story. But if microphone Joan Rivers wasn't enough, there are not one, but two songs: "Eight Beautiful Notes" and "Do De Rubber Duck." But the piece de resistance is a little gem they call "Dreidel of Fortune." Do you like dad jokes? And awful puns? And young teen stars making fun of their elders? Of course you do.
Bear with the educational element of this segment and enjoy the game show that swept televisions playing this program in 1990: Dreidel… of… Fortune!
Follow Kelsea on Twitter @KelseaStahler
[Photo Credit: PBS]
More:
The Bright Lights of Hanukkah: The 'Rugrats' Special
Hanukkah Begins: A Lesson From The Holiday Armadillo On 'Friends'
The Maccabeats Are Back – Or a Reason to Listen to 'Candlelight'

Lea Michele Calls Her Breasts 'My Prizewinners'

Kim Kardashians Best Bikini Moments (PHOTOS)