Britney, Demi, Simon, and Khloé on the Emotional Night at 'X Factor'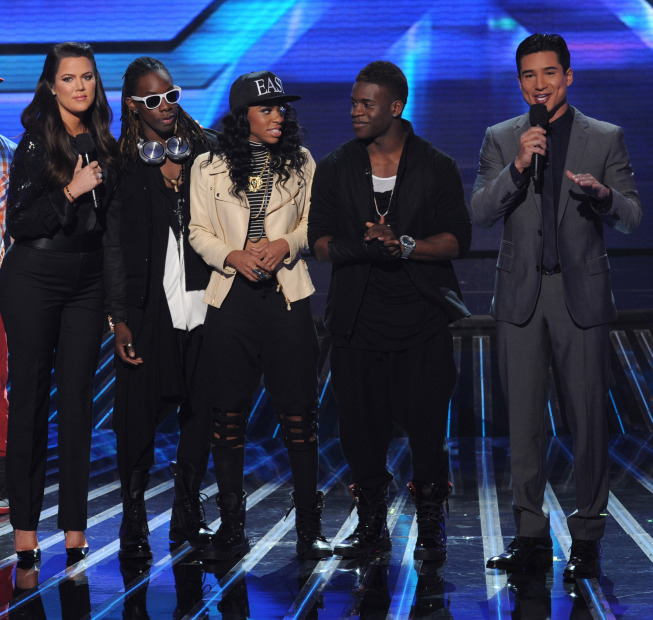 Taylor Swift may have been in a complete state of grace as she took the stage to rock the house during The X Factor on Thursday – but the remaining 12 contestants were singing an entirely different tune for the double elimination on Thursday night. Nerves were on edge, emotions were worn on sleeves, and waterworks were ready to commence at the drop of a hat. As if the drama wasn't already heavier than an episode of The Real Housewives of Beverly Hills after Lyric 145 was sent packing, the cheeky Simon Cowell put Demi Lovato in the toughest position yet, picking to save one of her two contestants: Paige Thomas, and Jennel Garcia. After Jennel as sent packing, which included a heartfelt sobfest, America's mouths hit the ground, asking if these results were for real (were they?) when Khloe Kardashian and Mario Lopez revealed the top 10:
1. Tate Stevens
2. Carly Rose Sonenclar
3. Vino Alan
4. Emblem3
5. CeCe Frey
6. Fifth Harmony
7. Diamond White
8. Beatrice Miller
9. Arin Ray
10. Paige Thomas
Resurrecting – in only one day instead of three like J.C. – from the bottom 12 was CeCe Frey to number five, while Vino Allan played musical chairs with the number two and three slots with Carly Rose Sonenclar. Tate Stevens continues to dominate this rodeo, remaining in the number one spot for the second week in a row (can he get a yeehaw?). Hollywood.com chit-chatted with the mentors – and their co-hosts! – who had much to say about tonight's diva-worthy revelations.
Simon Cowell, on his love/hate relationship with Demi:
Simon: If you like someone you can have that relationship, but tonight I just couldn't help but do what I did, because I knew it was going to be the most uncomfortable thing. (Laughs) And everyone at home was thinking the same thing.
On the future of Britney's contestants:
Simon: She's got one act doing well. She's going to lose a couple in the next few weeks, trust me. It's quite clear with Carly that she's going to be there all the way through to the end, she was incredible last night.
On Britney's recent feistiness on the judging panel:
Simon: It's like, you know, having a dog that normally licks you and decides to bite you out of nowhere one week. I prefer the licking.
Demi Lovato, on choosing to save Janelle:
Demi: I genuinely think that Janelle is just more talented. I think that Paige has a more star quality to her – which is going to help her as an advantage. I think that Janelle definitely didn't deserve to go home, and I couldn't let her go home tonight.
Britney Spears, on having none of her contestants eliminated:
Britney: I think they are just really spectacularly talented kids. You know? And that is really rare to come by, and they are really gifted.
On the competition between the judges increasing:
Britney: Yeah, we were all kind of a little out for our team big time. There is a lot of competition going on.
On voting to eliminate Jennel Garcia:
Britney: It was a hard decision. It really was. Just because they both – they are all so talented. Any time you have to pick someone out specifically for something like that – it is their dream, so it is kind of crucial.
Jennel Garcia, on her post-elimination conversation with Demi:
Jennel: She talked to me afterwards – but that is something confidential, and I want to keep that to myself. I think she feels the same way I do. It's a little bit frustrating, too. When you know what goes on behind the scenes. It's frustrating I know that she is a little upset over it. I'm just glad that she believed in me so much.
Khloe Kardashian-Odom, on being yelled at by producers for consoling eliminated contestants:
Khloe: Khlo-money, that is my alter ego for years! I think everyone was like, "What are you talking about?" It's just – I think everyone – I personally have split personalities, but I embrace it and love it. I could just turn crazy, but Khlo-money is the one that I love. I'm just like, fierce, and fun. I could also be pretty bitchy, but it's a fun moment. Trust me. It's not like – you'll want to see it. It's like, "I need purple M&Ms now!"
On her alter ego:
Khloe: It's hard to ignore someone yelling at you like, "We've got to run on time!" Like, screaming, screaming, screaming! I'm like, "I just want to hug someone." It's hard, and I don't know if I'm like, going to get in trouble for not pushing them out fast enough – but I was like, "I'm just going to finish hugging. I'm just going to hug."
On husband Lamar Odom's advice for the show:
Khloe: The only tip he gave me was – don't show your nipples anymore. He said, "Please do not have your tits out." I said, "Oh, good tip."
L.A. Reid, on CeCe Frye staying in the competition:
L.A.: I am honestly happy for her, very happy that she got through, and that she actually made it into the top five! Very, very happy for her, and I can't quite explain that except that maybe people thought that we were a bit harsh, and because of that people went and saved her, right? That's what I think happened.
Mario Lopez, on his long friendship with Taylor Swift:
Mario: I've actually known her since she was like 15, because when she was 15, I think I was doing something at, like, a state fair, and she was a performer. And her mom – who's real sweet – she remembers all the time. And I've seen her throughout the years, since then, and watched her blow up how she has. She's remained the same sweet person, and her mom's super cool, and her manager. So, yeah, but she's super cool.
[Photo Credit: FOX]
More:
'X Factor' Contestants Emblem3, Vino Alan, and More Talk Female Fans, Love, and Relationships
'The X Factor' Recap: Divalicious