Britney Spears, Demi Lovato, Simon Cowell, and One Direction on the 'X Factor' Twist!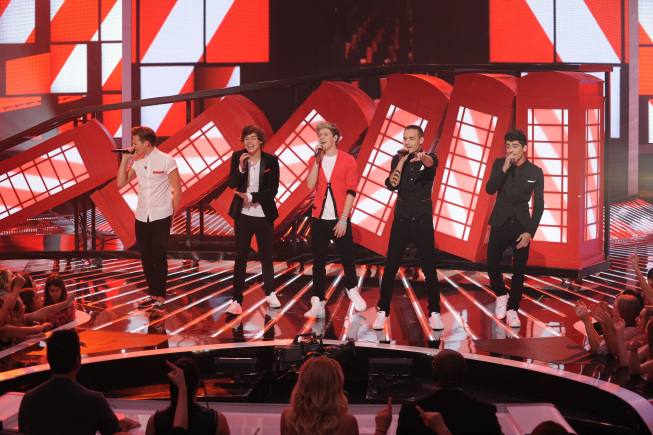 You may not know you're beautiful, girl… but you know the order in which Amurikah voted The X Factor contestants after Wednesday's performances, thanks to a SHOCKING TWIST that would have sent Steve Jones into a tailspin. (PS — where is he? Let me know if you've seen him in the comments.) After it was announced that Jason Brock would glitter explode somewhere else next week, my fellow journo-hags and I became concerned when we noticed that there were still 9 minutes or so on the X-clock. WHAT?! So then Khloe Kardashian and Mario Lopez came out and were all, "Surprise! For the first time since Emperor Augustus made the The X Factor games mandatory in 33 BC, we will let you know the order in which your gladiators are expected to perish." That order was this (err, backwards):  
1. Tate Stevens
2. Carly Rose Sonenclar
3. Vino Alan
4. Diamond White
5. Fifth Harmony
6. Emblem3
7. Jennel Garcia
8. Paige Thomas
9. Lyric 145
10. Beatrice Miller
11. Arin Ray
12. CeCe Frey
Emblem3 are number 6?! Tate Stevens is number 1?! Congrats middle America — you lost your Mitt Romney, but red state boy Tate Stevens is here to stay. Hollywood.com spoke to the judges mentors and guest performers One Direction after the show, and everyone had a little somethin' somethin' to say about the evening's events.
One Direction's Harry Styles, on his favorite contestant:
"I spoke to Beatrice earlier because I got told that she struggled with her confidence, and I watched her at judges' houses and I thought she was unbelievable. The tone of her voice is so cool. When you think about the fact that she's only 13 — her voice is just going to get better and better, because she is amazing."
Simon Cowell, on his groups' low rankings:
"The reason we did this was that if I had done this when One Direction was on the show, a similar thing would have happened. I thought they were winning every week, then we found out afterwards — they didn't win every week. Now, if the public had known that, I think the course of the competition may have changed. And I think that if you're an Emblem3 fan, or Fifth Harmony fan or Lyric fan, you really have to pick up the phone and vote. And I've got to work harder. This was not great news….I mean, it was something I wanted to try [showing the results every week]. This is always information that no one knew, but it's changed the whole dynamic of the show and I think it's made it more interesting."
Demi Lovato, on what she needs to improve to help Jennel, Paige, and CeCe:
"I'm a mentor, not a genius. I am still learning. At the end of the day I'm just 20 years old, and I'm still learning about the industry. You're never going to have the right, perfect answer. Someone's always going to hate it. I'm trying to stay true to the artists and help them become the rock stars that they deserve to be… I think it's hard to nail down who CeCe is, because I don't know if she knows who CeCe is. She has the drive, she has the determination, but I don't think she knows what direction she wants to go with it. She likes leopard on her face and that's about all I can tell you."
Britney Spears, on her teens' high rankings, and bringing back Diamond White:
"I was surprised with the rankings. I really was. I thought my people, of course, should've been numbers one through four… There is just an angelic appeal about [Diamond White]. There is a je ne sais quoi that you can't really explain, and when I had to vote her off the show was one of the hardest things I've ever had to do. So I am glad we brought her back."
Khloe Kardashian and Kris Jenner, in a candid moment:
Khloe: "[Kris] was there for the rehearsals today. She'll just say little tweaks. There she is now… Mom! Come here!"
Kris: "Is this a cocktail party?"
Khloe: "They were just asking if you had any notes for me, and I was saying today, in rehearsals, you were telling me to say my goodbye better."
Kris: "'Goodbye everybody!' Not just, 'Goodbye.' But, 'Goodbye everybody!' How's that? What an improvement!"
Khloe: "[Producers are] like, you have two seconds! So I'm like, 'Oh, goodbye!' They say, 'Stop talking!' in your ear. They tell you, literally, 'Shut up!' Oh, okay."
Kris: "Just like at our house, you never acknowledge me."
Khloe: "It's the other way around. It's the other way around, my dear."
Follow Shaunna on Twitter @HWShaunna
[PHOTO CREDIT: FOX]
MORE:
'X Factor' Contestants Emblem3, Jason Brock, and More Discuss Dating, Homophobia, and Demi
'The X Factor' Recap: And Then There Were 13
'The X Factor' Recap: Behold…The Top 12

Ariel Winter's Mom Claims She Found Daughter in Bed With 18-Year-Old Boyfriend, Police Report Reveals (EXCLUSIVE)
(Celebuzz)